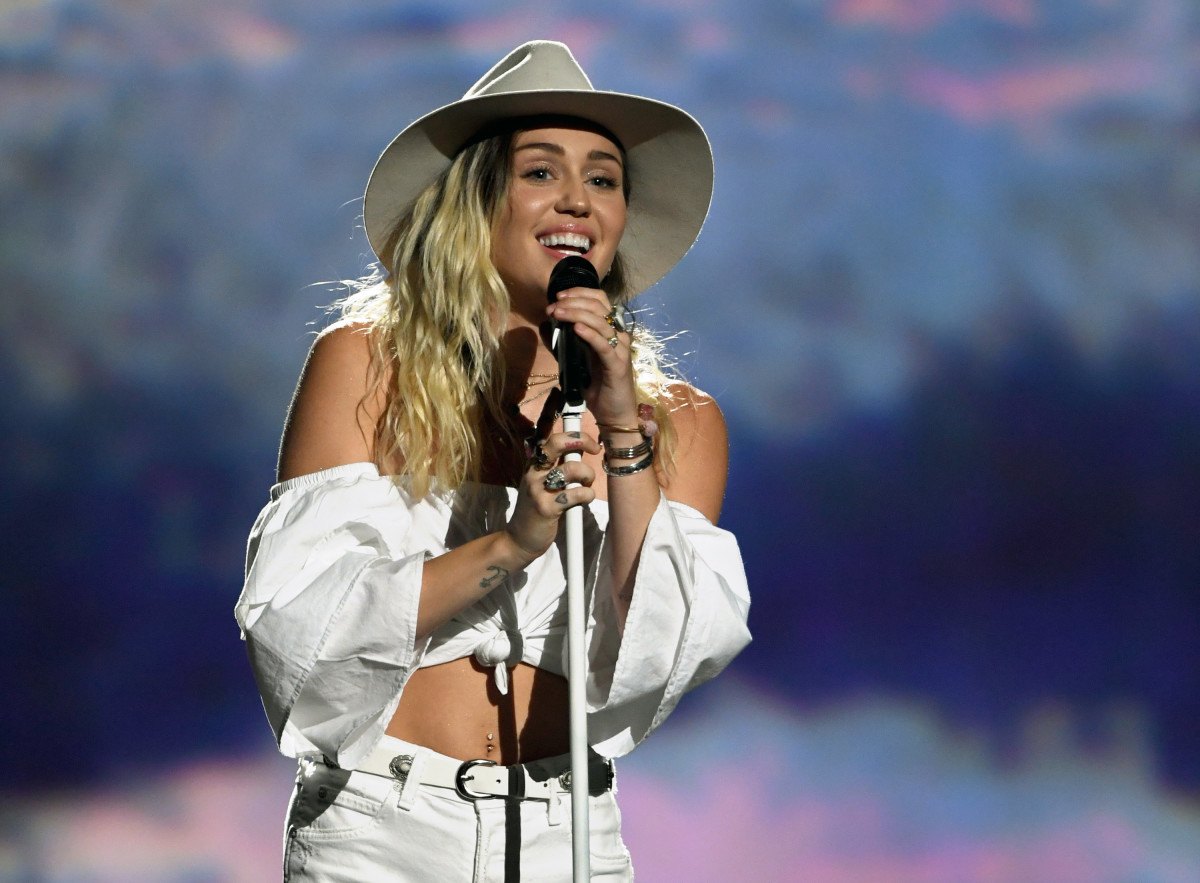 In case you missed it, a slew of celebrity family members (Hillary Clinton's nephew; Pippa Middleton's new brother-in-law) walked in Dolce & Gabbana's millennial-bait Spring 2018 men's runway show in Milan on Saturday. Among the famous and famous-adjacent models was Braison Cyrus, brother to Miley, son to Billy Ray, who is represented by Wilhelmina Models. The show marked his runway debut, an exciting moment for any budding model. Ever the supportive sibling, Miley took to Instagram to congratulate her baby bro on the accomplishment — and also took the opportunity to speak out against the label's politics, starting some beef with Stefano Gabbana himself.
"Congrats @braisonccyrus on walking in your 1st runway show…. it is a Cyrus family trait to try everything once (within reason HA) and to embrace opportunities that encourage you to step out of your comfort zone! We believe in trying something new everyday! I love you Prince Suga Bear and seriously congratulations on your experience! I am so proud of you always…. From Nashville to Italy!" she wrote in her Instagram caption. But, never one to shy away from controversy, Miley also went on to call out Dolce & Gabbana's political affiliations. "PS D&G, I STRONGLY disagree with your politics…. but I do support your company's effort to celebrate young artists & give them the platform to shine their light for all to see!" she wrote.
Though Miley doesn't get too specific about the "politics" in question, she's no doubt referencing the fact that the label has been closely linked to First Lady Melania Trump, dressing her for many public appearances. Stefano Gabbana has taken to social media on multiple occasions to celebrate her, firing back at so-called "haters" who disagree with the label's choice to dress her. Just a few weeks ago, Dolce & Gabbana staged a bizarre faux self-protest, seemingly to poke fun at actual protestors questioning the Trump administration and D&G's support of it.
Also not one to shy away from drama (especially of the social media variety), Stefano Gabbana himself replied to Cyrus, commenting directly on her Instagram post with a simple "Ignorant!!!" He replied to her again on her Instagram post of Paper Magazine's story about Braison, telling Cyrus, "For your stupid comment never more work with him," adding two heart emojis. And of course, he couldn't leave it at that: He also re-posted Cyrus's 'gram, adding a caption of his own.
"We are Italian and we don't care about politics and mostly neither about the American one!" he wrote. "We make dresses and if you think about doing politics with a post it's simply ignorant. We don't need your posts or comments so next time please ignore us!!" And again, he added his favorite hashtag, #boycottdolcegabbana, and several cry-laughing emojis for added emphasis.
It looks like Miley Cyrus is one millennial Dolce & Gabbana won't be calling on any time soon. 
Sign up for our daily newsletter and get the latest industry news in your inbox every day.