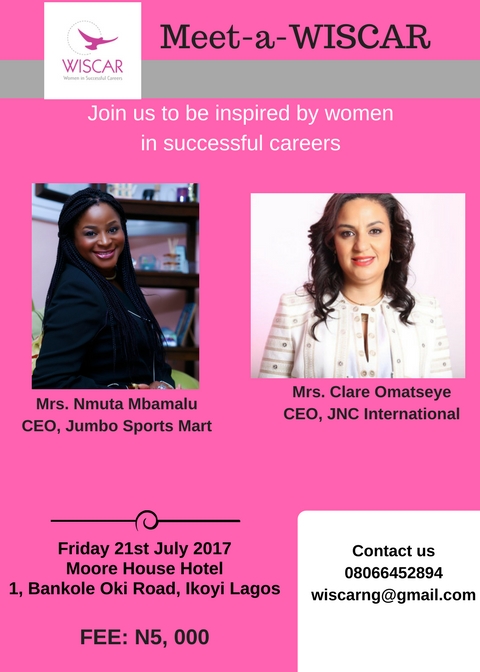 WISCAR is excited to present two amazing and successful women entrepreneurs at her July edition of the Meet-a-WISCAR series.
Come and hear first hand from Clare Omatseye, CEO JNC International Ltd and Nmuta Mbamalu, CEO Jumbo Sports Mart.
WISCAR presents a rare opportunity to hear unique and inspiring stories on their career and entrepreneurship journey; how they built their businesses, overcame the obstacles and challenges to favourably compete in a man's world, balanced work and family, scaled up their businesses, got funding and are making a difference in the society.
Date: Friday, 21st July 2017
Time: 6.00 pm – 8.00 pm prompt
Venue: The Moore House Hotel, 1 Bankole Oki Road, Ikoyi Lagos
Registration: N5,000 Only
Account Details
Account Name: WISCAR Ltd by Guarantee
Account Number: 2009347618
Bank: First Bank of Nigeria
For more information and registration, please call us on +2348066452894, visit our website or send us an email here.
We look forward to welcoming you to a thrilling, engaging and inspiring discussion. Don't forget to spread the word out to your friends and colleagues
———————————————————————————————————————————-
Sponsored Content