Matt Le Tissier has said he would rather have Harry Kane in his team on current form than Cristiano Ronaldo if he were a manager.
Ronaldo has won the Champions League four times – once with Manchester United and on three occasions with Real Madrid – but it is Kane who is making the headlines this season, with the Spurs striker recently linked with a summer move to the Bernabeu.
The England international has scored 37 goals in all competitions this season compared to Ronaldo's 25 and Sky Sports Football expert Le Tissier is hugely impressed by Kane, who scored Tottenham's opening goal as they came from two goals down to draw 2-2 with Juventus in Turin on Tuesday night.
"Right now, on this season's form, I would take Harry Kane," Le Tissier told Premier League Daily.
"Ronaldo has done it over a longer period of time and there is many a season you would pick Cristiano over him.
"But this season, Harry has stepped it up another level. He has been brilliant for the last three or four years but this season he has taken it up a notch.
"There is one little point that needs to be mentioned: We give foreign players a lot of stick for diving and I saw one little thing in last night's game that I didn't particularly like, that was when Harry Kane dived to try and win a penalty.
"He needs to cut that out of his game and that is something that needs to be said. He and Dele Alli have got to be very careful with the way they throw themselves to the ground."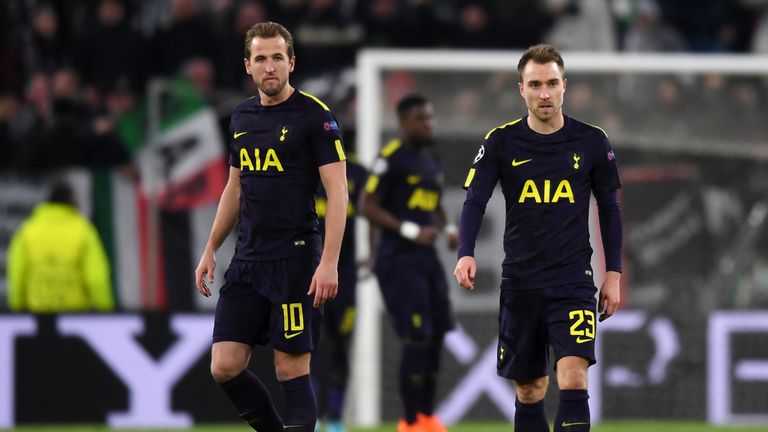 Le Tissier was also impressed by what he saw from Tottenham as a team, who showed their collective spirit in recovering from conceding two early goals to draw with Juventus ahead of the second leg of their Champions League last-16 tie at Wembley on March 7.
Gonzalo Higuain scored twice in the first 10 minutes for Juve, with the Argentina international missing out on a hat-trick when he smashed a penalty against the crossbar just before half-time.
Kane pulled a goal back for Spurs 10 minutes before half-time before, with Christian Eriksen then scoring with a free-kick after 71 minutes.
"I thought that was a huge performance from Spurs," added Le Tissier.
"At 2-0 down after eight or nine minutes, you think 'this could get a little messy if they are not careful.' But I thought the character they showed for the rest of the half completely dominated Juve.
"They got a little lucky with that missed penalty just before half-time. I thought it was an outstanding performance to come back from two goals down."
Also See:
Mauricio Pochettino praises Tottenham maturity after Juventus fightback