By Luminous Jannah
The British High Commissioner to Nigeria, Paul Arkwright, has said that the Presidency was not lying to Nigerians about the true health status and fitness of President Muhammadu Buhari to perform his duties as Head of State and Commander-in-Chief of the Nigerian Armed Forces.
Speaking with Saturday Vanguard in his official residence in Abuja, Arkwright said President Buhari has not only fully recovered from his illness but  also fit to carry on the responsibilities of his office.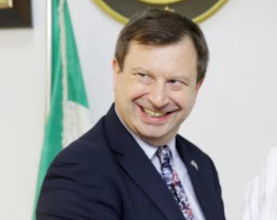 Paul Arkwright
According to him, "I had a privilege to meet President Buhari in the Villa. I was one of the small numbers of Ambassadors who were invited to witness the signing of treaties and MoUs between Nigeria and the United Arab Emirates (UAE).
"What I can say is what I saw. I saw a President who was fit; he was fine; he was cheerful; he had a great sense of humour. It was great to see him.
"President Buhari greeted me very warmly and I shook his hand. Frankly, it was just brilliant and great to see him back to work in full capacity."