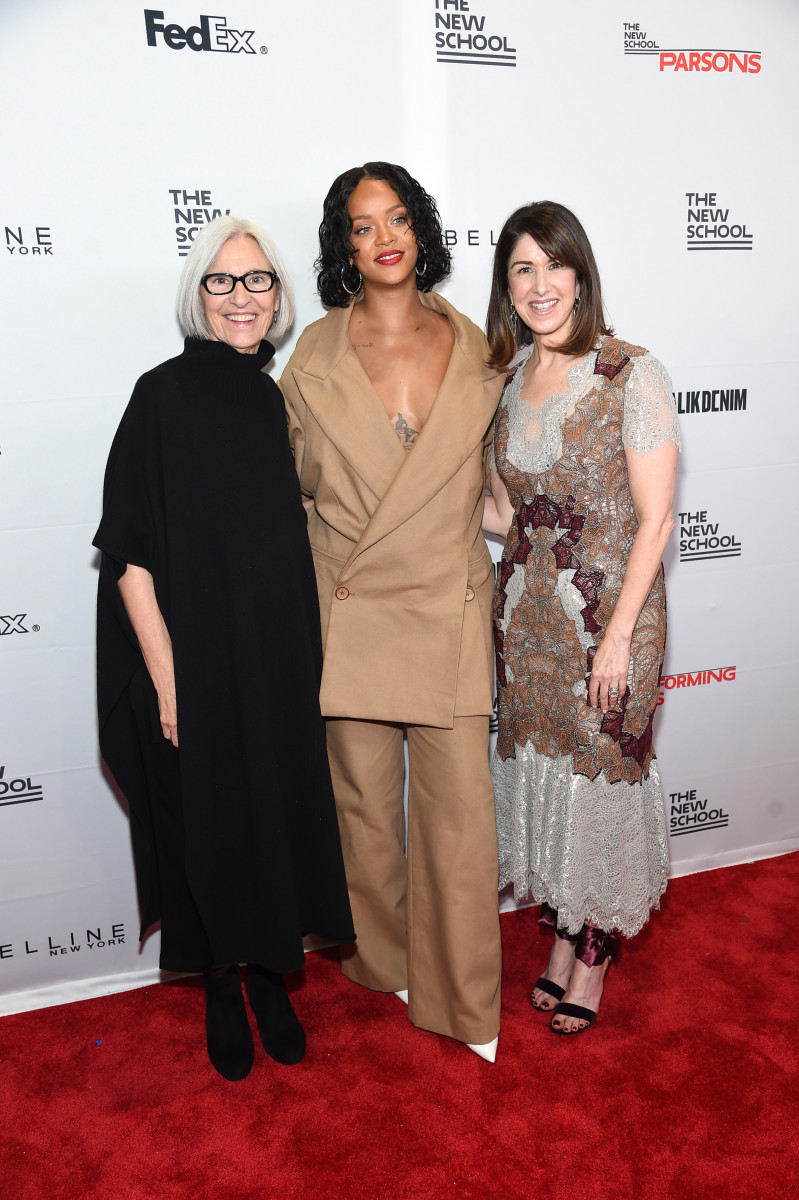 Preparing for your final showcase as a fashion student is anxiety-inducing enough, but preparing for a final showcase that's going to be seen by an industry icon like Rihanna has got to be even more nerve-wracking.
That was exactly the scenario that Parsons School of Design's graduating fashion design Class of 2017 had to look forward to when sharing their work as part of the school's annual benefit dinner on Monday night. Rihanna, who was honored at the benefit alongside Eileen Fisher and Neiman Marcus' Karen Katz, was just one of the big names in attendance. The room was also peppered with other designers (like Carolina Herrera and Pyer Moss' Kerby Jean-Raymond), stylists (Mel Ottenberg), press (Teen Vogue's Elaine Weltheroth) and plenty of other bigwigs (Bergdorf Goodman's Linda Fargo).
It was a room chock-full of money, as evidenced by the lively charity auction hosted by Lydia Wickliffe Fenet of Christie's. The auction featured exotic luxury vacations, front-row tickets to a Fenty Puma show (which soon became front row-tickets plus styling by Rihanna, after the pop star asked for the mic mid-auction and upped the ante) and a portrait session with Steven Klein that sold for a whopping $57,000. In other words, the power in the room was palpable, resulting in a bit of a high-pressure environment for a group of students to debut their work.
Much to the credit of the night's honorees, they did their part to turn the spotlight back onto Parsons students. Eileen Fisher used part of her acceptance speech to note that the sustainability-focused Social Innovators Award her company launched in partnership with the CFDA a few years back ended up going to Parsons students exclusively.
"We put the call out to 70 schools around the country, and all three students came from Parsons," she said. "So I just want to congratulate everyone at Parsons on the progressive, incredible work you do here."
Fisher, whose work in environmental and social responsibility was repeatedly praised in-person by presenter Mara Hoffman and via video by "The True Cost" director Andrew Morgan, also took time to share her vision for the future of the fashion industry.
"This is my dream: an industry that's truly clean, that regenerating the planet and cleaning the water as it goes," she said, her hand over her heart. "And one that's making every single person who works in this industry — and that is one in eight people in the world! — thrive."
Stepping onto the stage wearing a look by Parsons graduate Matthew Adams Dolan, Rihanna continued the theme Fisher had started by talking about the planet.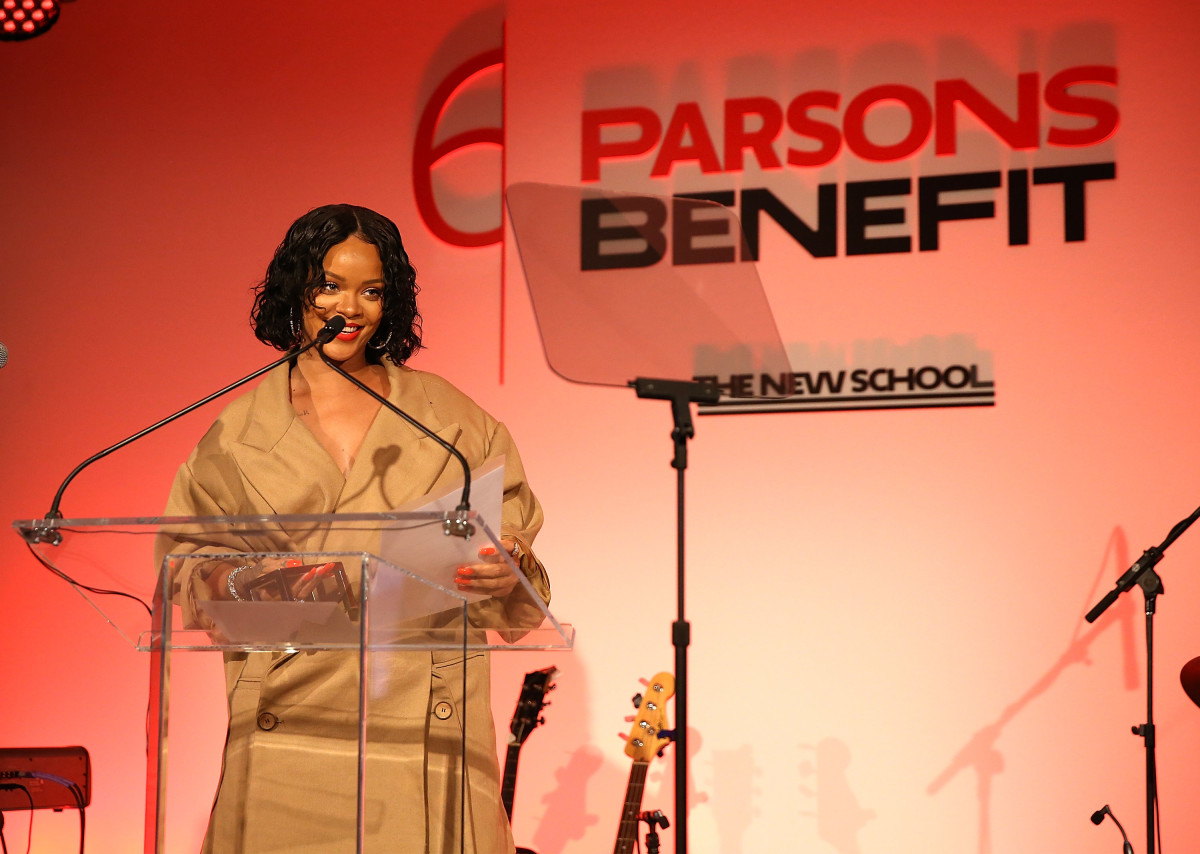 "You're the ones who care about the future of our planet. You're the ones who will change the current state of the world," she told students. "You are the ones who see the world with new eyes, through a new perspective."
If Rihanna was greeted with an overly effusive (and perhaps wine-fueled?) welcome by a student spokesperson, it was hard to blame them — Rihanna was unguarded in her own enthusiasm while watching the student showcase. Rather than keep her eyes sunglasses-covered like many front-row veterans would, Rih was expressive and even mouthed positive affirmation like "fucking killed it!" to the rest of her table when a piece she particularly liked marched by on the runway.
Though the students might not have been positioned to see how Rihanna reacted to their collections, some of them walked away from the evening with the affirmation of an award in hand: Olivia LeBlanc won the Creative Systems Award; Hayley Tianjiao Qu, the Social Innovation Award; Cen Si, the Fashion + Technology Award; and Jacob Olmedo, the Future Textile Award. Additionally, Helena Bajaj Larsen, Valentina Ramirez and Ishita Mehta won the Parsons Design Fellowship, giving them the opportunity to collaborate with Donna Karan's Urban Zen label and Rihanna's Clara Lionel Foundation.
And regardless of whether they won that night or not, students left with the promise that one of the biggest stars in the world was paying attention to them.
"You are the ones we need to be listening to," Rihanna closed her speech. "So I'm here to say I'm listening. I'm watching. And you're up next."
See the gallery below for our favorite looks from the Parsons runway show.
Never miss the latest fashion industry news. Sign up for the Fashionista daily newsletter.