Kate Middleton was a vision in white…again.
On Tuesday morning, the 35-year-old Duchess of Cambridge joined husband Prince William, Prince Edward and Countess Sophie on a carriage ride as part of a parade for the Royal Ascot at Ascot Racecourse in Berkshire. Upon their arrival, the foursome met up with Queen Elizabeth II, Prince Charles, Camilla Parker-Bowles, Princess Beatrice, Princess Eugenie, Peter Phillips, Autumn Phillips, Lady Jane Fellowes and Lord Robert Fellowes, among other notable guests.
Middleton wore a modified version of Alexander McQueen's white lace mini dress, which originally retailed for $3,685. Made in Italy, it "includes a round neck, three-quarter length sleeves, a concealed rear zip fastening and a flared skirt," according to online retailer Farfetch.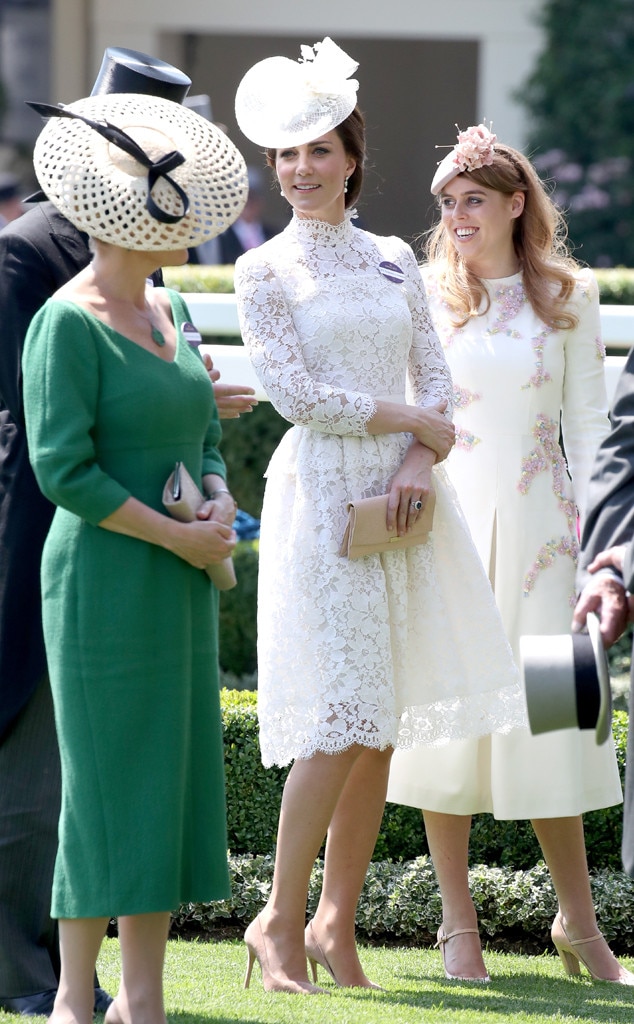 Chris Jackson/Getty Images
Alexander McQueen's Sarah Burton, of course, famously designed Middleton's wedding dress in 2011. "I had no idea it would be as big as it was," Burton admitted to T: The New York Times Style Magazine in 2014. "Only the night before, seeing all the photographers outside the Abbey, did I think, 'Oh, my God. This is massive.'" Burton "loved" making the Duchess' dress, saying, "We put our hearts into it. I respect the intimate nature of that lovely project and I respect the friendships that were forged during it…an instinctive, intelligent, imaginative young woman's wish for a beautiful wedding dress, or any kind of dress, is the most natural thing in the world."
Burton added, "I was honored to pick up the challenge and always will be."
Chris Jackson/Getty Images / REX/Shutterstock
It should come as no surprise that Middleton selected the high-end label for Tuesday's event, as guests in the Royal Enclosure must follow a very strict dress code. Dresses and skirts must be "of modest length," falling just above the knee or longer. Dresses and tops must have straps of one inch or greater, even if covered by a jacket or shawl. According to the event's organizers, hats are required, and they should have a base of four inches (meaning fascinators are a no-no).
At the start of the event, the Queen led tens of thousands of attendees in observing a minute's silence in memory of the victims of the Grenfell Tower fire and London and Manchester terror attacks. Speaking to the press earlier that morning, Johnny Weatherby, chairman of Ascot Racecourse, said, "We've all been deeply saddened by recent tragic events around the country. At the beginning of this important week for racing, we at Ascot Racecourse wish to pay our respects to the victims and offer support to the families who have been so terribly affected."
Ascot Racecourse will be making a donation of £100,000 to the British Red Cross U.K. Solidarity and London Fire Relief Funds, as well as to local charities, to support those affected by the tragedies. Guests can also contribute by making exit donations on all five days of Royal Ascot.