Beyoncé's fun-filled birthday weekend is in full effect! 
The singer got some serious birthday love from her main man Jay-Z (and the entire crowd!) during the rapper's performance at Budweiser's Made In America Festival in Philadelphia on Sunday night. 
During his headlining set, Jay made his fans go wild when he called out his lady love, who celebrates her 36th birthday on Monday. While onstage, a source tells E! News that the rapper gave a big shout out to his wife, who was also joined by the couple's daughter Blue Ivy in the audience.
"Shout out to Beyoncé. Beautiful Bey is in the house tonight. Happy Birthday my love," said the proud papa, who later got the whole crowd to serenade his wife by singing "Happy Birthday."
The eyewitness tells E! News that Bey and her daughter were dancing around with big smiles as they listened to the 21-time Grammy winner perform for the masses. The couple's twins, Rumi and Sir, who were spotted yesterday, were not at the nighttime concert.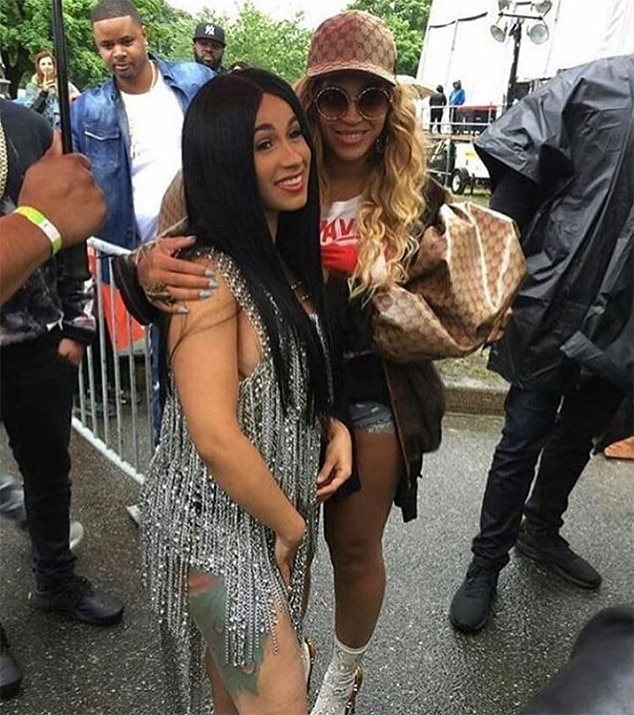 Instagram
For Sunday's events, the mom of three was outfitted in bright yellow trench coat and high-waisted jeans. The "Crazy in Love" singer, who was clearly supporting her hometown of Houston, Texas in the aftermath of Hurricane Harvey, wore a Houston Rockets basketball jersey.
A source tells E! News that earlier in the day, Beyoncé and Jay watched 21 Savage perform. The insider added that the A-listers were close to each other and looked like a really cute couple.
The eyewitness also said that both superstars were smiling during the set and that Jay was greeting other artists, giving them fist pounds throughout 21 Savage's performance.
E! News previously reported that on Saturday, Bey and Jay bundled up the twins and hung out with them in the private area. Big sis Blue Ivy was also seen with her parents and watched the performers.
Additionally, Bey sipped D'USSÉ VSOP cognac to celebrate the company's new 200ml bottle. For Saturday's events, the almost-birthday-girl was dressed casually in a red and white tee, a tan, patterned Gucci jacket and matching cap and Daisy Dukes.
The pair watched hip-hop star Cardi B perform onstage as it rained. Later the rapper hung out backstage with the "Formation" singer.
Despite the rain, the source told E! News that Bey and Jay still looked like they were having a great time; They danced together and looked really happy. The two also watched Migos from a private area.
The whole weekend was a family affair. Solange is performing and Beyoncé and Jay-Z's mothers are also at the festival. 
Tina Knowles was spotted rocking out backstage during Cardi B's performance.
Looks like it's been an epic weekend fit for a queen!