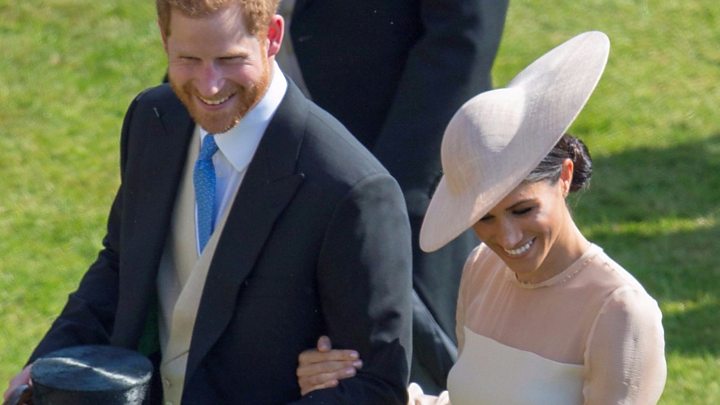 The Duke and Duchess of Sussex have attended a Buckingham Palace garden party for their first royal engagement as a married couple.
The duchess wore a dress by Goat and a hat by Irish milliner Philip Treacy to the party, which was part of the Prince of Wales' 70th birthday celebrations.
She and the Duchess of Cornwall started laughing when Prince Harry's speech was interrupted by a bee.
Prince Harry, 33, and Meghan, 36, were married at Windsor Castle on Saturday.
The garden party, which is being held six months ahead of Prince Charles' actual 70th birthday in November, celebrated the future king's charity work, patronages and military affiliations.
Prince Charles and the Duchess of Cornwall were joined by more than 6,000 people from charities he supports.
And to mark the one year anniversary of the Manchester Arena bombing, emergency service workers who were on the scene on the night of the attack also attended.
In his speech, Prince Harry opened with a moment of remembrance for the Manchester attack victims before fondly paying tribute to his father's "infectious" energy and enthusiasm for his charity work.
"It has certainly inspired William and I to get involved in issues we care passionately about and to do whatever we can to make a difference," he said.
He added: "Pa, while I know that you've asked that today not be about you, you must forgive me if I don't listen to you – much like when I was younger – and instead, I ask everyone here to say a huge thank you to you, for your incredible work over nearly 50 years."
During the speech, Meghan and the Duchess of Cornwall started giggling when a bee flew close to Prince Harry and he said: "That bee really got me."
The Duchess of Sussex's dusky pink dress is from British fashion brand Goat – also a favourite of her sister-in-law, the Duchess of Cambridge.
London-based milliner Philip Treacy – who made Meghan's saucer-shaped hat – is also popular among the royal family.
Prince Harry wore a morning suit and a silk top hat.
Among the guests at the party were soldiers from the 2nd Battalion, Irish Regiment of Canada, who flew over especially for the party.
Second Lieutenant Reid Killen said: "It felt like talking to my youngest son, the Duke reminds me very much of him. He's always joking around and Harry has the same sense of humour."
Meanwhile Jyoti Bahia, 25, a project manager who attended the party with four of his colleagues, said: "There are no words to describe the feeling of meeting Harry and Meghan after their wedding."
On Monday, the newly-married royal couple released three official photographs – including of bridesmaids and close family – taken on their wedding day.
The couple have not yet celebrated their honeymoon and details of the location and date have not been revealed.
The Duke and Duchess, who left Windsor on Sunday, also thanked everyone who took part in the celebrations, watched by an average of 11 million viewers on BBC or ITV at any one time.
More than 110,000 people also filled the streets of the town.
Following a lunchtime reception, the celebrations continued with a black-tie dinner and a fireworks display at Frogmore House, near Windsor Castle.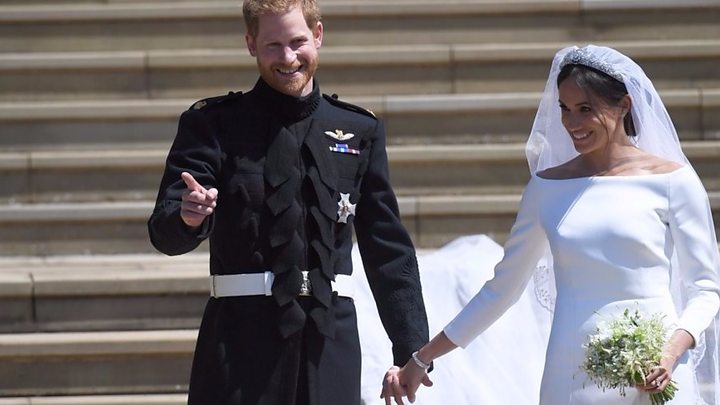 The evening refreshments are said to have included themed cocktails, including one named "When Harry met Meghan" – referencing the romantic comedy starring Meg Ryan and Billy Crystal.
Guests dined on posh burgers and candy floss, according to reports, and danced to music provided by a celebrity DJ.