Cardi B Reveals What She Loves About Nigeria (Video)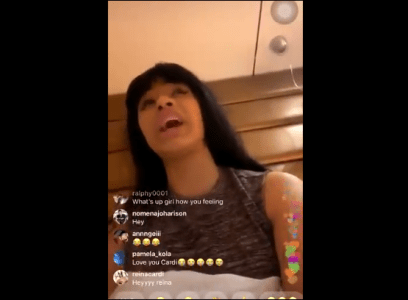 American rapper Cardi B has praised Nigeria, saying the country
is blessed with everything including the tourism sector.
Cardi B who visited Africa for the first time, arrived Lagos on Thursday, for Livespot X Festival holding on Saturday, said this in a live video on Instagram.
She said she likes Nigeria a lot. Speaking on her reasons, she said:
"I like this country a lot and the reason is because you find everything you are looking for, this country has tourism, like you wanna go to beaches and relax with your husband, your wife, they have them.
"If you are looking for people with culture, how people make a living how they are living, you have them. Everybody is busy, everyone is going to a place, the street is always crowded"
See video below;
Cardi B is a really amazing person and a gem ?, look at how she was promoting Nigeria in her live Story, Not every celebrity can do that for Africa. She's really enjoying her time here, I love it..
Even our own yeye Celebrities no fit promote the country ??, we are our own prob pic.twitter.com/OE4fVSP7wk

— Ojedele Ridwan (@gracewillfindme) December 7, 2019
Cardi B is a really amazing person and a gem ?, look at how she was promoting Nigeria in her live Story, Not every celebrity can do that for Africa. She's really enjoying her time here, I love it..
Even our own yeye Celebrities no fit promote the country ??, we are our own prob pic.twitter.com/OE4fVSP7wk

— Ojedele Ridwan (@gracewillfindme) December 7, 2019