The Video Assistant Referee (VAR) system took centre stage as Liverpool hosted West Brom, but just what happened?
Andre Marriner was the lucky (or unlucky) VAR based in west London, and Pawson used his resources to full effect at Anfield as West Brom won 3-2 at Anfield.
Here, we run through the major decisions. Good news: they were all correct!
Incident 1 – Dawson goal ruled out
After Craig Dawson beat Roberto Firmino to the ball and headed home from a corner, referee Craig Pawson went to VAR and correctly found that Gareth Barry was in an offside position.
Barry did make an attempt to play the ball, and was interfering with play in front of goalkeeper Simon Mignolet, and the correct decision was given just over a minute after the original decision. West Brom players still surrounded Pawson in protest after the decision was made.
Consensus: correct decision.
Incident 2 – Liverpool awarded penalty
Grzegorz Krychowiak tugged Mo Salah's shirt in the penalty area just moments later, though Pawson had originally waved play on. Play was brought back for VAR, however, which prompted Pawson to go to the pitch-side VAR screen for the first time in English football history.
With three minutes taken in total to make the decision, the penalty was correctly awarded, with Salah sure to get to the ball but for the hand on his shirt from the West Brom midfielder. Firmino stepped up, but hit the bar.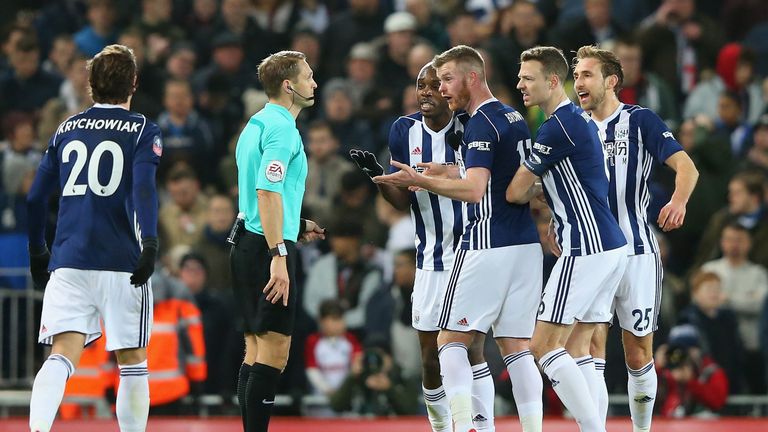 Consensus: correct decision.
Incident 3 – West Brom third goal stands
Pawson went to VAR once more as West Brom's third goal hit the net via a touch from Joel Matip after Dawson had turned the ball goalwards.
They looked at two offside decisions in the lead up to the ball falling in at the far post, and found that West Brom were level both times, though the process did take nearly two minutes. Four minutes were added on as stoppage time in total in the first half.
Consensus: correct decision.
What the managers said
Two very contrasting opinions from the managers at Anfield, and surprisingly, the winning man had more complaints than the boss in the losing dugout…
Jurgen Klopp: "Did it disrupt the flow? Which flow?! Of course it will change things. Is it nice that West Brom celebrate a goal and then someone tells them it's not a goal? But that's what we always wanted, that if a goal should be disallowed, it should be disallowed.
"Usually in these situations after the game I have to explain a defeat which maybe was not deserved because we didn't get a penalty and they scored another goal. It's normal at the beginning that it takes a little longer. It will become a little bit smoother I think in the future."
Alan Pardew: "It's hard to know where to start. You're all experienced reporters and have seen many, many games, but I don't think that's what you want to see going forward if you're a Liverpool fan, or a West Brom fan.
"Firstly there's no communication from the referee to us. I haven't got the answers but as a football man on the sidelines I wasn't comfortable in that first half, it was kind of mysterious at times.
"It was four or five minutes, the Salah decision. You're going from high tempo work rate to nothing. We had a hamstring just after that. Now as a coach, we have to change, we're going to get our players to do a warm-up in that situation. The Dawson goal would never be disallowed in any game without the system (VAR). It's marginal, really marginal."
Also See: