Pete Buttigieg Releases Names Of His McKinsey Clients
Democratic presidential contender Pete Buttigieg has released the names of the clients he worked with during his time at the controversial consulting firm McKinsey & Co.
The disclosure comes a day after McKinsey said it was releasing Buttigieg from a confidentiality agreement that the South Bend, Indiana, mayor had previously pointed to as his reason for withholding the names of his former clients.
Here's the list his campaign released: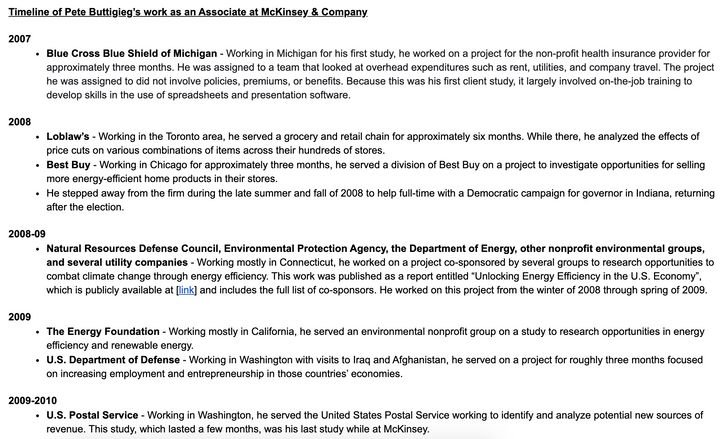 The clients he named are Blue Cross Blue Shield of Michigan, Loblaws, Best Buy, the Natural Resources Defense Council, the Environmental Protection Agency, the Department of Energy, the Energy Foundation, the Department of Defense and the U.S. Postal Service.
He also said he worked for "other nonprofit environmental groups, and several utility companies," but gave no more details on those.
"Now, voters can see for themselves that my work amounted to mostly research and analysis," Buttigieg said in a statement. "They can also see that I value both transparency and keeping my word."
He first revealed the list in an interview with The Atlantic.
Some of the clients Buttigieg worked with at McKinsey came under public fire during the years he consulted for them.
In 2007, the year Buttigieg worked for Blue Cross Blue Shield Michigan, the insurance group faced a major public outcry over its proposals to dramatically increase insurance premiums and severely limit coverage for people with preexisting conditions. BCBSM was the state's "insurer of last resort," meaning it was obligated to provide coverage to most Michigan residents who couldn't get it elsewhere.
Still, some skeptics are raising questions about BCBSM's overall mission in hiring McKinsey.
MSNBC's Rachel Maddow asked Buttigieg about the disclosure later on Tuesday, noting that BCBSM laid off nearly 10% of its employees in 2009, two years after he consulted for them while pressing him to say if his work was "part of what led to those" cuts.
"I doubt it, I don't know what happened in the time time after I left, that was in 2007," Buttigieg responded. "Now what I do now is that there are some voices in the Democratic primary right now who are calling for a policy that would eliminate the job of every single American working at every single insurance company in the country."
Loblaws, the Canadian supermarket chain that Buttigieg worked for in 2008, has admitted to engaging in a price-fixing scheme on bread from 2001 to 2017.
Last week, Buttigieg had offered an overview of his work at McKinsey while calling on the firm to release him from the nondisclosure agreement.
As his presidential campaign has taken off, Buttigieg's work at McKinsey has come under scrutiny. The consulting firm employs nearly 30,000 employees around the globe and has become infamous for taking on ethically questionable projects, such as advising authoritarian regimes.
Several media reports in recent weeks have uncovered new information about McKinsey's work on behalf of President Donald Trump's massive deportation efforts. The firm advised the U.S. Immigration and Customs Enforcement agency to save money by cutting spending on food, supervision and medical care for immigrants. Buttigieg's former employer also helped ICE develop a plan to accelerate deportation proceedings.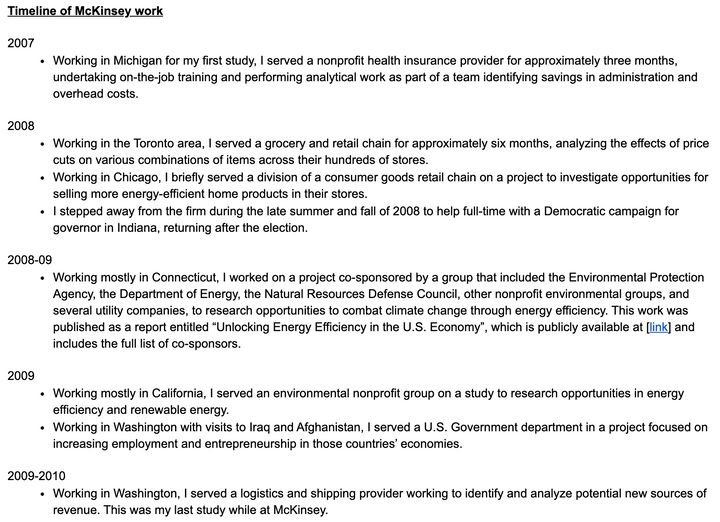 This story has been updated with comment from Buttigieg and context about the companies on his client list.