Rapper, Kanye West Paints Entire Body Silver To Perform The Birth Of Jesus Christ Play (Photos)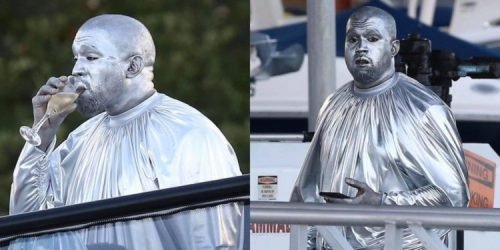 TMZ reports that American Rapper and new convert, Kanye West
performed the story of the birth of Jesus Christ last night and he was covered
in silver painting all through the production. Kanye premiered his new opera, dubbed "Mary", a production Kanye dedicated a to honor of Jesus's virgin mother in Art Basel in Miami.
According to TMZ, Kanye and others involved in the opera who were on stage and involved in the goings-on of the story… completely covered in silver, head to toe.
The play portrayed the Nativity story … in which Mary miraculously became pregnant and gave birth to Jesus in Bethlehem, welcoming royal visitors from distant lands for the occasion.
As for what the silver outfits might mean … it's anyone's guess. Kanye and co. may be playing angels of some sort, or maybe Christmas stars guiding the way? Time will tel. See
BBNaija's Tacha Finally Replies Jaaruma, Angela Okorie And Others That Called Her An Ingrate (Video)more photos below: