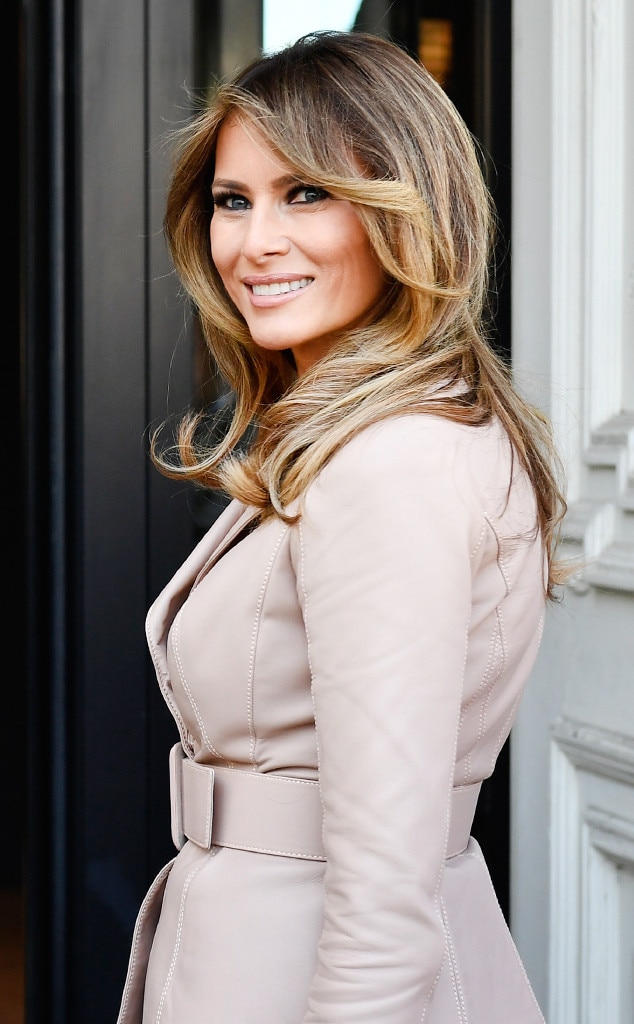 ERIC LALMAND/AFP/Getty Images
First lady fashion changes with each administration, but if Melania Trump's wardrobe is one thing, it's consistent.
That's not to say her style hasn't evolved.
Before Donald Trump took office, his better half was more at liberty to wear shorter hemlines and lower necklines. Now that Melania is a public figure, meeting world leaders as she has done in apparent high fashion on her latest international tour, the FLOTUS has adopted more conservative adjustments to her wardrobe. Still, the fashion formula we saw pre-election is still the same: minimalism + (luxury x 2) = Melania Trump's uniform.
"I think she's one of those women who finds a style that works for them and sticks with that. She knows the silhouettes that work for her and the colors she likes," said Phillip Bloch, former creative style director for the Miss Universe pageant. "She luxuriates in minimalism."
The stylist, who consulted on Tiffany Trump and Marla Maples' inauguration ensembles, calls the first lady a "front-row friend," recalling the first time he met her at Luca Luca fashion show. "I remember looking across the room and thinking, 'Is that Jennifer Lopez with Donald Trump?' She was wearing a white or powder-blue coat, blonde highlights and a glowing tan. The outfit I first saw her in still works for her today."
What exactly works for the FLOTUS, who, like her predecessors before her, do not receive fashion freebies? We asked Phillip to dissect the anatomy of Melania Trump's first lady fashion.
"Michelle [Obama] used her fashion to make a statement. She supported unknown designers—that was her thing in fashion," said Phillip. Melania, on the other hand, stays true to her high-fashion aesthetic. "I like that she's not trying to be not herself—she's being very true to who she is and that's a lot to say for someone in her position," added the family friend. 
One more thing to note about Melania Trump's style: You'll never see the first lady carrying a handbag.
She has deep pockets, after all.