He's Chuck Bass.
Seriously, it's the answer to everything when it comes to the iconic Gossip Girl character. How can he rock a patchwork scarf? He's Chuck Bass. A green suit and a purple robe? Again, he's Chuck Bass.
While fashionistas lost their minds on a weekly basis over the wardrobes of Blair (Leighton Meester) and  Serena (Blake Lively), the bad boy of the Upper East Side had just as much, if not more, fanfare over his colorful, over-the-top looks, which Ed Westwick rocked with charisma and ease.
In honor of the show's 10 year anniversary, we're revisiting some of Chuck's most iconic looks ever, which were all picked by costume designer Eric Daman back in 2012, just before the series finale aired.
Similar to his picks for Blair and Serena, Daman revealed some behind-the-scenes details about putting the 10 looks together, including his nod to Jack Nicholson, the inspiration for the infamous "Three words, ten letters" Chair scene, and the croquet outfit that earned him "flack" for styling.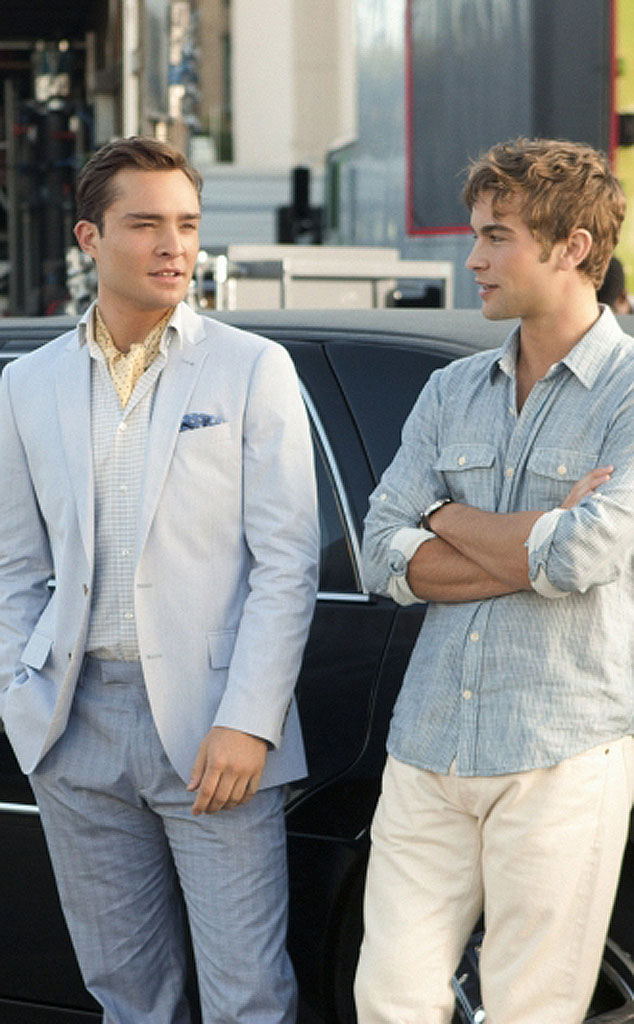 CW
"YES, THEN ZERO," SEASON 5
"'People like me don't write books, we're written about.' Living on a yacht, Bass takes to seafaring fashions like a fish to water. We had to get multiples on his light blue Banana Republic blazer as he gets covered in champagne later in the episode," Daman revealed. "The yellow cravat is high-seas perfection, and the navy pocket square is nautical nonsense! Ahoy matey!"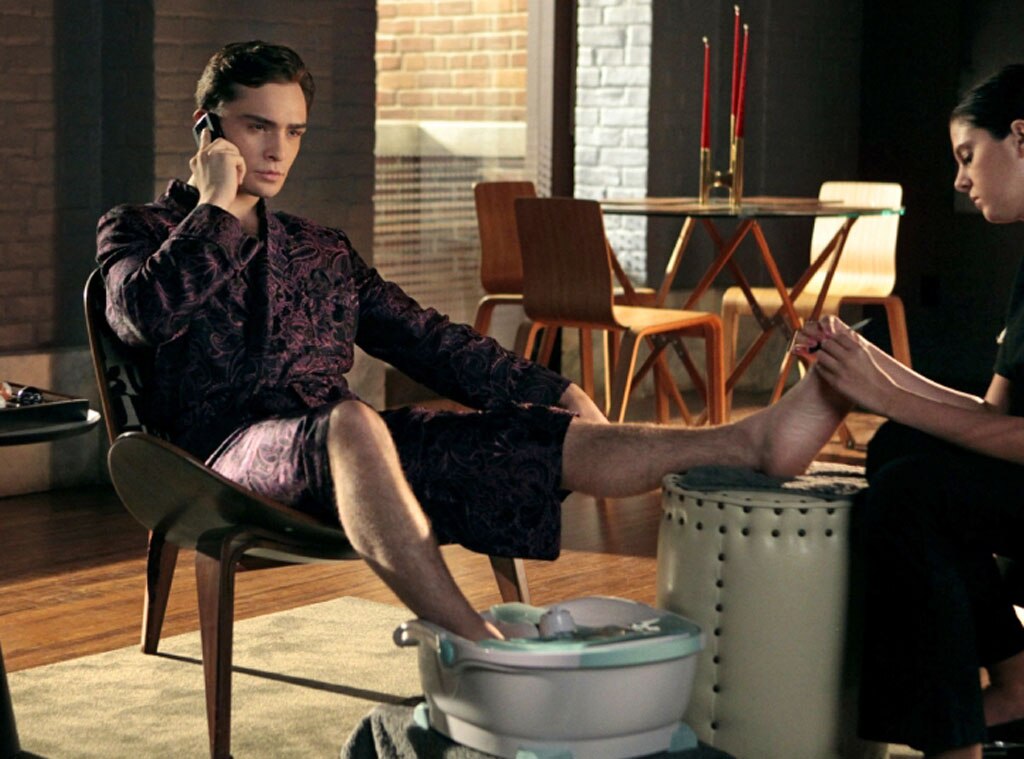 CW
"THE WITCHES OF BUSHWICK," SEASON 4
"Chuck Bass is one man that knows how to mix business and pleasure, always with class. Nothing sexier than a "man"i-pedi in a silk jacquard robe," Daman said. "This episode was called 'The Witches of Bushwick' and I was hoping to conjure a look particularly reminiscent of Jack Nicholson in a film of similar title. Bad-boy Bass at his best!"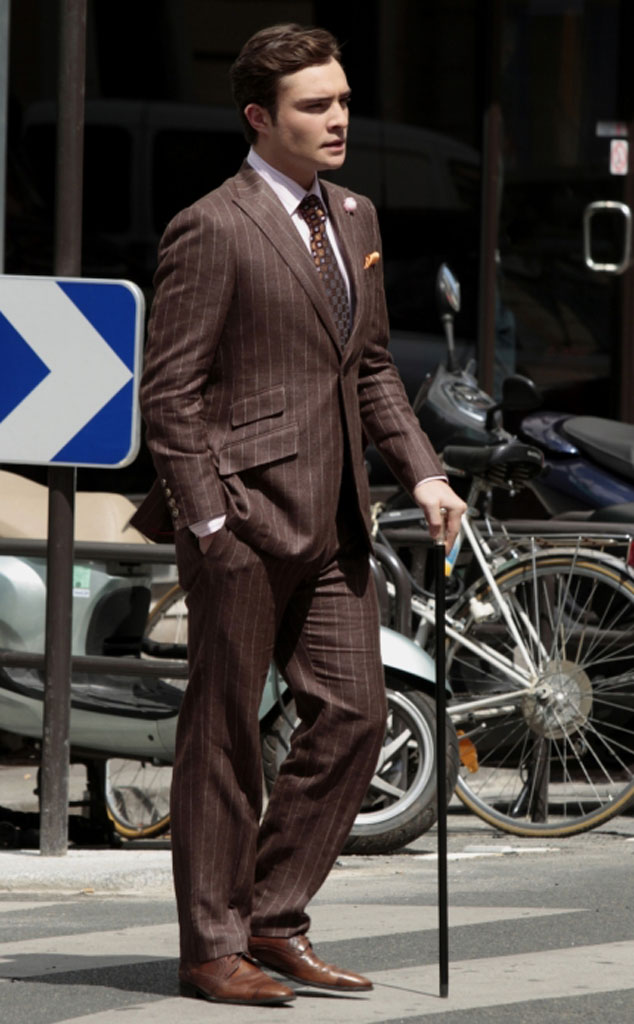 CW
"DOUBLE IDENTITY," SEASON 4
"Like a phoenix from the flames, Chuck rises (with the help of a bespoke cane!) to reclaim his destiny," Daman said of this season four look. "The pinstripe Paul Stewart suit is masculine, strong and old-world, the pink boutonniere a nod to his newfound happiness. This is fearless, fashionable, flawless Chuck Bass. A Parisian love story!"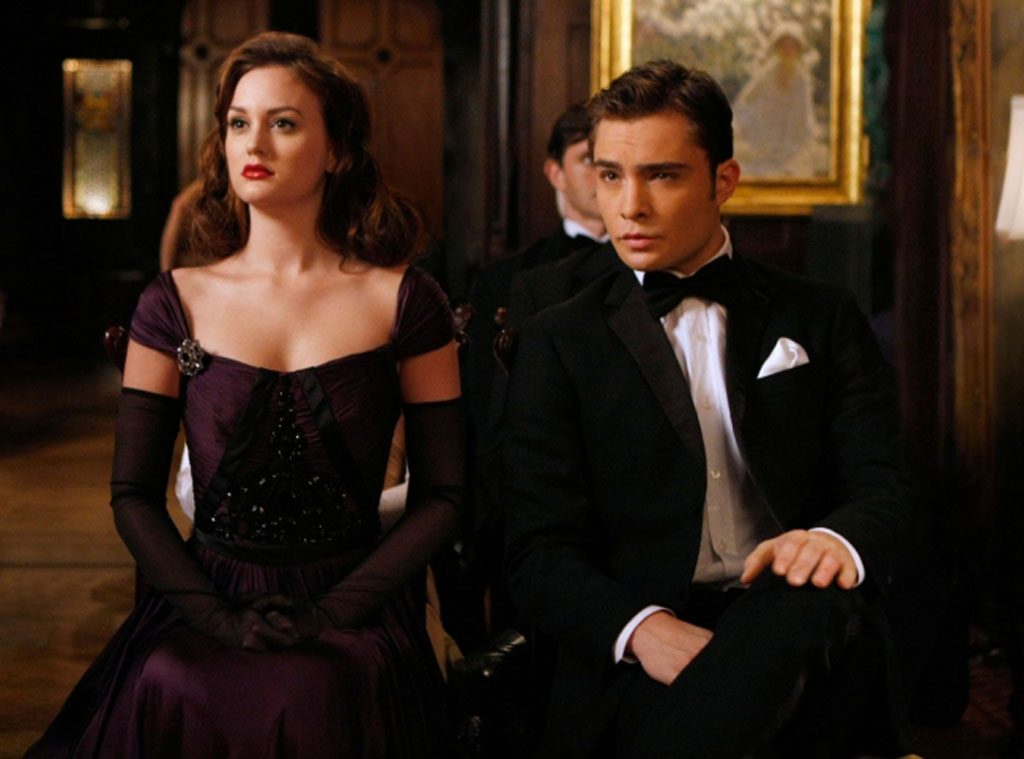 CW
"ENOUGH ABOUT EVE," SEASON 3
"All about Chair! This dream sequence demanded old-Hollywood glamour and Chair serves it up right. 007 watch out! Men's formalwear has a new name, and it's Chuck Bass," Daman gushed. "Killer in a classic tux, and to top it all off his leading lady by his side sporting a beautiful Reem Acra gown. I'm seeing film noir stars of the millennium."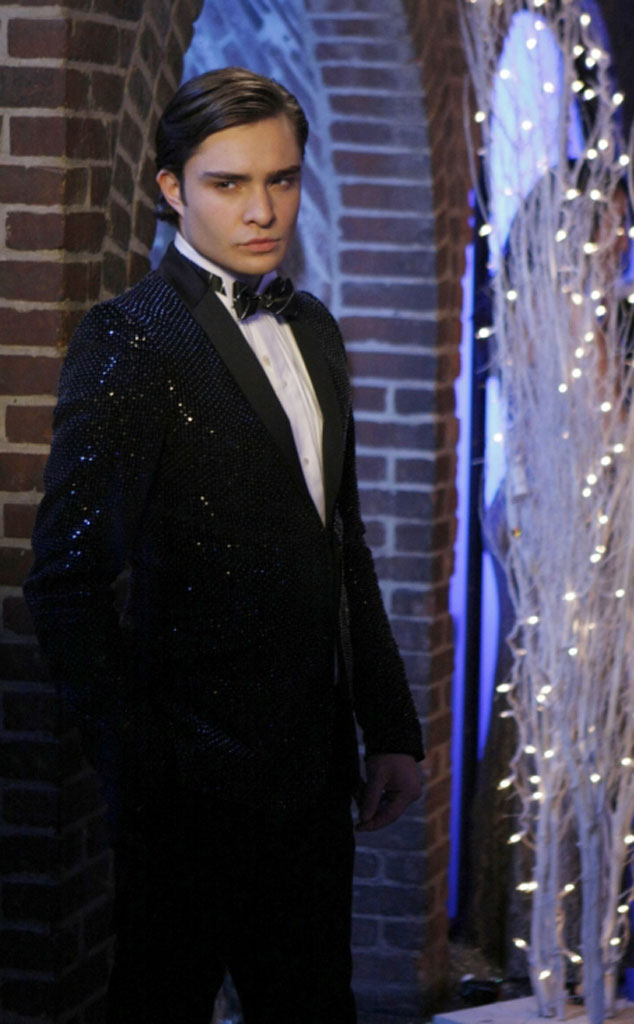 CW
"IT'S A WONDERFUL LIE," SEASON 2
"A shimmering ice-palace palette for the snowflake ball was our direction for this event. Chuck's black and clear crystal beaded smoking jacket from Costume National couldn't have been a better find. Thank you, Century 21! All of CB's formal attire is stunning, but this one really is the Rolls-Royce. Simply paired with a classic white tux shirt and black and silver shadow-stripe bow tie, he is icy hotness!"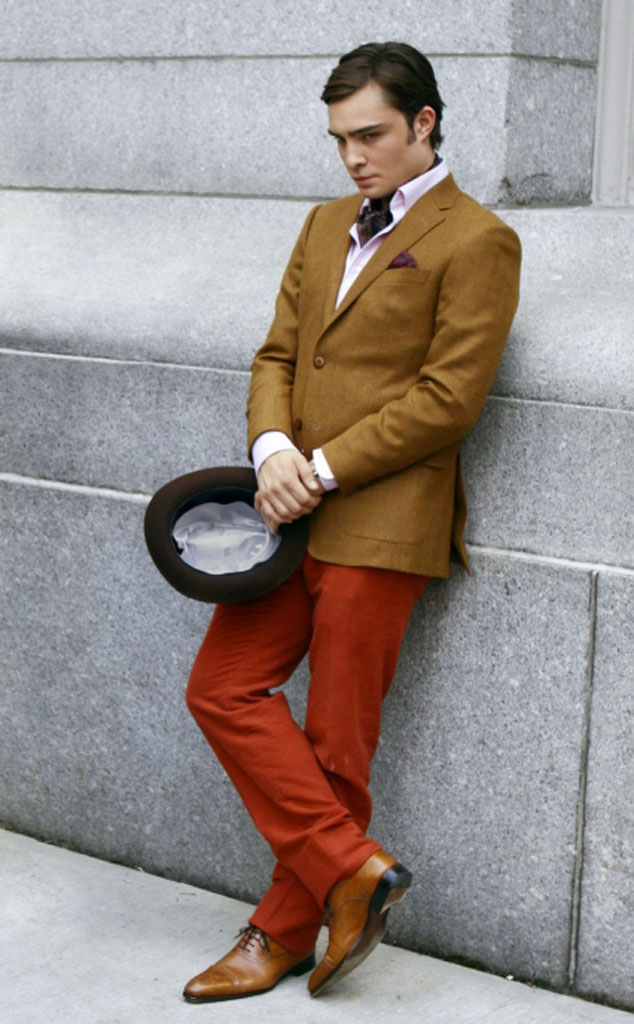 CW
"SUMMER, KIND OF WONDERFUL," SEASON 2
"Croquet anyone? CB giving some upper-crust Gatsby realness in this vintage-inspired ensemble. The pairing of Brooks Brothers argyle vest and socks with khaki shorts shows his daring flair and cocky nonchalance. I got some flack for this look but stand behind it 100 percent," Daman said. "Chuck is pegged out and ready for the croquet renaissance!"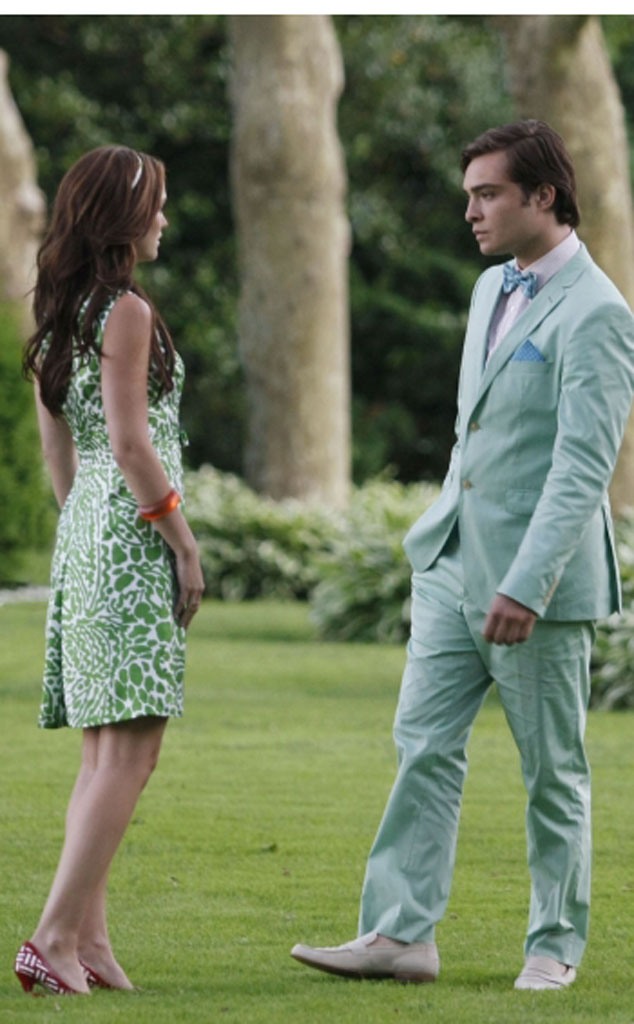 CW
"SUMMER, KIND OF WONDERFUL," SEASON 2
"'Just three little words. All you have to do is say them…' For this poignant Chair moment I wanted their costumes to be directly connected and seem like they were part of a fairy-tale garden," Daman revealed of his thought process going into the crucial scene. "The soft green of Chuck's Boss suit and the abstract leaf print on B's Milly dress melt beautifully into the moors of this Hampton estate. I wanted it to feel they would never leave and always be in this heavenly color-coated atmosphere; together forever. Green represents growth and harmony, and we all hoped Chuck would say those three words. Alas, green is also the color of jealousy, and B runs back to Lord Marcus."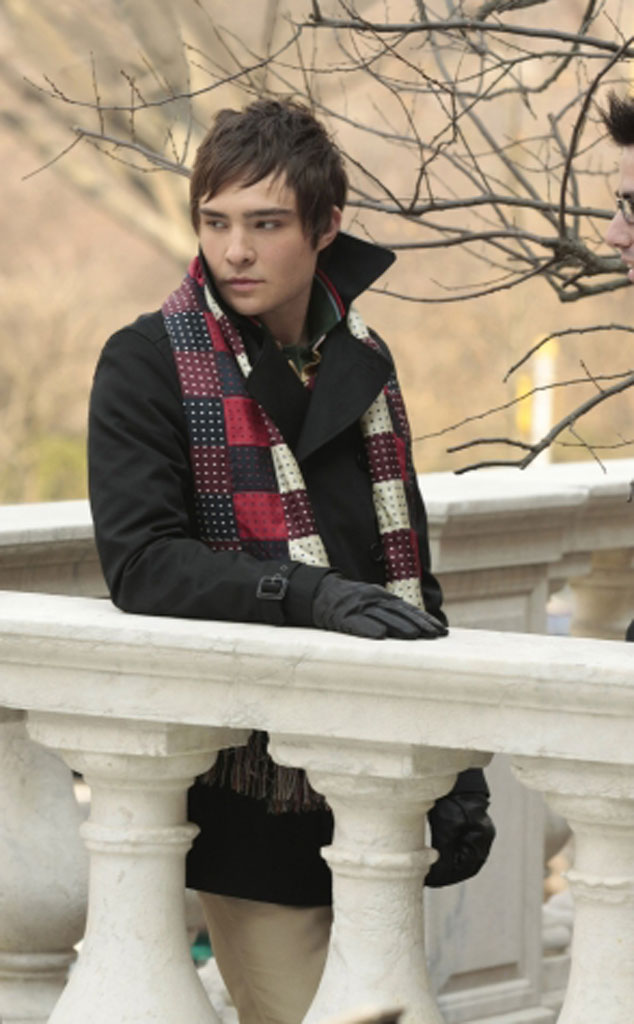 CW
"THE BLAIR BITCH PROJECT," SEASON 1
"We can't have a Chuck Top 10 without an appearance by the infamous J. Press scarf. A symphony of patchwork silk ties, the scarf became a must-have for any Chuck Bass fan," Daman said of the character's signature accessory. "After its cult debut the store sold out of them immediately. I love it paired with this plaid Marc Jacobs toggle coat. Boyish innocence meets Bass darkness. A classic."
Which of Chuck Bass' many iconic looks is your favorite?
Tweet @tbrick2 with your pick and your favorite Chuck Bass line or scene ever. You know you want to. XOXO.
"NEW HAVEN CAN WAIT," SEASON 2
"Autumnal elegance! Chuck is an Ivy League vision in this jacket and pant combo from Paul Stewart," Daman spilled. "The tones selected for this sartorial ensemble represent the changing of the seasons, and also don't go unnoticed by the underground community known as the Skull and Bones. Even after being kidnapped he looks perfect, ascot and pocket square still there."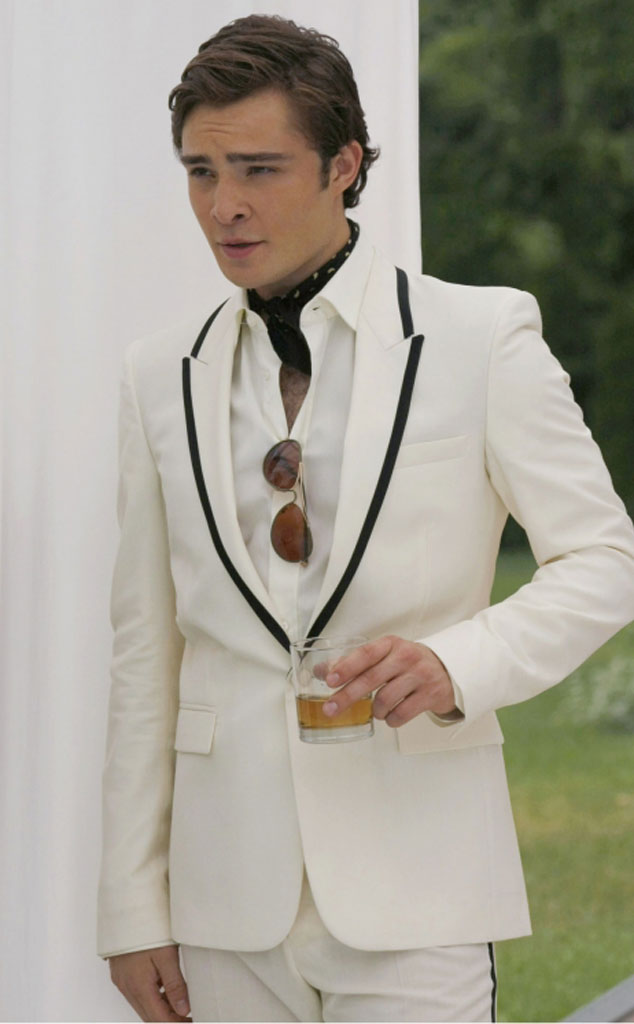 CW
"SUMMER, KIND OF WONDERFUL," SEASON 2
"This Maison Margiela cream tux screamed Chuck Bass White Party to me while shopping at Barney's. Haute sophistication! The black trim was a perfect nod to reflect his somber mood, knowing Blair had chosen Lord Marcus over him," Daman explained of the iconic look Chuck donned in the season two premiere. "And nothing finishes off Bass formalwear better than a cravat. The sunglasses were a personal touch from Mr. Westwick himself."