In Lagos Over 54 cars in flames as petrol tanker explodes at Berger
A petrol tanker had a brake failure and exploded in Lagos. Some 54 cars were burnt on the busiest expressway in the nation's commercial capital.
A Petrol tanker and a long line of cars are currently on fire on Otedola Bridge in the Berger area of Lagos, the state Rapid Response Squad (RSS) tweeted around 5 pm on Thursday, June 28.
The Lagos State Emergency Management Agency (LASEMA) and the Lagos Fire Service have mobilised personnel to the scene to put out the fire which had spread to other cars on the lanes.
Eyewitnesses say the accident occurred after a tanker laden with petrol had a brake failure and hit the median of the Lagos-Ibadan expressway; the busiest expressway and gateway into the nation's commercial capital.
What followed was a bang and a stream of fire that immediately engulfed four lanes of chaotic traffic.
Latest reports reaching the Pulse newsroom say some 9 bodies have been recovered with casualty figures said to be a lot higher. Some commuters were trapped in their cars when the tanker spilled its contents and exploded in balls of fire.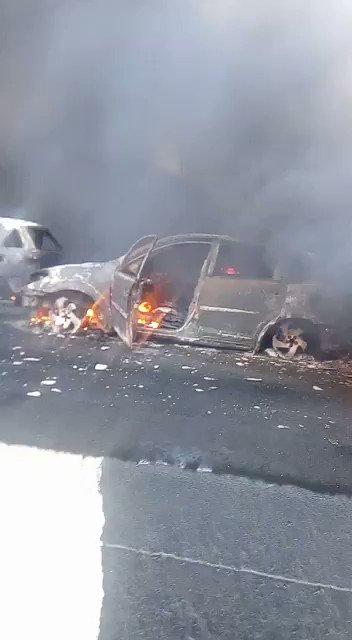 A video tweeted by the RSS showed officials trying hard to put out the fire burning a Toyota Highlander SUV. Social media users have been sharing pictures of a long line of burning cars and wailings.
Reactions to the fire incident is gaining traction on social media, especially Twitter, with many warning people to avoid the area.
See some of the reactions below: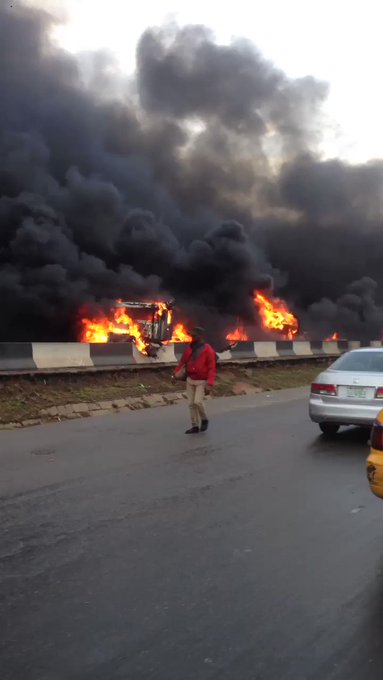 The number of casualties was not ascertained as at the time of filing this report.
Former Vice President Atiku Abubakar said: "My thoughts are with the fellow Nigerians who have lost lives and property in the tanker fire in Lagos.
"My prayers go out to the first responders working hard to bring the blaze under control".