Last Updated: 25/05/17 9:50am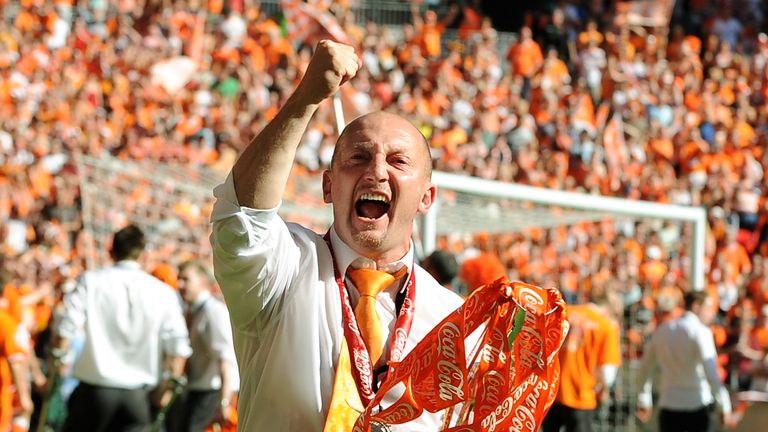 Nothing compares to the Championship play-off final for financial rewards
Find out why Huddersfield or Reading could be set for a £290m windfall if they win at Wembley on Monday…
On Monday, May 29. Huddersfield Town and Reading will battle it out for what is considered the most valuable match in world football.
Promotion to the Premier League for either club will see an uplift in revenue of at least £170m, rising to more than £290m if they survive their first season in the Premier League.
Dan Jones, partner and head of the Sports Business Group at Deloitte, commented: "Wembley's winner-takes-all clash will be a fantastic advert for both the Premier League and the Championship.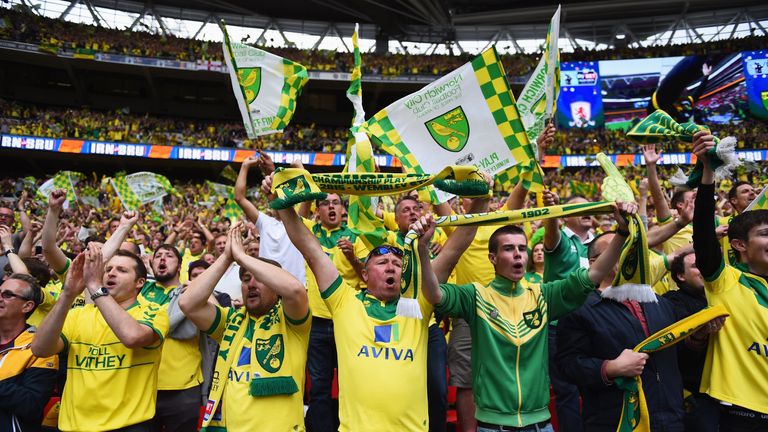 Norwich City fans celebrate beating Middlesbrough in the 2015 final
"We are one year into the new broadcast rights arrangements and fans of these clubs will be fully aware of the financial reward for playing in the top flight next season."
The winner of the Football League Championship play-off final, along with already promoted Brighton and Hove Albion, can expect a revenue increase of at least £170m across the next three seasons.
This is a combination of extra revenue they will earn from playing in the Premier League in 2017/18 (at least an extra £95m, mostly from central distributions) and parachute payments in 2018/19 and 2019/20 should they be relegated after one season (totalling an estimated £75m across two seasons).
Reading or Huddersfield, and Brighton, could see this figure rise to at least £290m if either club survives its first season in the Premier League.
Will it be agony or ecstasy for supporters of Huddersfield and Reading?
Over the past 10 seasons to 2016/17, 18 (60 per cent) of the 30 promoted clubs have avoided relegation in their first season in the Premier League.
Jones added: "The financial prize for Reading or Huddersfield, and Brighton, becomes at least £290m if the promoted club survives the first season in the Premier League.
Finishing positions of clubs in first Premier League season
| Season | Winner | Runner-up | Play-offs |
| --- | --- | --- | --- |
| 2006/07 | Sunderland (15) | Birmingham (19) | Derby (20) |
| 2007/08 | West Brom (20) | Stoke City(12) | Hull City (17) |
| 2008/09 | Wolves (15) | Birmingham (9) | Burnley (18) |
| 2009/10 | Newcastle (12) | West Brom (11) | Blackpool (19) |
| 2010/11 | QPR (17) | Norwich (12) | Swansea (11) |
| 2011/12 | Reading (19) | Southampton (14) | West Ham (10) |
| 2012/13 | Cardiff (20) | Hull (16) | Crystal Palace (11) |
| 2013/14 | Leicester (14) | Burnley (19) | QPR (20) |
| 2014/15 | Bournemouth (16) | Watford (13) | Norwich (19) |
| 2015/16 | Burnley (16) | Middlesbrough (19) | Hull (18) |
"Burnley successfully stayed up this year, and a sustained period of Premier League participation could provide any newly promoted club with the platform to enter the top 30 of the Deloitte Football Money League."
Newcastle United, who were in receipt of parachute payments in 2016/17, will benefit from a minimum uplift in central distributions of £60m in 2017/18.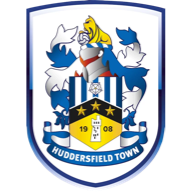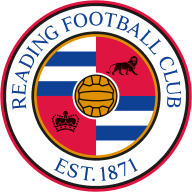 Huddsf'ld vs Reading
May 29, 2017, 2:00pm
Live on

The higher up the Premier League the club finishes in 2017/18, the higher their revenue will be (£2m per finishing position). Even if Newcastle are relegated at the end of their first season, the minimum uplift in revenue over the next three seasons will be £120m.
Jones concludes: "The current broadcast rights arrangements provide Premier League clubs with the financial resources to make strategic investments both on and off the pitch.
"Whilst this typically includes some increased expenditure on playing talent in the short term, it is important that promoted clubs are committed to long-term financial responsibility.
"Recent history has shown that parachute payments are no guarantee of promotion back to the Premier League if relegation does occur."