By Ben Efe
Former sprinter and coach, Gabriel Okon who was in charge of technical matters in Nigeria's participation at the IAAF World Championships in London, has insisted that poor preparations and travel arrangements cost the country medals and not coaches.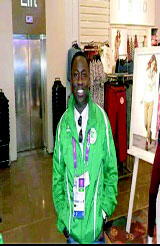 Okon
Okon who is feeling the heat of Nigeria's failed bid to win a last ditch medal in the women 4x400m relay, stated that the team was hard pressed for runners, hence the decision to run Abike Egbeniyi who arrived London a night before the race, which Nigeria was placed fifth even as their semi-final performance was good enough for a medal.
Athletics enthusiasts believe that Egbeniyi's lap slowed down the Nigerian women.
"First of all in order to win medals the government must invest in the athletes and coaches. The federation must have a sound technical team and a viable secretariat. Medals are never won through uninformed 'experts' as we are doing right now," Okon charged.
He explained that Abike had to run since Emerald Egwim and Margaret Bamgbose needed medical help after their races.
" Emerald Egwim was so sick the night before; we had to start looking for a replacement in which we didn't find. She complained of a stomach upset. She barely warmed up for the 4x4m qualifying race….so we couldn't have used her when there was a fresh leg in the team."
However, former sprinter Endurance Ojokolo disagreed. "Egwim ran so well in the semi-final. What kind of sickness could have stopped her. We are all athletes and we know these things, she could have been patched up to run. A half fit Egwim would be better than Abike who was home not training after Ozoro trials, she had no clue she will be going to the world championships."