New Delhi |
Published:August 24, 2017 1:53 am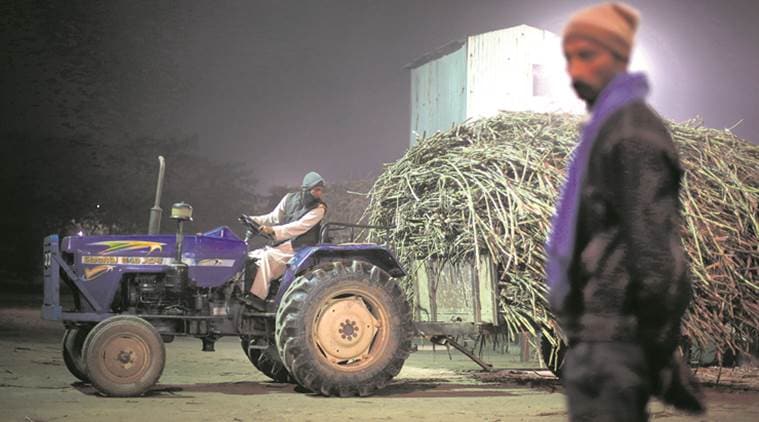 A farmer bringing his trolley of cane at a sugar mill in Bijnor, UP. (Source: Express Photo/Oinam Anand)
India's sugar industry seems headed for a North-South divide, with drought conditions leading to huge cane shortages in Karnataka and Tamil Nadu, even as Uttar Pradesh (UP) is poised for a second straight year of record production.
Annual sugar consumption in the five southern states — Karnataka, Kerala, Tamil Nadu (TN), Andhra Pradesh (AP) and Telangana — is estimated at around 5.5 million tonnes (mt) out of the country's total 25 mt. In normal years, the combined production of Karnataka (3.5-4 mt), TN (1.5-2 mt) and AP & Telangana (one mt) is more than sufficient to meet the region's consumption requirements.
But that's changed in the current 2016-17 season (October-September), which has seen Karnataka's sugar output nearly halve to 2.1 mt, with Tamil Nadu and AP & Telangana also registering sharp declines. For the first time in recent memory, the southern region's total output of just over 3.6 mt will fall far short of demand. The situation, moreover, is likely to be the same in the ensuing season as well (see table).
The implications of it aren't small, as traditionally only the central (Madhya Pradesh, Chhattisgarh and Rajasthan), eastern (West Bengal, Odisha and Jharkhand) and northeastern regions have been deficit in sugar. Their requirement has, in turn, been met by surplus producers like UP, Maharashtra and Karnataka. But with the South, too, now turning deficit, the usual inter-regional sugar flows are set for disruption.
Mills in Karnataka and TN have already sought permission for duty-free imports of raw sugar under the tariff rate quota (TRQ) system, which, they say, will help improve their capacity utilisation and also bridge the hitherto non-existent demand-supply gap in the region.
Karnataka mills want to import up to one mt of raws at zero duty, which can be processed along with the juice from the cane they would crush in the 2017-18 sugar season. Mills in Tamil Nadu — which has experienced an unprecedented drought, resulting in production plunging from 2.38 mt in 2011-12 and 1.93 mt in 2012-13 to slightly above one mt in 2016-17 and a projected 0.6 mt in the forthcoming season — are likewise seeking to import 0.6 mt under TRQ. Imports of both raw and refined or white sugar attract 50 per cent duty in the normal course.
Allowing duty-free imports — even up to a limit of 1.5-2 mt and to be undertaken solely for processing by southern mills through designated ports such as Chennai, Tuticorin, Karaikal, New Mangalore, Goa and Jaigarh — isn't going to an easy decision, though. At a macro level, India's likely production of 24-25 mt, along with 4 mt of opening stocks on October 1, should just about cover its domestic requirement for the next season and also leave behind enough sugar for a month or two of consumption.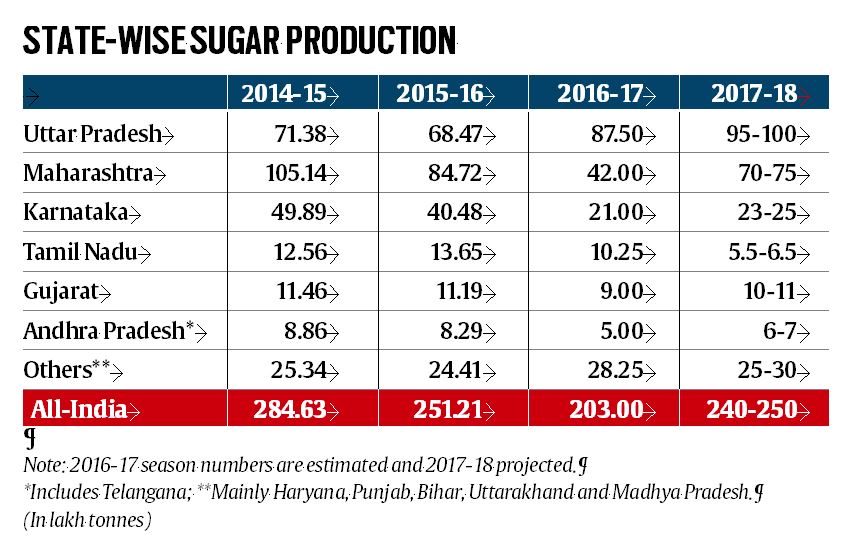 Sugar processed from imported raws will be about Rs 10/kg cheaper than if produced from domestically sourced cane.
But supply-demand calculations apart, there is also the political dimension. The Centre, only on July 10, increased the import duty on sugar from 40 to 50 per cent. That move — together with the more recent hike in edible oil tariffs and quantitative restrictions imposed on imports of arhar, moong and urad pulses — is seen to be signaling a subtle shift in the Narendra Modi government's policy focus, from being largely 'pro-consumer' to 'pro-farmer'.
In the case of sugar, the main beneficiaries of the apparent policy shift have been UP's mills. While Maharashtra's industry is yet to fully recover from that state's back-to-back droughts in 2014 and 2015, UP has emerged as the country's No. 1 producer. That development has been no less due to the widespread adoption of Co-0238, an early-maturing cane variety giving both higher yields to farmers and extra sugar recovery to mills (http://bit.ly/2jBpBk6).
Raw sugar is currently trading in New York at 13.5 cents a pound or 14.05 cents ($ 310 per tonne), after factoring in a 4.05 per cent 'polarisation premium' for extra sucrose content. Adding ocean freight of $30 from Brazil takes the landed cost in India to $340 or almost Rs 22,000 per tonne. Inclusive of expenses towards port handling, bagging and transport to factory (Rs 1,500-2,000) and refining-cum-processing losses (Rs 4,000), the total cost of the resultant white sugar works out to Rs 27,500-28,000 per tonne. That, of course, is subject to the imported raws not being charged to any duty. On the other hand, ex-factory sugar prices are now ruling at Rs 36,000-37,000 per tonne in UP and Maharashtra, while at Rs 3,700-3,800 in Karnataka and Rs 3,800-3,900 in Tamil Nadu.
Simply put, sugar processed from imported raws will be about Rs 10/kg cheaper than if produced from domestically sourced cane. It is only the 50 per cent duty that's preventing imports from taking place. And in a scenario where the Modi government is under pressure to be seen as pro-farmer — more so in UP, where the Bharatiya Janata Party is in power — it may not be inclined to allow duty-free imports even under TRQ.
The above pro-farmer policy tilt in sugar could, however, still face challenges on two counts. The first is the upcoming festival season demand — Dussehra is on September 30, followed by Diwali on October 19 — that could push up retail prices, which have already crossed Rs 45 per kg in many parts. The second is the fact that more than 40 per cent of domestic sugar production today is coming from a single state — UP — even as the southern region has turned from being sugar-surplus to sugar-deficit. It opens up the possibility for not just a producer-consumer, but also a new North-South divide.
For all the latest India News, download Indian Express App