Shocking moment angry woman lifts up her maid, slams her to the ground (Video)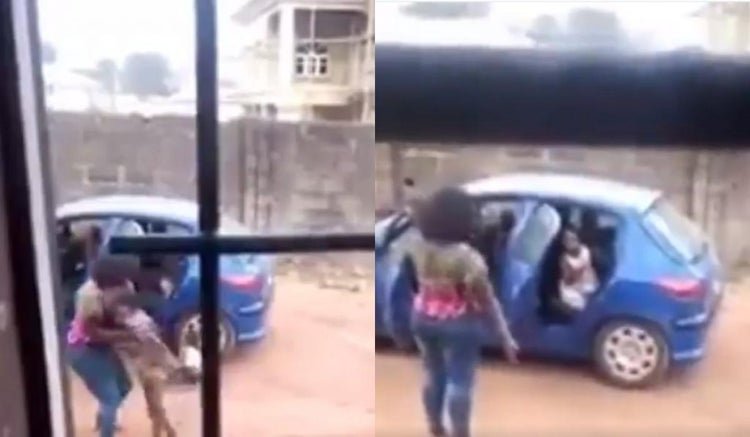 Damilola IsmailDecember 22, 2019
A Nigerian woman was caught on camera lifting her maup up ad slamming her to the ground in anger.
In the video, the woman is can be seen hurriedly reaching out to the child (believed to be her maid) and forcefully dragging her out of the car before she lifted her off the ground and slammed her to the ground.
In fear and shock, the little girl immediately got up and ran off, afraid of what the woman might do next. The woman started calling her back before she resurfaced holding her head.
This happened in front of some other children believed to be hers.
We are unable to confirm the identity or reason behind the woman's actions but from the ranting in the video, it had something to do with ATM. It is suspected that the maid had lost the woman's ATM card.
The video which has quickly gone viral has sparked outrage among Nigerians and other internet users who are now seeking for the abusive woman to be prosecuted.
Watch the video below.
Why does she have a child as her help? Why is she treating her like that? Christ! pic.twitter.com/tGWIQKFYQk

— Laila Ijeoma | Lailasnews.com (@LailaIjeoma) December 21, 2019
Follow us on Twitter @wowplus1