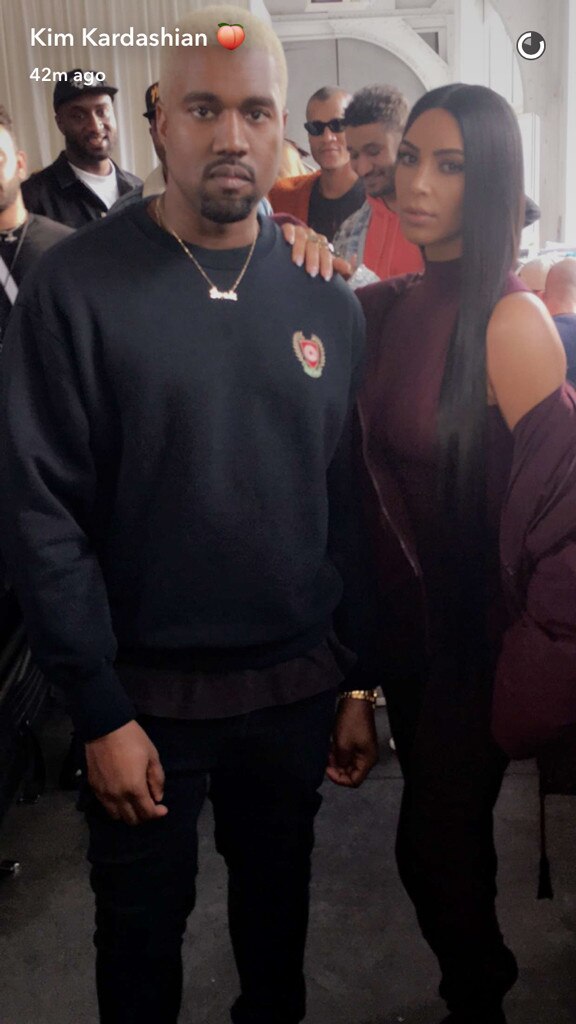 Snapchat
Looks like Kanye West kept Yeezy Season 5 (mostly) exclusive to those inside Pier 59 Studios.
The rapper-designer kicked out all credentialed press moments before the presentation was set to begin on Wednesday afternoon, E! News confirms. Additionally, attendees were not allowed to take photos, video and post on social media, though details and snapshots did make it online. 
Sitting in the front row was Kim Kardashian, dressed head to toe in a burgundy sweatsuit. The E! reality star was photographed in New York City wearing the same outfit earlier today.
As the show began, 360-degree videos of male and female models wearing all denim and military-inspired ensembles were projected onto a screen as a remix of J. Holiday's "Bed" (performed by The Dream) played in the background for the show's entire duration. A blond model dressed in a sherpa-lined denim jacket, baggy jeans and brown boots opened the show. 
Kim shared videos of the his fifth collaboration with Adidas to her Snapchat, as models walked a square-shaped runway with a massive black cube in the center. Pitch black curtains hung from floor-to-ceiling draped the entire venue.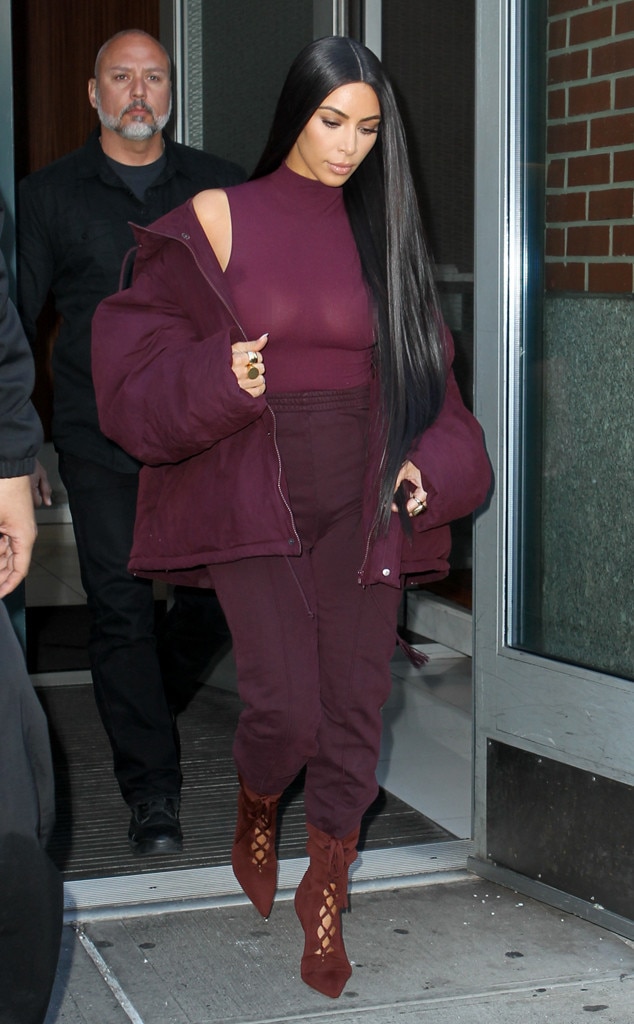 Freddie Baez/startraksphoto.com
 One jacket featured the Kardashian's Los Angeles hometown of Calabasas, as well as Lost Hills and Agoura embroidered in large type on the back. A separate black and white wind breaker also had "Calabasas" emblazoned across it. West played with more colors than previous collections have featured, utilizing teal, red and navy blue as staples throughout his pieces. 
Chunky, thigh-high boots and sneakers very unlike Kanye's famous Yeezy shoes were featured predominantly. West enlisted a diverse group of models for the presentation, which included Georgia Fowler, Anima Blue and Luka Sabbat and Halima Aden—who made her runway debut as the first hijab-wearing model signed to a major agency.
The entire show lasted for approximately 15 minutes, and Kanye did not walk the runway for the show's finale as is typically customary.