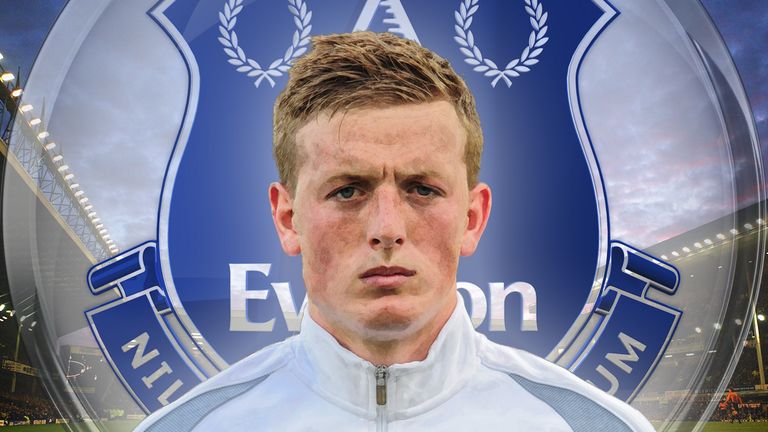 Jordan Pickford joined Everton for £30m on a five-year deal this month after a remarkable breakthrough season as Sunderland's No 1 – but is he worth the fee?
Sky Sports caught up with Sam Jackson, who heads the analytics consultancy arm of football agency World in Motion/GK1, to compare Pickford's stats against the Premier League's elite stoppers.
Some of Pickford's supporters have pointed to him having made the second-highest number of saves in the Premier League last season.
Top five goalkeepers for saves made, PL 2016/17
| Goalkeeper | Club (2016/17) | Saves | Shots on target faced | Shots faced (inc. blocks) |
| --- | --- | --- | --- | --- |
| Tom Heaton | Burnley | 141 | 189 | 619 |
| Jordan Pickford | Sunderland | 135 | 185 | 537 |
| Lukasz Fabianski | Swansea City | 117 | 184 | 508 |
| Ben Foster | West Bromwich Albion | 116 | 160 | 519 |
| Heurelho Gomes | Watford | 115 | 177 | 521 |
The problem with counting saves is data reveals an almost perfect correlation between the total shots a 'keeper faces and the number of saves made. "So rating a 'keeper by this metric simply rewards a busy stopper," says Jackson.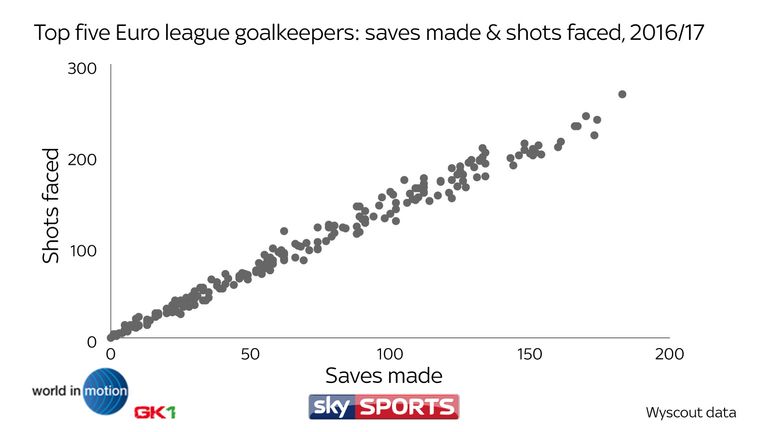 There is a clear correlation between the number of shots a goalkeeper faces and the number of their saves
He also argues that counting clean sheets, at which Pickford fares less well, "only rewards 'keepers who have played lots of minutes behind an excellent defence".
In addition, save percentage looks at the proportion of shots saved, but tells us nothing about the difficulty of shots a keeper has faced – or how well they save the shots.
"Save percentage would equally rate a tame shot that got parried back into the danger zone and a comfortably held rocket otherwise destined for the top corner," Jackson explains.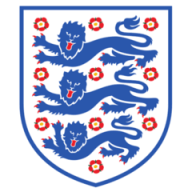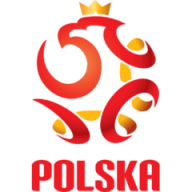 England U21 vs Poland U21
June 22, 2017, 7:00pm
Live on

He cites Chelsea's former goalkeeper coach Christophe Lollichon: "The modern-day keeper is not just a shot-stopper – he's a player".
For that reason, World in Motion/GK1 collects data for two unique models to rate goalkeeper performance: one assessing shot-stopping and the other for distribution.
SHOT-STOPPING
The shot-stopping model factors the power of shots faced, where the shot was heading and where it was taken from, whether the 'keeper was sighted and the response to the shot – was it held, parried to safety or danger, or conceded?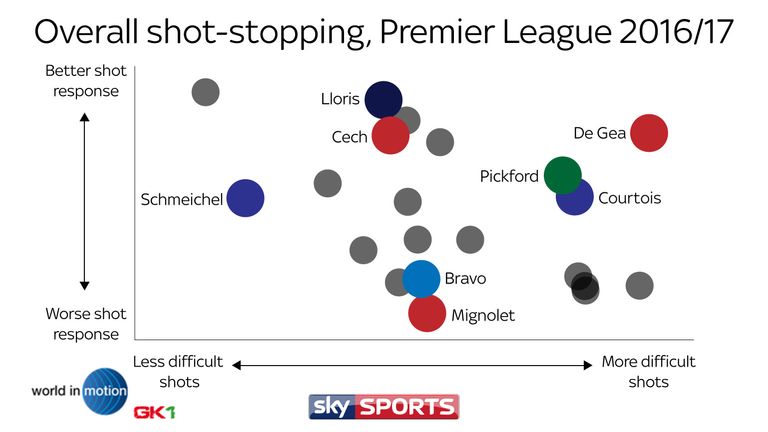 Pickford ranks third for shot-stopping when both the difficulty of a shot faced and save response are factored
Pickford was the third best shot-stopper in the Premier League last season – behind only David de Gea and Hugo Lloris – according to this model.
The 23-year-old recorded above-average responses to an above-average number of difficult shots faced.
DISTRIBUTION
For distribution, Jackson looks at whether the 'keeper was under pressure to pass, distribution type, speed in playing the ball, number of opponents bypassed and uses a five-point accuracy rating.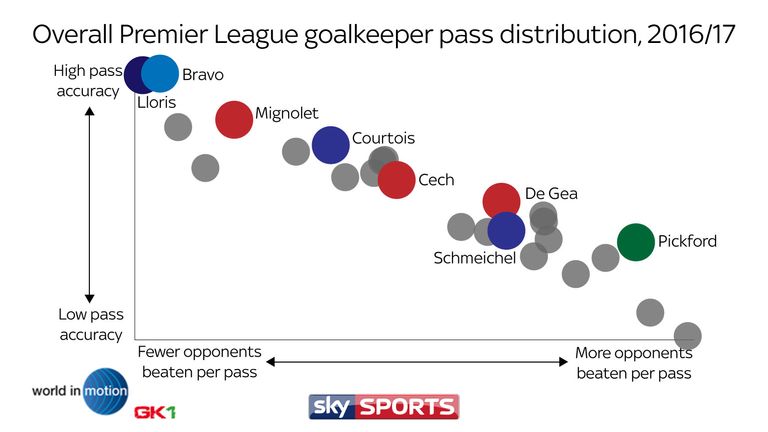 Pickford frequently launches passes into the opposition's final third with unrivalled accuracy
In this metric, Pickford once again ranked third in the Premier League last season, behind Manchester City's Claudio Bravo and Lloris – who both tend to play out from the back.
However, the England international is the best distributor among 'keepers with long distribution styles, meaning his ability to find team-mates at long range is unmatched.
SO IS HE WORTH £30m?
Jackson is convinced he is worth every penny.
"Relative to his other attributes, Pickford definitely has room to improve aerially and racing out to intercept through balls, aspects of goalkeeping which we also analyse with data – but let's not forget he only turned 23 in March.
"He is already world class at shot-stopping and distribution and has bags of potential to improve further. A club record fee rising to £30m seems a fair price for talent like that."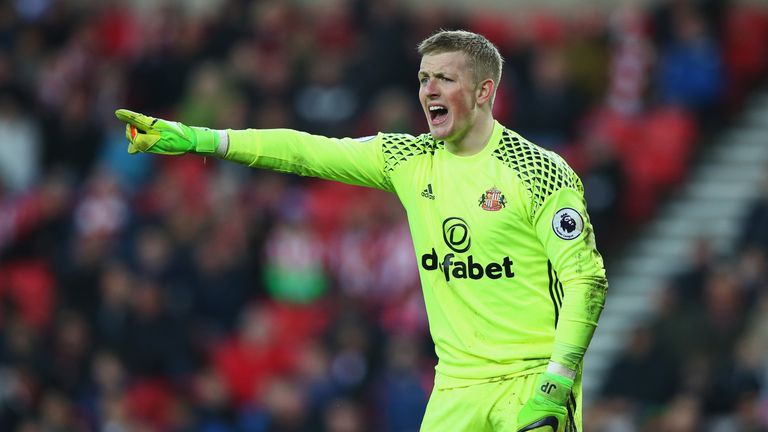 The 23-year-old is displaying those talents for England in the UEFA U21 Championship campaign live on Sky Sports – having saved a penalty against Sweden on Friday to ensure a 0-0 draw before a 2-1 win over Slovakia on Monday.
You can watch Pickford and his England team-mates face tournament hosts Poland, live on Sky Sports 1 from 7pm on Thursday.