By Peter Okutu
ABAKALIKI-A Chieftain of the All Progressive Congress, APC and national Coordinator of the Initiative for demonstrating change in Nigeria, Comrade Chinedu Ogah weekend declared that current agitation or struggle for the realisation of the sovereign state of Biafra was a mirage as it was not feasible in a country like Nigeria.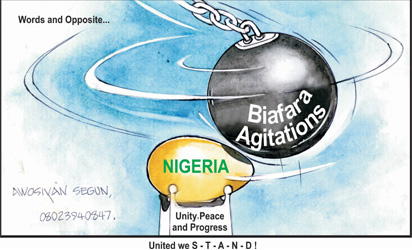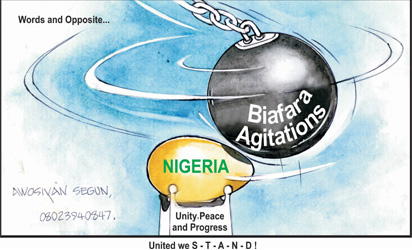 Addressing newsmen in Abakaliki, the APC Chieftain who listed the key problems with the Igbo clan to include selfishness on the part of its leaders and relegation of the interest of youths to the background added that the problem of the clan became hydra-headed following the age-long insensitivity of Igbo leaders to the plight and future of the younger generation.
"Biafra is not realisable and you know it. I believe in one Nigeria. Igbo are the ones killing themselves. If we change our attitude everything will change around us. The position other tribes are occupying today, Igbo had occupied it before. But what did they do with it? They go into these positions and take all the benefits accruable to them without recourse to their brothers and sisters back home.
"Our representatives are the problems. Who and who have they given jobs or empowered at both the state and federal level? Our problem is greed, selfishness and lack of concern for one another".
Ogah further alleged that the so-called activities of the leader of the Indigenous People of Biafra, IPOB, Mazi Nnamdi Kanu were designed to siphon money from different categories of Nigerians in the name of Biafra and not for any genuine collective interest concerning Ndigbo.
He described the larger population of those following him as touts and hoodlums who do not have any meaningful venture occupying their minds but violence and riotous lifestyle.
According to him, nobody is marginalising Igbo people, we are the ones marginalising ourselves because of the kind of Igbo leaders who have represented us and are still doing so till date.
"We are the causes of our problems; Nnamdi Kanu is using his so-called IPOB to siphon money from different categories of Nigerians; most of the people working with him are touts and unemployed youths and the likes; I believe in one Nigeria; Igbo are not marginalised; we are the ones marginalising ourselves". He stressed. Ends