The month of September is high season for the fashion world.
With Fashion Week kicking off in New York and spanning the style capitals of London, Milan and Paris, you can imagine the iCals of editors and celebs alike are packed with events, shows and appointments. How could a few suitcases handle that much fashion?
New York Fashion Week proved to be merely a warm up for the sartorial scene that's happening in Milan right now. Everyone from Izabel Goulart to Hailey Baldwin is tearing it up on the runway and then hitting the streets in their own inspiring looks, with plaid as the dominant print of the season.
Manhattan still managed to keep some fashionable celebs stateside, as it does, with models like Miranda Kerr redefining florals for fall and Karrueche Tran making a major statement—no pants necessary.

For more looks from the best-dressed stars we've spotted from the streets of New York and beyond, keep scrolling.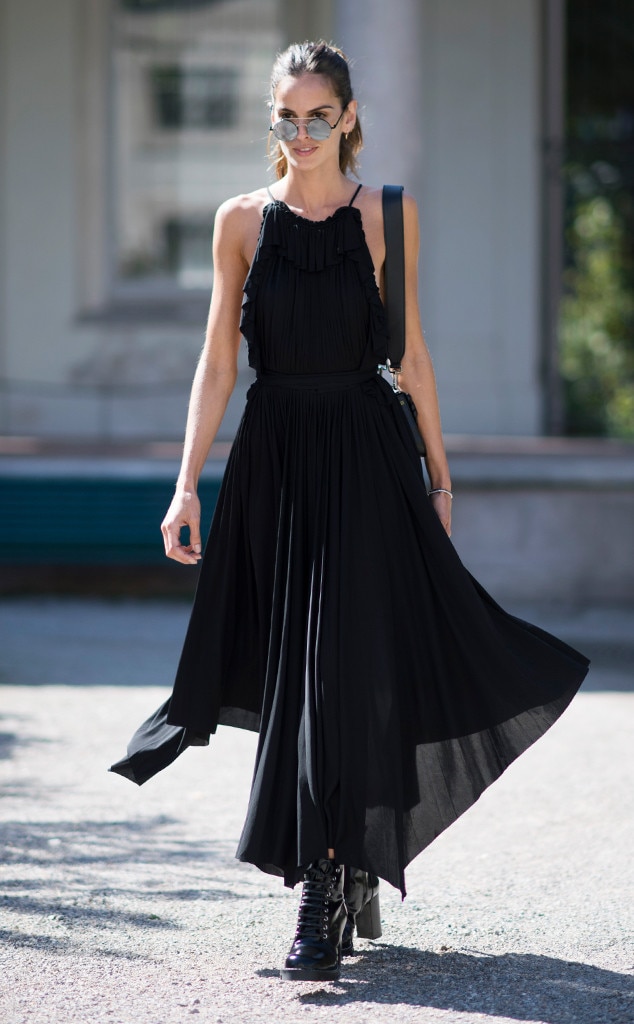 Timur Emek/GC Images
IZABEL GOULART
The Vicotira's Secret model turned the streets into her personal runway while in Milan for Fashion Week. Her black, pleated dress is the definition of girly chic, with ruffle details and an open back that's effortlessly sexy. Paired with chunky, lace-up heels, and Izabel looks ready to conquer the style scene.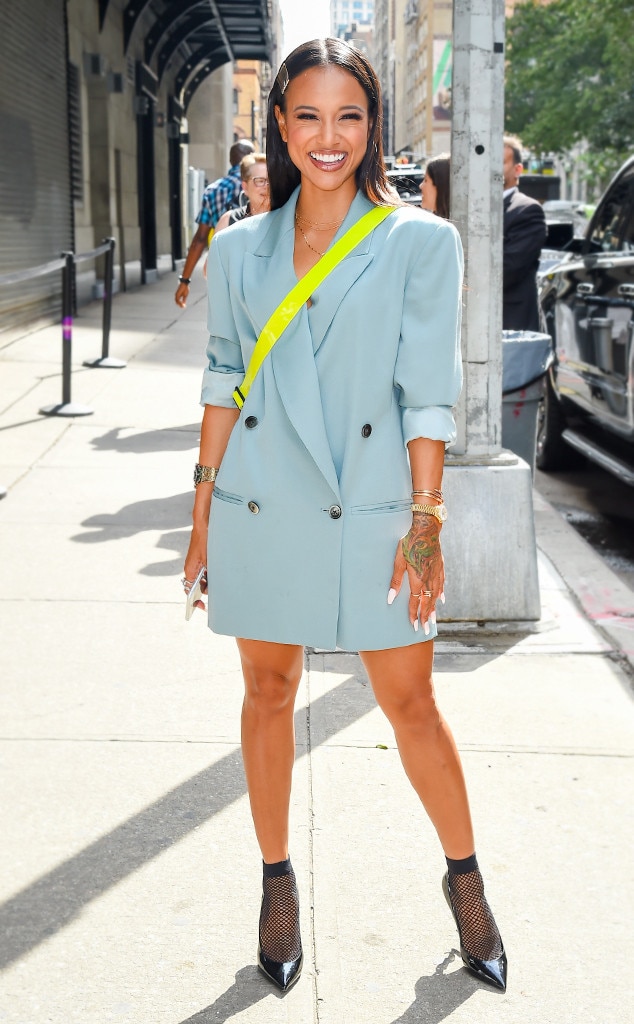 Raymond Hall/GC Images
KARRUECHE TRAN
This model makes pants-less look perfect outside of The Wendy Williams Show in New York. We're digging how she styled an oversized blazer with a pair of black heels and mesh socks. Her neon fanny pack—worn as a cross-body—makes for the ultimate statement piece to top it all off. Work it, girl.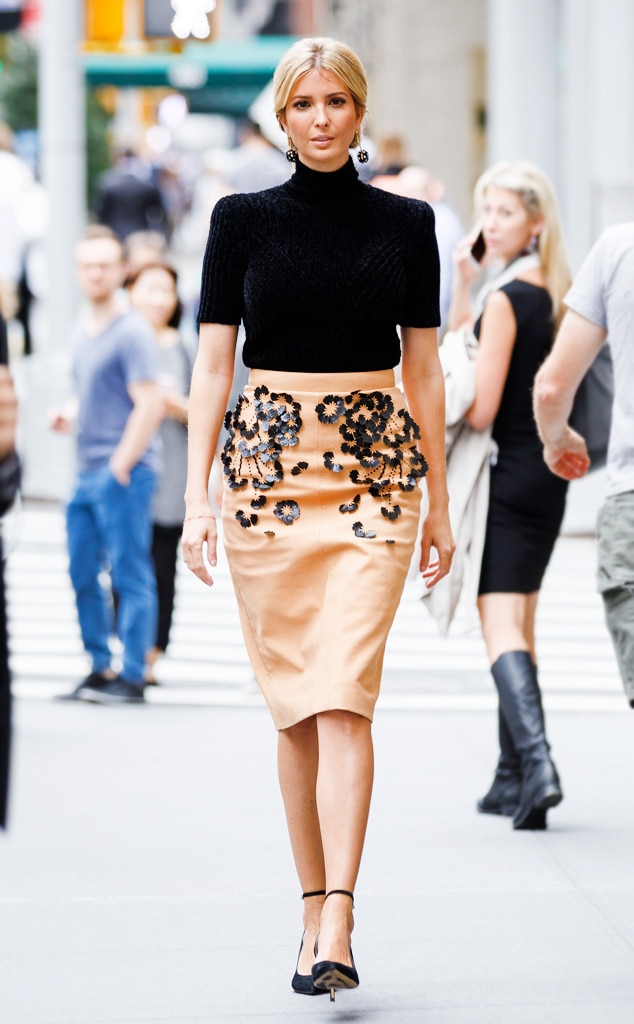 Gotham/GC Images
IVANKA TRUMP
The president's daughter stepped out in New York in a stylish ensemble, pairing a black, short-sleeved turtle neck with a nude pencil skirt. The black leather floral embellishments on her skirt are just the right amount of detail to add a little fashionable flair to a more professional outfit. Ivanka was attending her father's speech at the United Nations.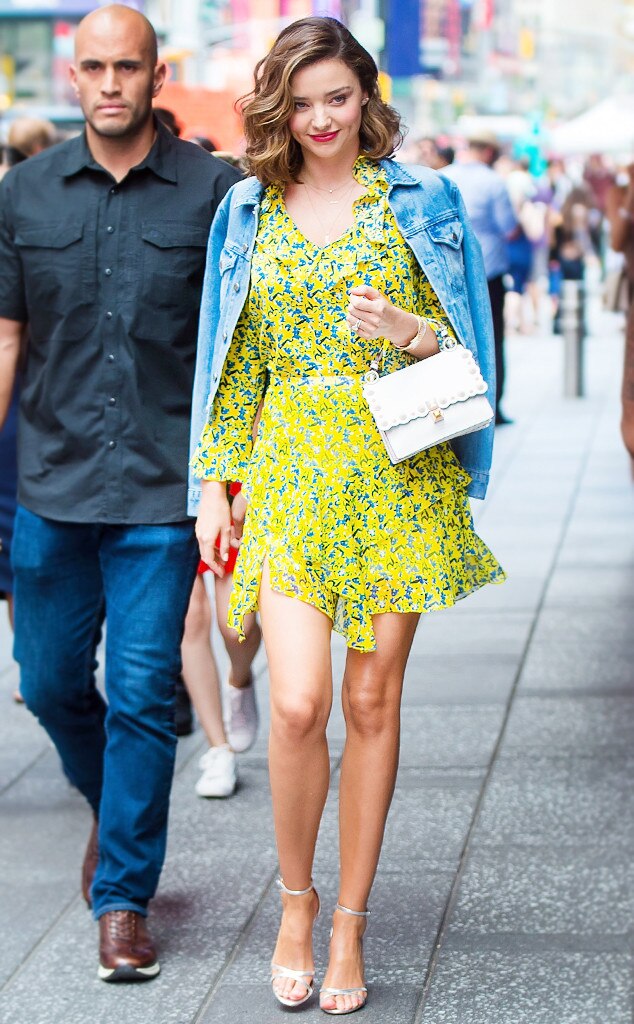 Gotham/GC Images
MIRANDA KERR
The Victoria's Secret alum was flirty in floral while celebrating the U.S. arrival of her skin care brand at Sephora in Times Square. We love how she dressed down her feminine frock with a denim jacket for a look that was casual chic.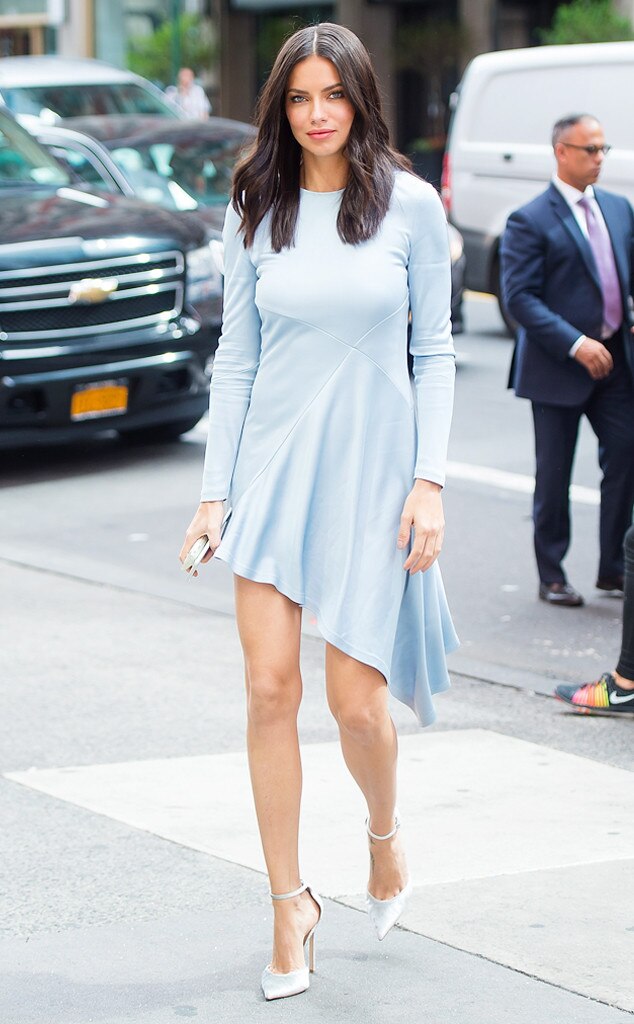 Gotham/GC Images
ADRIANA LIMA
Nothing but leg! The always-stunning Victoria's Secret angel looked beautiful in an asymmetrical dress and sky-high heels while spotted in Manhattan. The bright-blue hues of this look is a reminder that just because it's fall doesn't mean we have to say goodbye to the more colorful pieces in our closets.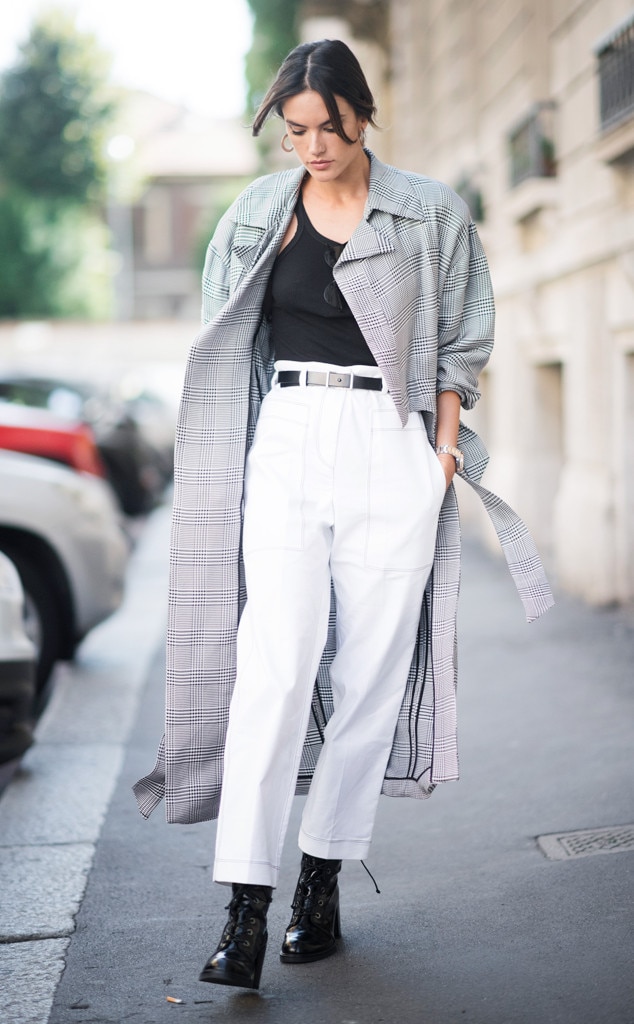 Timur Emek/GC Images
ALESSANDRA AMBROSIO
The timeless trench: Alessandra gave an edgy update to her plaid coat by cuffing up the sleeves and pairing it with white, high-waisted pants. Her off-duty look is very on-trend (we've spotted plaid trenches recently on style stars like Selena Gomez), and the classic sunnies are a reminder of just how cool this Brazilian model is—as if we'd forgotten. She was in Milan outside the Alberta Ferretti show, where she rocked the runway.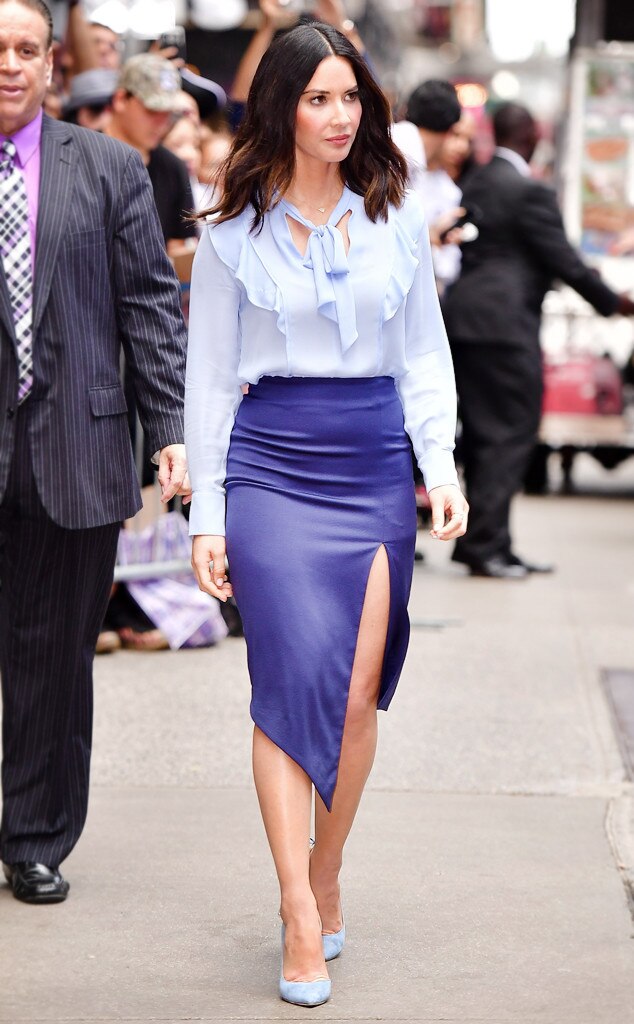 James Devaney/GC Images
OLIVIA MUNN
The actress's pussy bow blouse, which was the same color as her pointy-toed pumps, was the perfect choice for this form-fitting skirt. The high slit and uneven hem take item from simple to standout.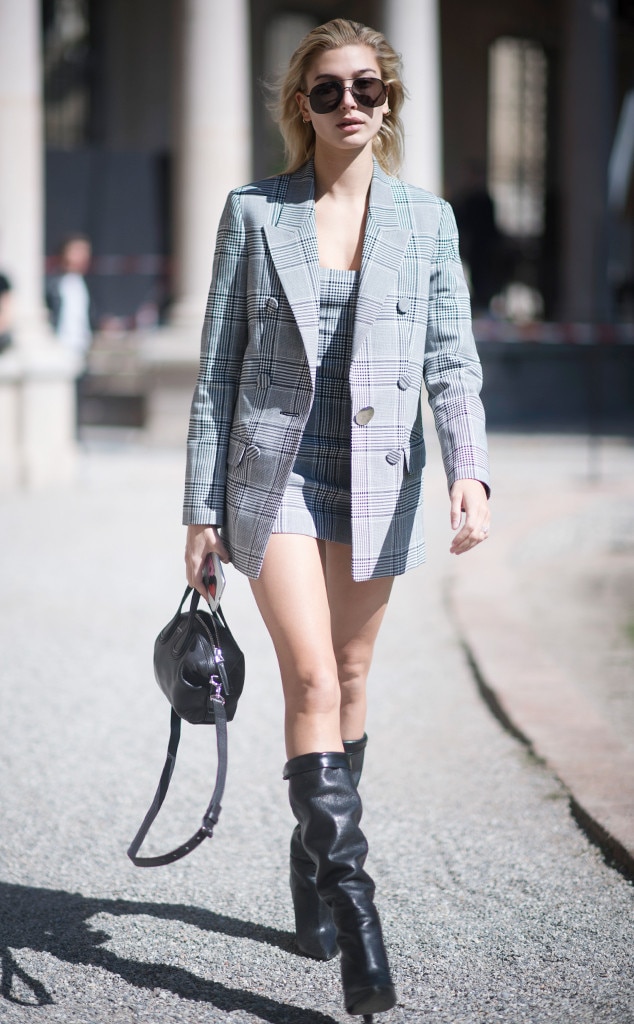 HAILEY BALDWIN
Hailey is gunning for the top spot as the ultimate street style star. She was outside the Alberta Ferretti show (which she walked) in a checkered grey dress with a matching blazer that's got us wanting to wear strictly co-ords for fall. Her relaxed black leather boots are also on trend for the season.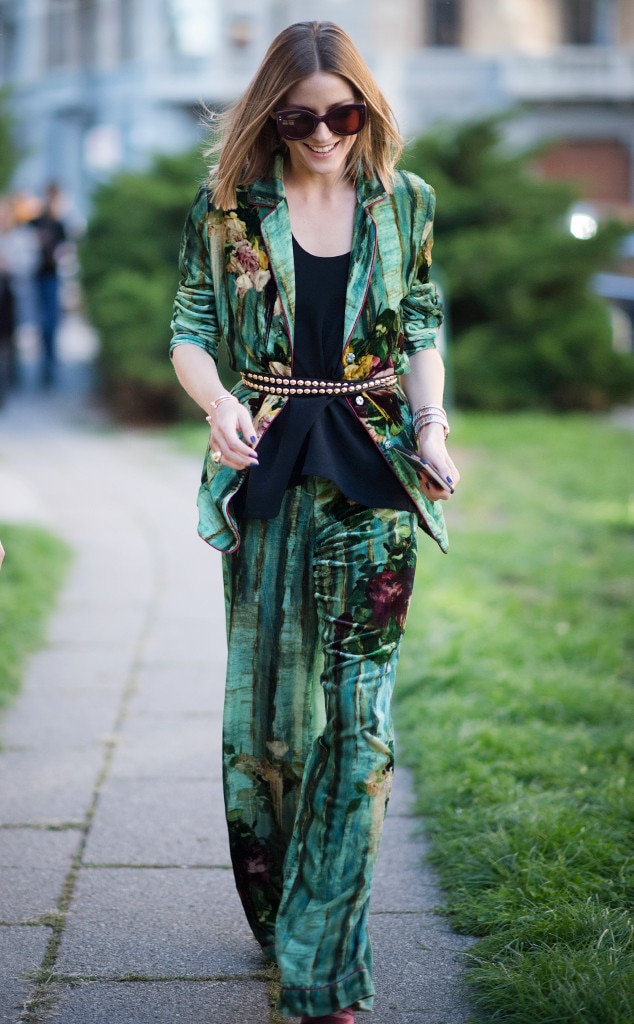 Timur Emek/Getty Images
OLIVIA PALERMO
Leave it to Olivia to dominate the street style scene at Milan Fashion Week (or any Fashion Week, really). Not only are we taking notes about how to rock a power print, we're also loving this studded double belt that she's got wrapped around her waist and over her blazer. There's always something to learn from observing this sartorial star.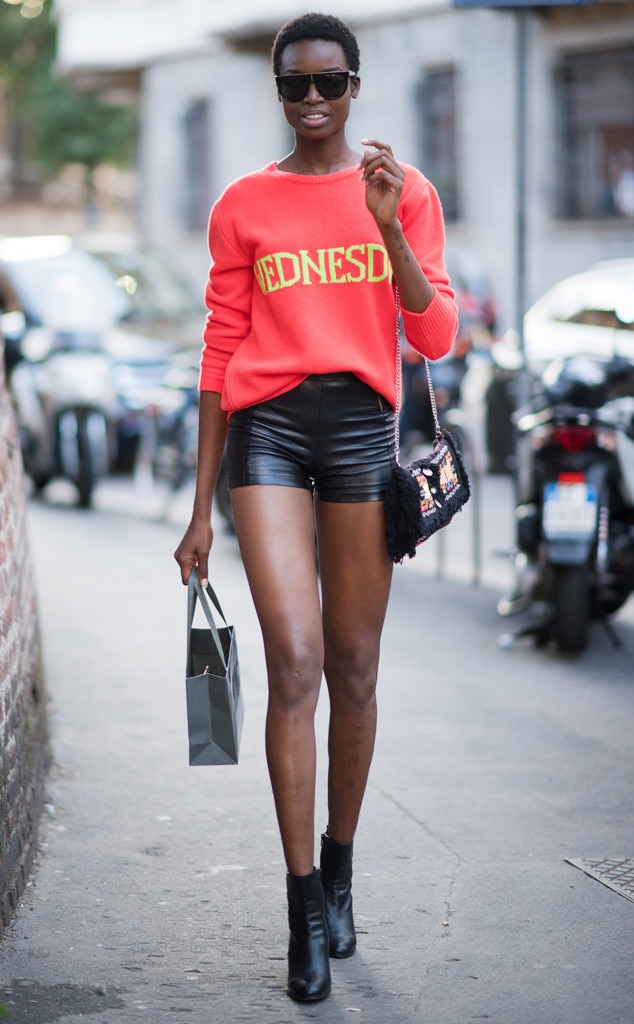 Timur Emek/Getty Images
MARIA BORGES
Wednesday? How about all day, everyday—which sums up just how often this model is on top of her fashion game. We're just wondering if you need to be a Fashion Week pro to pull off those shorts, or can we get ourselves a pair, too?