Security Officials Captured Struggling For Money Davido Gave Them As He Visits National Assembly (Watch Video)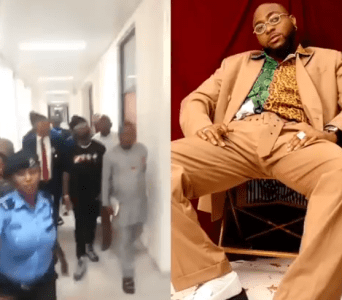 Singer Davido visited the National Assembly and a video showing the security officials struggling over the money he gave them has started trending on social media.
Davido, Zlatan Ibile, and his crew members paid a visit to the National Assembly in Abuja to meet with Hon. Shina Peller who is the owner of Quilox club in Lagos.
According to the Instagram post from Shina Peller, something ground-breaking is about to be the product of their meeting.
The visit by Davido and his crew caused some commotion while he was leaving after he handed some money to one of the security officials at the National Assembly and others who were also on duty started scrambling over each other to get their own share of the money.
Watch the video below;
Security officials scrambling for money Davido gave them at the National Assembly.pic.twitter.com/umqE43lFB7

— Laila Ijeoma | Lailasnews.com (@LailaIjeoma) December 5, 2019