Last Updated: 28/06/17 6:00pm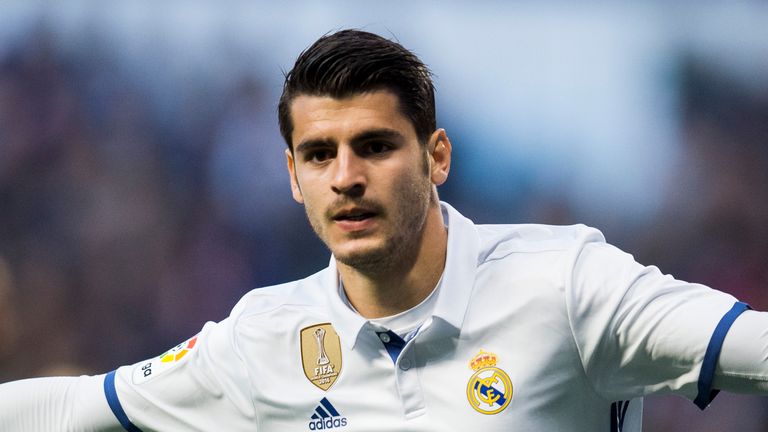 Alvaro Morata scored 19 goals in 43 appearances last season
Real Madrid president Florentino Perez has confirmed that his club has not held talks with Manchester United over the transfer of Alvaro Morata.
It has been reported in Spain that Morata's agent Juanma Lopez has held talks at the Bernabeu to try to negotiate the player's departure.
Lopez also revealed last month that Real had rejected an offer from AC Milan for Morata, who the Spanish club value at 80m Euros (£70.61m).
"I believe we are not negotiating with Manchester United, which does not mean that there are not people around him who are talking, which is normal," Perez told El Primer Palo radio.
Real Madrid reportedly rejected an offer from AC Milan for Morata last month
"I have read that we have reached an agreement for I don't know how many million Euros, but it is not true."
Former Real Madrid coach Vicente del Bosque, who also managed the Spain national team, believes it will be a "pity" if Morata leaves Spanish football but that it could benefit the player himself.
Marcus Rashford says he would welcome the addition of Alvaro Morata to the Manchester United squad
"The most important thing for Morata is to play, but I believe he is very good at Real Madrid," Del Bosque told AS.
"It is a pity if he leaves, but it has always enriched our football for players to go abroad and be able to play. It will be no problem for the Spain team, although Spanish football would lose a great player."
Morata has emerged as United's first-choice target for a new forward following the injury to Zlatan Ibrahimovic and their pursuit of Antoine Griezmann from Atletico Madrid ending because of the Spanish club's transfer ban.