She has the power to see the future, but as the new Raven's Home key art below tells you, Raven Baxter (and probably Raven-Symoné), did not see this spinoff coming. Raven posted the art on her social media accounts ahead of the series premiere airing Friday, July 21 at 10 p.m. ET on Disney Channel.
In Raven's Home, the sequel series to That's So Raven, longtime friends Raven and Chelsea (Anneliese van der Pol) are now divorced and raising their children together, all under Raven's roof. Raven's 11-year-old twins Booker (Issac Ryan Brown) and Nia (Navia Robinson) and Chelsea's 9-year-old son Levi (Jason Maybaum) are all under one roof. Hijinks ensue, obviously, especially when Booker starts getting visions of the future just like his mother. Raven's still getting the visions, which her kids don't know about, and Raven doesn't know Booker has the abilities as well.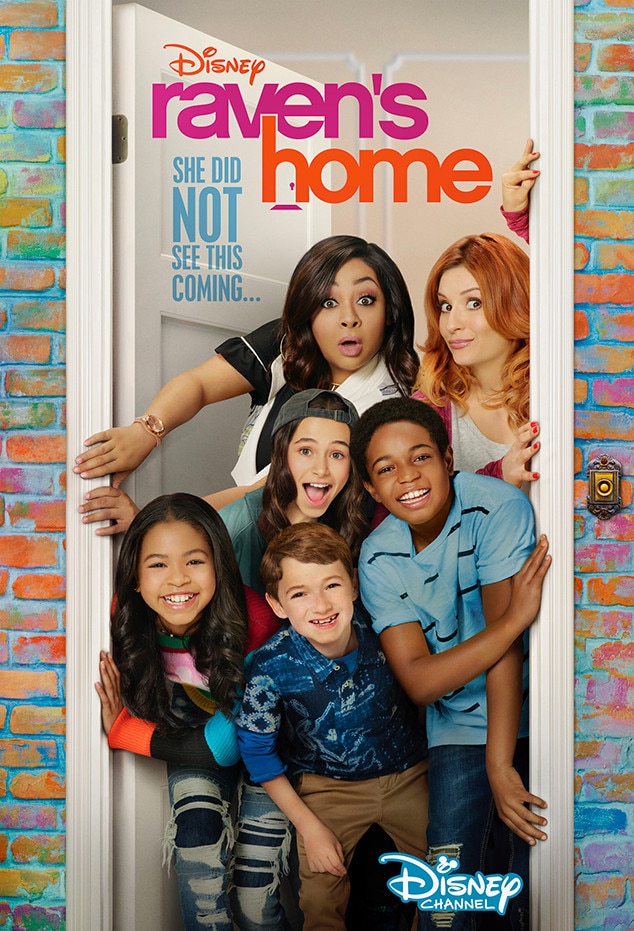 Disney Channel
In the premiere episode, Booker asks Levi and Tess (Sky Katz) to help him convince Nia that he has the power to see the future. Raven gets a vision of the future that involves a family disagreement. To try and remedy it, she meddles in her kid's school life.
The Office's Leslie David Baker guest stars as Principal Wentworth.
In the video above, Raven reveals the advice she's given her new young costars about stage etiquette she picked up over the years working in TV.
"There was an etiquette for stage when I was growing up on sitcoms that's no longer there. Yes, we have social media, but don't bring your phones on set because that's rude and disrespectful to my time," she said. "If you want to be on the phone, you can go back to your room. That's the way I was talked to and I'll say it with a smile and spoon of sugar and we can go have a doughnut later, but take your phone off set."
New episodes of Raven's Home air Fridays, 8 p.m. on Disney Channel starting July 28.