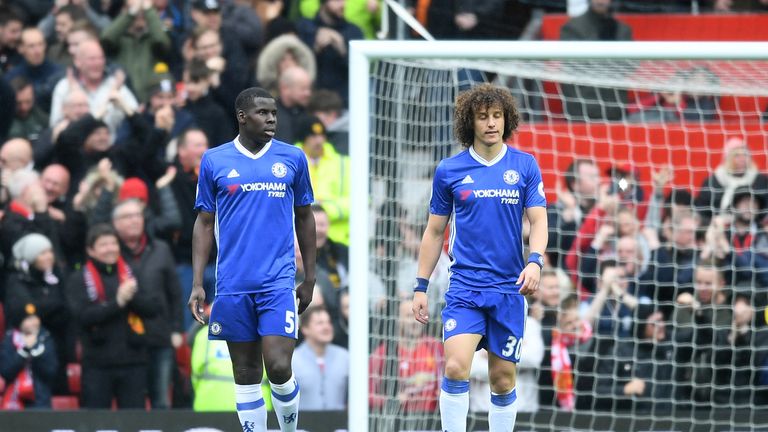 Kurt Zouma missed nine months during 2016 after damaging a cruciate ligament
Kurt Zouma has signed a new Chelsea contract but will spend this season on loan at Stoke.
The France centre-half passed a medical at Stoke on Monday and has now completed the formalities of his loan – but not before signing a six-year deal at Stamford Bridge.
Zouma was a bit-part player at Chelsea in Antonio Conte's first season after missing nine months with a cruciate injury.
But the club's technical director Michael Enemalo said: "It is fantastic Kurt has chosen to commit his future to Chelsea.
"He has shown his talent since joining us three years ago, and has returned from a serious injury with a fantastic attitude.
"Now he has the opportunity to play regularly in the Premier League and we will be monitoring his progress closely while he is at Stoke."
Zouma, who won the Premier League and League Cup with Chelsea in 2015 in his first season in England, was also a target for West Brom.
Stoke boss Mark Hughes said: "Kurt is undoubtedly one of the most talented young defenders in the game, so naturally his arrival will enhance our playing squad for the forthcoming campaign.
We speak to Alvaro Morata as he arrives in London ahead of his Chelsea medical.
"We have prioritised adding further strength in depth to defensive positions this summer, and we have certainly done that by fending off any number of clubs who were all interested in taking Kurt on loan.
"He first caught my attention as a 17-year-old during his time at Saint-Etienne, and in fact, I actually tried to sign him at that point in his career, but whilst that deal never materialised I am delighted to finally get the opportunity to work with him now.
"On his day he is one of the most impressive defenders in the league, and whilst injury, unfortunately, hampered his progress at Chelsea last season, we are certain that we can give him the platform to recapture the form he showed prior to his setback."