Liverpool have "rolled the dice" with their top-four aspirations by selling Philippe Coutinho midway through the season, according to the Daily Telegraph's chief football correspondent Jason Burt.
Barcelona signed Coutinho from Liverpool earlier this month for a club record fee of £146m, but Jurgen Klopp's side made the perfect start to life after the Brazil international, beating Premier League leaders Manchester City.
Back-to-back defeats to Swansea and West Brom have put the sale of the club's star player in the spotlight once more, but Klopp insisted on Monday Coutinho will not be replaced in the next 48 hours.
"Someone is going to miss out on the top four," Burt said on The Debate.
"Last season, Manchester United managed to get into the Champions League via the back door, and it'll be a big disappointment if Liverpool don't do it. It's a risk and they've rolled the dice with what they've done here.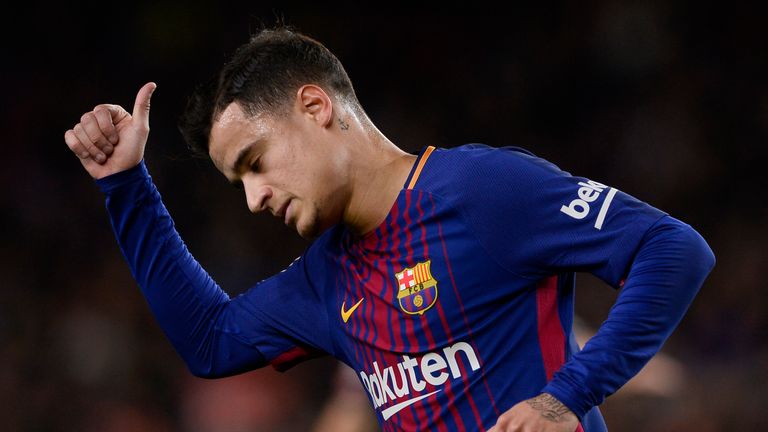 "It's the manager having faith in what he's got and trying to hold his nerve. I think he's definitely got a couple of deals in the summer that he's lined up, but he's probably thinking he can't get these players now, and he's got enough to get them through.
"Big clubs tend not to sell big players in January to put yourself under pressure for the second half of the season.
"Barcelona were under pressure to do this deal, the players will have put the club under pressure following the sale of Neymar and Klopp has probably thought, 'I can do without this.'"
Burt feels the shift in Liverpool's priorities changed during the autumn following Mohamed Salah's blistering start to his Liverpool career, with the team's "change in dynamic" making Coutinho more dispensable.
Liverpool will be without Adam Lallana for the visit to Huddersfield on Tuesday after the midfielder suffered a tear to a leg muscle – the latest setback in an injury-plagued season.
Daniel Sturridge has been allowed to join West Brom on loan until the end of the season, while Alex Oxlade-Chamberlain has shown signs of improvement since Coutinho's sale.
However, following the club's third successive FA Cup exit before the fifth-round stage, former Liverpool forward Craig Bellamy believes the Merseyside club's biggest problem has been breaking down teams set up to defend.
"Attacking has not been a concern for me and hasn't been for a couple of years," said Bellamy, who made 79 appearances for the Reds across two spells. "It's the balance in transition; they leave their defence very vulnerable and breaking teams down has been a problem for a couple of years.
"My concern with Liverpool has been against the lesser sides especially at Anfield. The way they play with the wingers coming inside, it gets very congested. With Coutinho, that's where it worked because he could find a pass when nothing was on.
"Because Coutinho was so good, you're going to have to spend more than £50m to replace him and these players are very difficult to get hold of in this window."
Also See:
Jurgen Klopp criticises Liverpool defence after West Brom defeat
Joel Matip takes the blame for Liverpool's defeat by West Brom