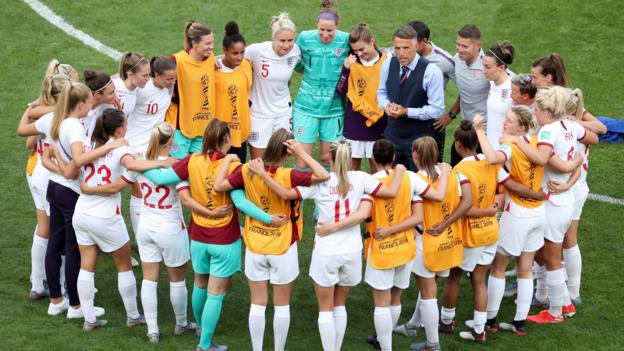 Fifa Women's World Cup: England v USA
Venue: Stade de Lyon, Lyon Date: Tuesday, 2 July Kick-off: 20:00 BST
Coverage: Watch live on BBC One or iPlayer, listen to commentary on BBC Radio 5 Live, read live text commentary on BBC Sport website and app.
England manager Phil Neville says he has been planning for a crucial Women's World Cup meeting with the United States since the day he took the job.
Neville's side face the holders in Lyon in the last four on Tuesday, aiming to reach the final for the first time.
Victory would make the Lionesses the first senior England team to reach a major global final since 1966.
"We've planned for it, we've played against them and we know how we're going to play," Neville told BBC Sport.
"When it was France or USA in the semi-final every one of my players said: 'Let's hope it's USA.'
"When I got the job [in January 2018], the first three games I looked at were the USA. I was sitting in my house in Valencia and watched three games in one afternoon because I thought: 'How can we win the World Cup?'
"You have to beat the best, and the USA are the best. They've proven it.
"But we're ready for them. Sometimes, before these games, you can have fear and trepidation – but I can smell nothing but freedom, happiness and excitement."
The Lionesses have reached the last four for the second World Cup – and a third major tournament – in a row and have a fully fit squad.
They beat Norway 3-0 in the quarter-finals, with a record-breaking UK television audience of 7.6 million cheering them on.
Favourites and three-time champions the USA – who have never failed to make the semi-finals of the World Cup – beat hosts France.
Both sides have been preparing for the game amid a heatwave across France, but temperatures are expected to be slightly fresher by Tuesday's 20:00 BST kick-off. A crowd of close to the Stade de Lyon's tournament capacity of 57,900 is expected.
European champions the Netherlands face Sweden in Wednesday's other semi-final, with the winners from the two matches meeting in the final in Lyon on Sunday. The losers will play in Saturday's third-place play-off in Nice.
England have 'more hunger' than other semi-finalists
The United States, who are top of the world rankings, go into the match as favourites against third-ranked England and have won 10 of the teams' 16 meetings.
But legendary USA keeper Hope Solo told BBC Sport the Lionesses have the tactical edge and that "they will have a better chance to beat the USA in a World Cup match than ever before".
Both sides have won every game so far at these finals but England's Lyon defender Lucy Bronze, who will be playing at her home stadium, believes her side have a clear advantage over all the other semi-finalists.
"We have more hunger than the other teams because we have never reached a final," said Bronze, who has never lost a game at the Stade de Lyon.
"You look at the four teams left and we're the only team that hasn't reached a final. The Olympics, the World Cup, the Euros, these other three teams have all reached finals in recent years.
"It definitely takes more to reach a final – but who better to know that it takes more than a team that has been knocked out of two consecutive semi-finals?"
'These are the moments you live for'
After beating Norway to reach the semi-finals, Neville said his team's mantra is that they want to be "badass women".
In the United States, they come up against a group of players who are established stars – striker Alex Morgan was the only footballer apart from Liverpool's Mohamed Salah to feature in Time magazine's list of the 100 most influential people of 2019 – and they are involved in a fight with US Soccer for pay equality with the men's team.
But England forward Nikita Parris insists the Lionesses, who drew with the USA 2-2 in their last meeting en route to winning the SheBelieves Cup on American soil in March, will not be overawed.
"Why shouldn't we think we can be badder than them when we went to the SheBelieves and we won it?" said Parris, who will be playing at her new club ground after moving from Manchester City to Lyon this summer.
"We went toe to toe with them. We beat them under [previous manager] Mark Sampson's reign. Why shouldn't we think we can beat them? Why do we have to come to this tournament semi-final and think 'oh, it's America'?
"Nobody fears America. Nobody fears Germany. What's the point in coming to a World Cup if you're not prepared to dream? These are the moments you live for."
Bronze v Rapinoe 'could win the game'
USA winger and co-captain Megan Rapinoe has scored two goals in both of their knockout games to give them back-to-back 2-1 victories.
The 33-year-old's match-winning doubles came either side of her being criticised by president Donald Trump for snubbing a potential post-tournament visit to the White House.
On Tuesday, she is set to go head to head with England right-back Bronze, who Neville has said is the "best player in the world" and "deserves to win the Ballon d'Or" award.
England's Lyon midfielder Izzy Christiansen – who missed the tournament after being injured in March – told the BBC: "Her [Megan Rapinoe] up against Lucy [Bronze] is going to be one heck of a battle.
"It is one which could potentially win or lose the game, given both their form."
White, Morgan & Rapinoe battle for Golden Boot
Three of the players set to be involved on Tuesday are tied on five goals at the top of the tournament standings, along with Australia's Sam Kerr, although the Matildas were eliminated in the last 16.
Manchester City and England striker Ellen White's tap-in against Norway was her fifth goal of the campaign, putting her alongside Kerr and the USA duo of Rapinoe and Morgan.
"It's a shootout maybe between Ellen and Alex Morgan for the top scorer," Neville said. "There are going to be brilliant players on this football pitch."
Who is most likely to win the World Cup?
According to Gracenote Sports, which captures and curates sports data, the USA have the highest chance of lifting the trophy on 7 July, with a 41% probability, according to simulations.
England, who have never knocked a higher-ranked side out of the tournament, are said to have a 38% chance of reaching the final.
The USA against the Netherlands is deemed to be the most likely final, with the Lionesses and the Oranje both said to have a 22% chance of becoming champions.
An England v Sweden final is statistically the least likely, with the Swedes said to have only a 16% chance of glory on Sunday.
BBC Sport has launched #ChangeTheGame this summer to showcase female athletes in a way they never have been before. Through more live women's sport available to watch across the BBC this summer, complemented by our journalism, we are aiming to turn up the volume on women's sport and alter perceptions. Find out more here.