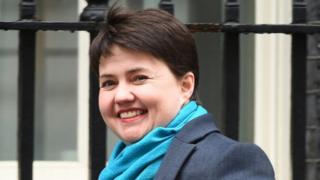 Ruth Davidson has renewed her call for the UK government to scrap its ambition of cutting immigration to the "tens of thousands".
In a speech in Glasgow, the Scottish Conservative leader said the target "has never been met and does not fit the requirements of the country".
She argued that the UK needs to attract new people if it is to build a strong economy.
And she urged Theresa May to prioritise the NHS over tax cuts.
The target of reducing net migration to tens of thousands was set by David Cameron at the start of the coalition government in 2010.
But the goal has never been reached – with annual net migration to the UK currently standing at about 240,000.
The Home Office argues that the public is in favour of lower immigration.
'Prosperous culture'
In a sign of her growing confidence and stature within the Conservative Party, Ms Davidson said she wanted to challenge the view that immigration is "some sort of problem to be fixed, a wrong to be corrected".
She has previously warned her party that it needs to embrace a more open, liberal outlook in order to win over younger voters.
Ms Davidson told her audience at Glasgow University: "We should have the confidence to recognise that people from other nations wanting to come to our country is a sign of our success as a vibrant, prosperous culture.
"And we should acknowledge that, if we want to build a strong economy, then we need people to come here".
Ms Davidson, who is expecting her first child later this year, said she wanted EU citizens who live in the UK to stay – and pointed out that she has a personal interest in ensuring this happens as her Irish fiancee is an EU citizen.
She added: "I see neither the sense nor the need to stick to an immigration figure devised nearly a decade ago, which has never been met and does not fit the requirements of the country.
"Setting an immigration target reduced to the tens of thousands is one thing when unemployment is running over 8%. Refusing to review it when the country nears full employment and sectors are reporting skills shortages is quite another.
"Even if that target were to stay, I see no reason why overseas students should be included within the numbers counted".
Prime Minister Theresa May has rejected repeated calls to take students out of the government's immigration figures.
And the UK government has promised reforms to the UK's immigration regime once it is no longer tied to EU free movement rules after Brexit.
Unlike Westminster, there is cross-party support in the Scottish Parliament for increasing immigration in order to tackle the country's aging population.
Tax breaks
The SNP's Growth Commission report, which was published last week, proposed giving tax breaks to skilled immigrants in order to attract them to an independent Scotland.
Ms Davidson went on to warn the UK government over its handling of the NHS, which is fully devolved in Scotland.
She said the health service was reaching a "tipping point" over funding, and that its long-term future needed to be secured in order to tackle the crisis of trust in politics and restore faith in "centre ground values".
She said: "The UK government has acted to reduce the tax burden on working families. It has honoured its promise to do so. Raising the income tax threshold has reduced taxes for millions of UK workers and has taken thousands out of taxation altogether.
"But the UK government has a choice to make.
"And, if that choice is between extra spending on the NHS or introducing further tax breaks beyond those already promised, I choose the NHS."