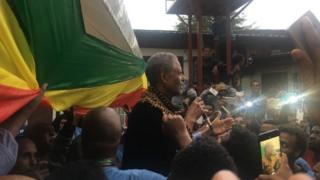 British citizen Andargachew "Andy" Tsege, who was being held on death row in Ethiopia, has been freed.
He has been greeted by jubilant relatives and supporters at his family home in the capital, Addis Ababa.
The Ethiopian government had accused him of plotting a coup and he was sentenced to death in absentia in 2009.
Foreign Secretary Boris Johnson said he was "pleased" with the development and praised his department's staff for their "tireless" work on the case.
Almost four years ago, Mr Andargachew was apprehended at an airport in Yemen while in transit and turned over to the Ethiopian authorities.
He denied the charges and was pardoned on 19 May, along with 575 other inmates, as part of the Ethiopian government's current effort to promote reconciliation.
Mr Andargachew, a father of three, fled Ethiopia in the 1970s and sought political asylum in the UK.
He was the secretary-general of banned Ginbot 7 (15 May) movement, named after the date of the 2005 elections that were marred by protests over alleged fraud that led to the deaths of about 200 people.
"I did not expect this much turnout," he told supporters at his home after his release.
"Four years in prison is not that much of a sacrifice. I'm meeting you first because I respect you; I haven't yet my father. Now, I'd like to go and greet my father."
Attorney General Berhanu Tsegaye said his pardon was part of an initiative to "widen the political space".
Maya Foa, the director of the human rights charity Reprieve, which has campaigned for Mr Andargachew's release, said the new Ethiopian government "should be recognised for what they have done".
Mr Johnson also commended the Ethiopian government, saying its actions sent a "positive signal" that it remained serious about "following through with promised reforms to increase political space".
Mr Andargachew's partner Yemi Hailemariam's has led a campaign for his release.
"I am so thankful that the pain and anguish my children have had to go through could now soon be coming to an end," Ms Hailemariam, who lives in Islington, north London, said last week in a statement released by human rights group Reprieve.
Abiy Ahmed, Ethiopia's new prime minister, has pledged to carry out reforms following anti-government protests that broke out in 2015.
The civil unrest led to the resignation in February of Mr Abiy's predecessor Hailemariam Desalegn, who had defended the arrest of Mr Andargachew, saying the activist had wanted to destablise Ethiopia.