It's no secret that the fashion industry has inspired many to build out impressive wardrobes of designer labels. But for some fashion fanatics, only one brand will do. In Collectors Edition, we'll look into why certain designers inspire obsessive collections in its fans.
If fashion is meant to be taken seriously, please do not tell Jeremy Scott fans. 
"I live and die by trying to have as much fun as I can, and it's just nice to have clothes that reflect that mentality," says designer Mark Monroe. "It's just another way I can extend my personality through my clothes because I'm not boring — I don't want my clothes to be boring. I'm sick of what I see in all the stores. It's all the same, so it's nice and refreshing to have something that's fun and out there and reflective of how I feel on the inside."
Indeed, Scott has made his mark on the fashion industry with his tongue-in-cheek collections that send up everything from Americana and recycling to pop culture icons like Barbie and Spongebob Squarepants. It may result in a mixed reception amongst insiders, but Scott doesn't design for them — he designs for his kind of people, the ones who want to have fun and express themselves through their clothing. More than any fashion editor, they're the people who appreciate his sense of humor most and who are willing to spread his "good time" message through the world.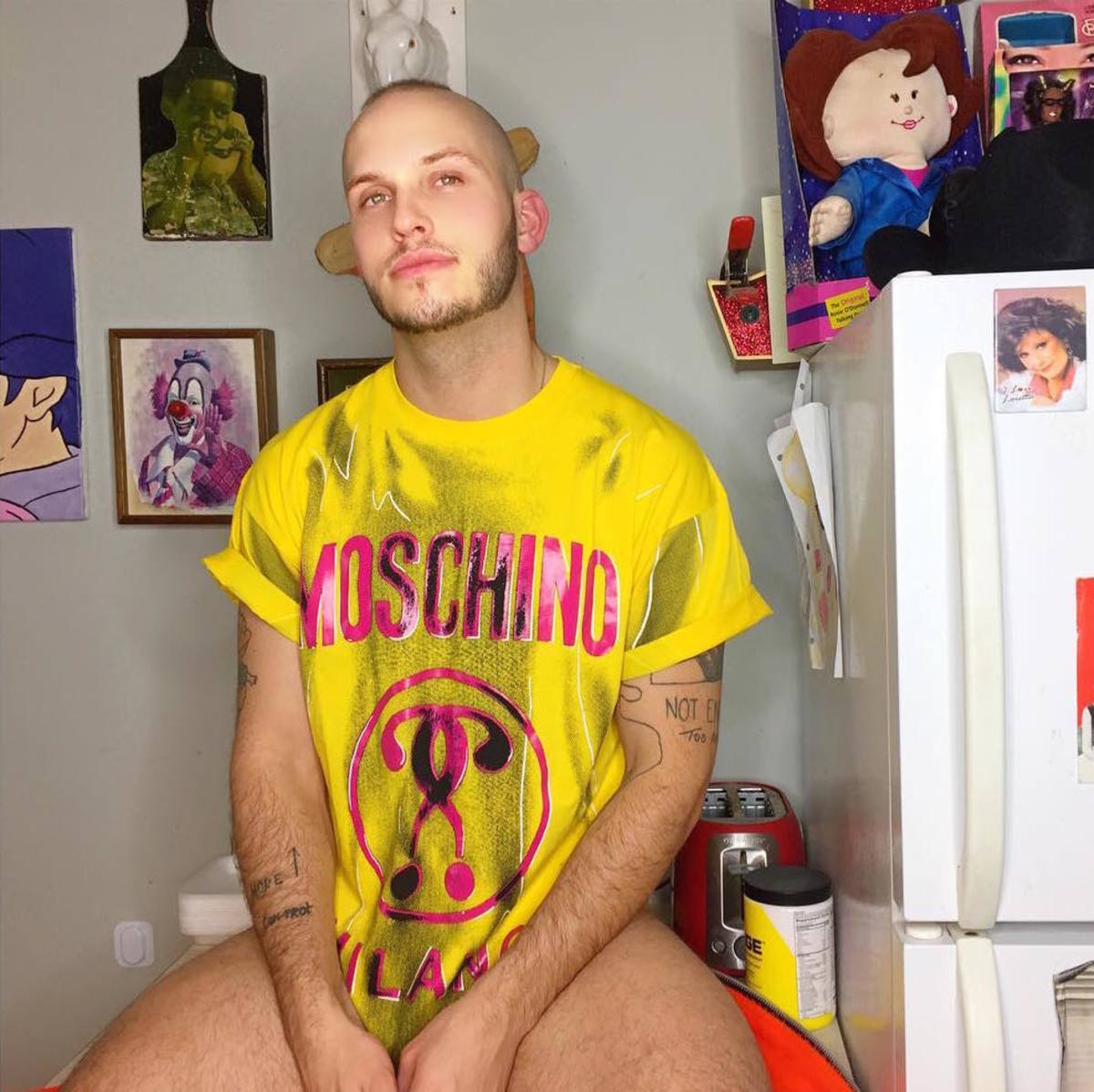 "When we put his clothes on, we feel like ourselves," says Cailli Beckerman, one half of the sister duo behind Beckerman Blog. "It goes way beyond fun; it just speaks to everybody. When we put on Jeremy's clothes, not only does it make us happy, it makes everybody happy — people smile ear to ear."
Go to any Jeremy Scott runway show and it's undeniable that he may have some of the most die-hard fans in fashion; many have crashed his shows so frequently that it's led to press getting shut out. They all remember the first Jeremy Scott design they ever saw, whether it was Devon Aoki on the cover of i-D or the dress he made out of credit cards — and they definitely remember the first time they wore one of his designs. 
"The piece that led me to fall into Jeremy's world was when he was doing the collaboration with Adidas; it was a leather jacket done in gold with wings and fringe and it was just so over the top and I felt my eyes pop out of my head. I just had to have it," says Joey Arias. "Once I had that and experienced that energy that other people feel from it and they're like, 'Whoa! What is this jacket?' I just fell in love with that part of it."
Of course, fans of Scott aren't limiting themselves to just his namesake line; wherever Scott puts his stamp, they'll follow. Just don't ask Scott to be anything less than himself. "I was worried when I heard that he was going to go to Moschino; I was concerned that they would try to water him down or something," Arias says. "But when that first collection came out, I was like, oh, it's pure Jeremy — it's just all him."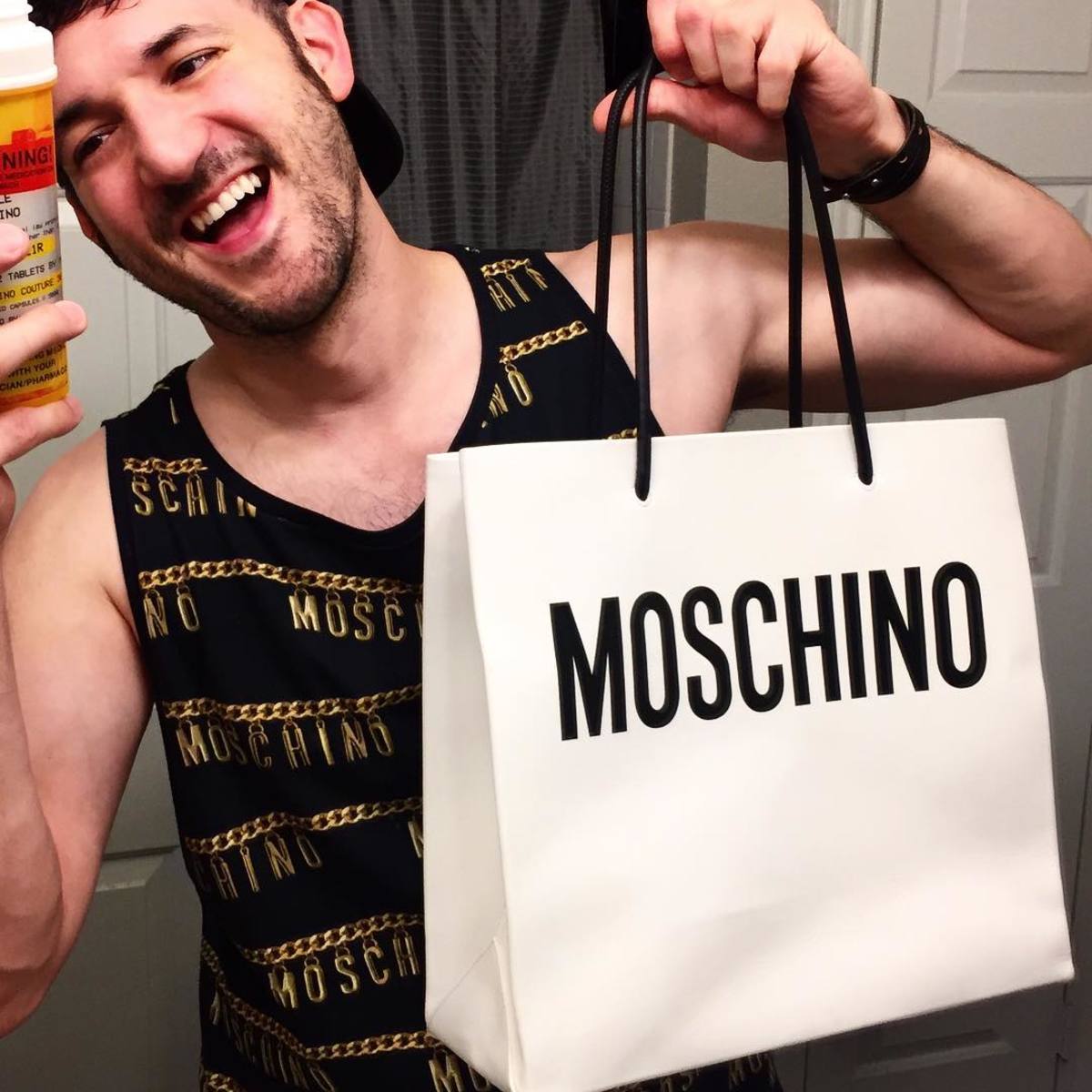 In fact, fans love to mix and match from all of Scott's collections, whether it's a bag from Moschino, a sneaker from his Adidas collaboration or a sweater from his namesake line. Collectors don't worry about whether items are intended to go together — "Jeremy's stuff isn't like that," says Sam Beckerman — but love to pile it all on at once to create a one-of-a-kind look of their own. Even when they aren't piling it on, superfans usually wear at least one piece by Scott every single day. 
Because Scott's collections are so unique and chock-full of collectible pieces, fans have to plan out how they'll get their hands on what they want. There's always something that's missing, no matter how complete the collection. "Every season that passes, you look back at the season before, and you go, 'Oh my god, I should have bought more,'" Cailli says. The other benefit of Scott's wild designs is that, for fans, nothing ever goes out of style with the passing seasons, adding more value to their scores. 
Arias says he's sold a lot of his other designer stuff (not his vintage Versace — he says Gianni's spirit is similar to Scott's, and he's not ready to give that up); Sam and Cailli joke that they nearly missed their sister going into labor while debating the purchase of a Moschino purse (they made the birth, but missed out on the bag). They set Google alerts and eBay alerts for the pieces they're missing. And while Scott's fans are happy to share — Cailli and Sam live together, and Monroe's boyfriend and roommate share the same shoe size as well as a love for Jeremy Scott — they aren't parting with their prized pieces so easily.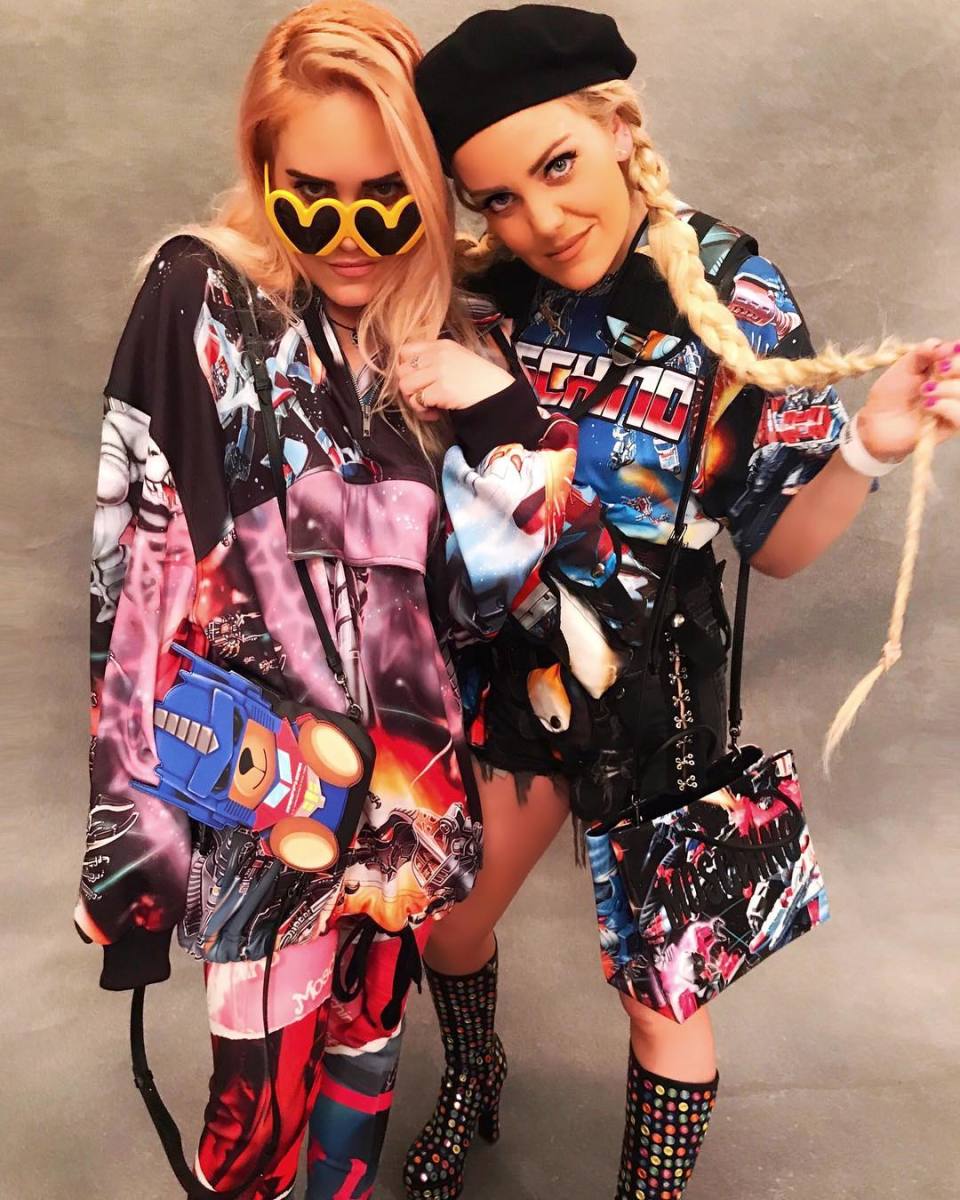 "Sam keeps trying to buy my Spongebob bag off of me," Cailli says with a laugh. "I refuse to sell it to her."
"Name your price!" Sam responds. "I will buy it from you!"
Many of these superfans have become part of Jeremy Scott's own circle, scoring invites to his parties and front row seats at his shows (no crashing required). It's a way for him to give back to the people who have embraced him and to further connect with the people who have helped him get to where he is today. "Maybe it's just me projecting, but I know every time we've met and he's seen me, he gives me the up and down look, and I think that he's appreciating the artistry of piecing the old and the new and creating a new look out of stuff that he's done," says Arias. 
But being in Scott's orbit is just an added bonus for collectors of the brand, who are grateful for the voice of a designer who helps them express themselves so thoroughly. Many talked about how Scott's designs were infused with love and how collecting his clothes made them feel like they were all part of the same planet. In a world where fashion is divided into tribes, Scott's crew may just be having the most fun of all.
"We will never stop drinking Jeremy's Kool-Aid, because he has the best Kool-Aid on the planet," says Sam with a big laugh. 
Homepage photo: Backstage at Moschino Fall 2018, Tristan Fewings/Getty Images
Want the latest fashion industry news first? Sign up for our daily newsletter