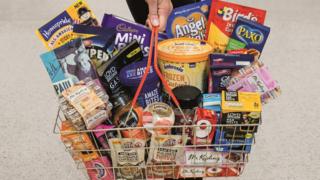 Premier Foods has said it intends to stockpile raw materials in the run-up to Brexit as fears grow over gridlock at UK ports.
The firm, which owns Bisto, Oxo and Mr Kipling, said it was taking steps "in the absence of certainty over the arrangements for the UK's departure from the EU".
Premier Foods said it expected to spend up to £10m on the preparations.
It also hopes to sell its Ambrosia custard and creamed rice business.
It said it was having "discussions with third parties regarding the potential disposal" of the brand, as well as the factory in Devon where the products are made.
Premier Foods said it had seen lower sales of custard products because of the hot summer and had reduced its promotional investment in the brand.
The company's shares were up more than 2% in Tuesday morning trading.
Delays risk
"The group shortly intends to start a process of building stocks of raw materials to protect the company against the risk of delays at ports," Premier Foods said.
The firm said this had the potential to cause "an adverse movement of up to £10m in working capital", but it hoped to compensate for that outlay in the next financial year.
Premier Foods said that "like all businesses", it had spent several months planning on "a range of scenarios subject to the nature of any Brexit deal that is reached".
"As part of this, Premier Foods have a cross-functional team in place which continues to keep the possible implications to our business under review," it added.
"This is purely a precautionary measure as Premier Foods, like all companies, ensures it's prepared for any Brexit scenario."
Boss quits
Meanwhile, chief executive Gavin Darby has said he will step down at the end of January.
He said he would be leaving on the sixth anniversary of his joining Premier Foods.
Mr Darby's announcement of his imminent departure comes almost four months after he survived a bid to oust him at the company's annual meeting.
Activist hedge fund Oasis Management, the firm's second-largest shareholder, had called for him to resign, a call supported by 41% of shareholders.
Premier Foods has been under fire over a number of issues, including its failure to lift its share price above the 65p-a-share bid offered by US condiment giant McCormick in 2016.
However, the firm's first-half results have shown a 14% profit rise.
Adjusted pre-tax profit was £30.2m, up from £26.4m in the same period a year earlier.