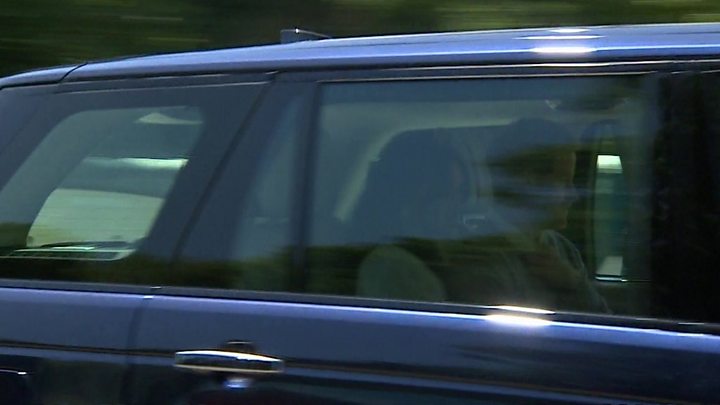 Meghan Markle has confirmed that her father, who had been expected to walk her down the aisle, will not be at her wedding to Prince Harry on Saturday.
She said she hoped he could be given space to focus on his health.
Ms Markle and Prince Harry have held a rehearsal at St George's Chapel, and a military rehearsal of the procession took place in Windsor.
Beforehand, Ms Markle's mother, Doria Ragland, met the Duke and Duchess of Cambridge for the first time.
Ms Ragland will meet the Queen at Windsor Castle on Friday, accompanied by Prince Harry and Ms Markle.
On Thursday afternoon, Prince Harry and Ms Markle were driven along the procession route with a police escort. The duke and duchess were also spotted in Windsor for the dress rehearsal.
It was the first time the duchess has been seen in public since introducing Prince Louis, her third child, to the world on the steps of St Mary's Hospital in London little over three weeks ago.
The rehearsal in Windsor drew hundreds of children, parents and pets who were keen to get into the party mood early.
Many were dressed in red, white and blue, and waved union jacks as carriages and cavalry soldiers passed by.
The sun was out for the rehearsal – and looks set to stay for Saturday. BBC Weather is forecasting a sunny, breezy day, with temperatures reaching 21C (70F) in the late afternoon.
Thomas Markle had been due to arrive in the UK in the days before the wedding to meet the prince for the first time.
But in the run up to the wedding, he became caught up in controversy after allegedly staging photographs with the paparazzi.
The pictures showed Mr Markle – apparently unaware he was being photographed – carrying out preparations for the wedding, including being measured for a suit.
On Monday, Mr Markle reportedly told US celebrity news website TMZ that he would not attend the ceremony to avoid embarrassing his daughter.
TMZ later reported that Mr Markle wanted to be there – although it might not be possible because of health concerns.
In a third report, the website said that health issues and planned surgery would prevent him from attending after all.
Ms Markle's estranged half-sister, Samantha, said he had faced "unbelievable stress".
His absence leaves a big question mark over who will walk Ms Markle down the aisle.
Her mother, who arrived in the UK on Wednesday, would be one option, as would Prince Charles, Harry's father – or she could choose to walk alone.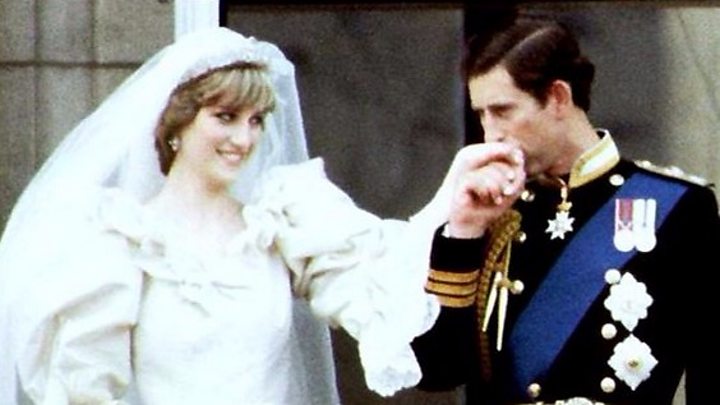 Ms Markle has 10 bridesmaids and pageboys, all under the age of eight.
She decided against having a maid of honour because she wanted to avoid choosing between her closest friends.
The rehearsal of the carriage procession went largely without a hitch, although some horses were seen veering out of line.
The world's media, royal superfans and locals watched the military parade through the streets. About 250 members of the armed forces are expected to take part on Saturday.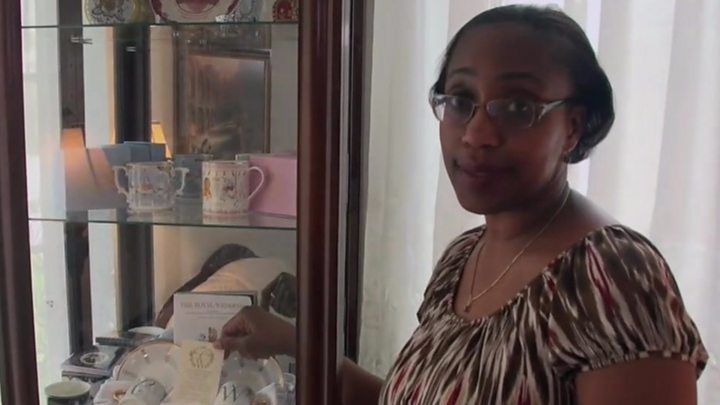 At the scene: The party has come to town
By Hanna Yusuf, BBC News, in Windsor
As the sun came up, Windsor seemed deceptively quiet, with only police officers, their sniffer dogs and journalists on the streets.
By 08:00 BST, crowds in union jack hats started gathering beside barriers and waited along the Long Walk for the rehearsal to begin.
There was a huge police presence. Officers lined all the streets – with an officer every 10 metres.
On Saturday, there will be even more – one officer for every five metres.
Children, parents and pets were already in the party spirit, dressed in red, white and blue, and waving union jacks.
As the carriages drew close, the public pulled out their smartphones to capture it all on camera.
Afterwards, crowds headed to Windsor town centre, which was swarming with royal fans, tourists, reporters and a few royal impersonators.
One Prince Charles impersonator was giving out pizza, saying it was Prince Harry's favourite, and former UKIP leader Nigel Farage was spotted having a pint in a pub.
The party, it seems, has come to town, and the world is invited.
---
Mr Markle, who lives in Mexico, used to work as a lighting director on programmes including the 1980s TV show Married with Children and General Hospital, for which he and his team won two Emmy awards.
He and Doria Ragland divorced when Ms Markle was six years old.
Mr Markle, who has two children from his first marriage – Samantha and Thomas – filed for bankruptcy two years ago.
Ms Markle has previously said: "It's safe to say I have always been a daddy's girl – he taught me how to fish, to appreciate Busby Berkeley films, write thank you notes, and spend my weekends in Little Tokyo eating chicken teriyaki with vegetable tempura."