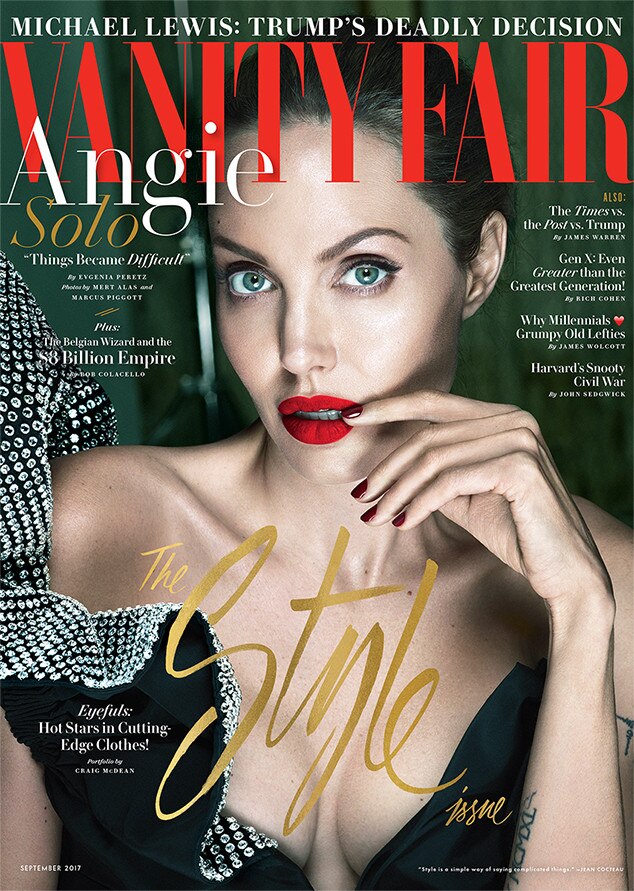 Mert Alas and Marcus Piggott/Vanity Fair
Angelina Jolie wants to set the record straight about the casting process for her new movie, which has been met with criticism and allegations of cruelty and abuse towards children.
The Oscar winner recently gave an interview to Vanity Fair, which reported that in order to cast the lead child in her new Netflix film First They Killed My Father: A Daughter of Cambodia Remembers, Jolie sought kids who had experienced hardship and casting directors "set up a game, rather disturbing in its realism: they put money on the table and asked the child to think of something she needed the money for, and then to snatch it away. The director would pretend to catch the child, and the child would have to come up with a lie."
The publication quoted Jolie as saying that Sareum Srey Moch, the girl chosen for the part, "was the only child that stared at the money for a very, very long time" and that "when she was forced to give it back, she became overwhelmed with emotion" as "when she was asked later what the money was for, she said her grandfather had died, and they didn't have enough money for a nice funeral."
Jolie said in a statement to the Huffington Post this weekend "every measure was taken to ensure the safety, comfort and well-being of the children on the film starting from the auditions through production to the present" and that the audition "game" was rather an improvisation exercise based off a scene in the film.
She also said real money was not used and that parents, guardians and non-governmental organization partners, as well as medical doctors, were present during both the auditions and the film-making process.
"I am upset that a pretend exercise in an improvisation, from an actual scene in the film, has been written about as if it was a real scenario," she said. "The suggestion that real money was taken from a child during an audition is false and upsetting. I would be outraged myself if this had happened."
First They Killed My Father is based on a true story and marks the fourth directorial effort for Jolie, a mother of six and longtime Special Envoy to the United Nations High Commissioner for Refugees. The movie is set for release on Netflix in September.