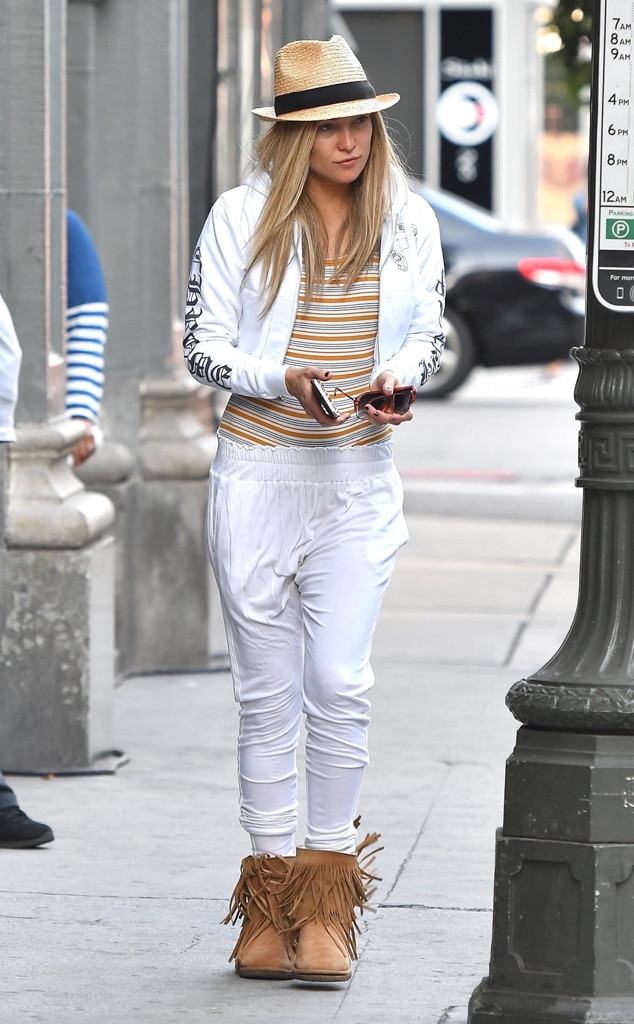 HGVC / BACKGRID
It's a bit of a hairy situation for Kate Hudson. 
The actress stunned fans when she buzzed her head last month for a new project with Sia. Then, in a bit of a reverse Houdini act, the Oscar nominee stepped out Monday in Los Angeles sporting her usual long, blond locks with a hat on top. The actress kept the rest of her look comfortable and casual in a striped leotard, hoodie, white pants and fringe boots. 
Either some hair-growing magic is at work or Hudson got fitted for a wig. We're willing to bet on the latter considering the actress was leaving the set of Sister, the upcoming film the Grammy nominee is reportedly directing. 
Along with Hudson, Sia's protégé Maddie Ziegler will also appear in the film. While little else is known currently about the plot of the movie, as Sia told The Hollywood Reporter in 2015, the screenplay is based on a short story she wrote years ago. 
The musician also sought feedback from her friends in the industry, including Whitney Cummings and Joel Edgerton. Needless to say, if its from the mind of the accomplished performer and a Golden Globe winner has agreed to join the team, it must be quite the project. 
If there's one clear thing about Hudson's character, she has to shed her hair at one point, but we'll have to wait to find out why. The two actresses may also be breaking out their dancing shoes for the film. 
"Dance rehearsal with this bundle of excellence!" Hudson captioned a shot of her with Ziegler in a dance studio.