Millions of Teen Mom fans may think they know Matt Baier, co-star and fiancé of OG cast member Amber Portwood, but they have no idea. It's the exact premise of Baier's new tell-all, You Have No F–king Idea: The Naked Truth About My Life.
In addition to posing nearly nude on the cover, Baier gets naked with the truth and separates fact from fiction when it comes to his relationship with Portwood, his own troubled backstory and what it's like to live life on camera. The blogs and tabloids have slammed Baier enough, he insists, now it's his turn to speak.
"After reading this book, my only hope is that, for once, you won't think you know, but rather, you actually will know," he writes.
Portwood, who penned the book's foreword, "The Man I Know," echoes the sentiment. And while their relationship may have its rocky moments, she implores readers to "let go of the gossip you've heard about Matt and simply give him a chance, because he truly is the best person I know."
Without further ado, may we present to you the book's Top 5 revelations we never saw coming: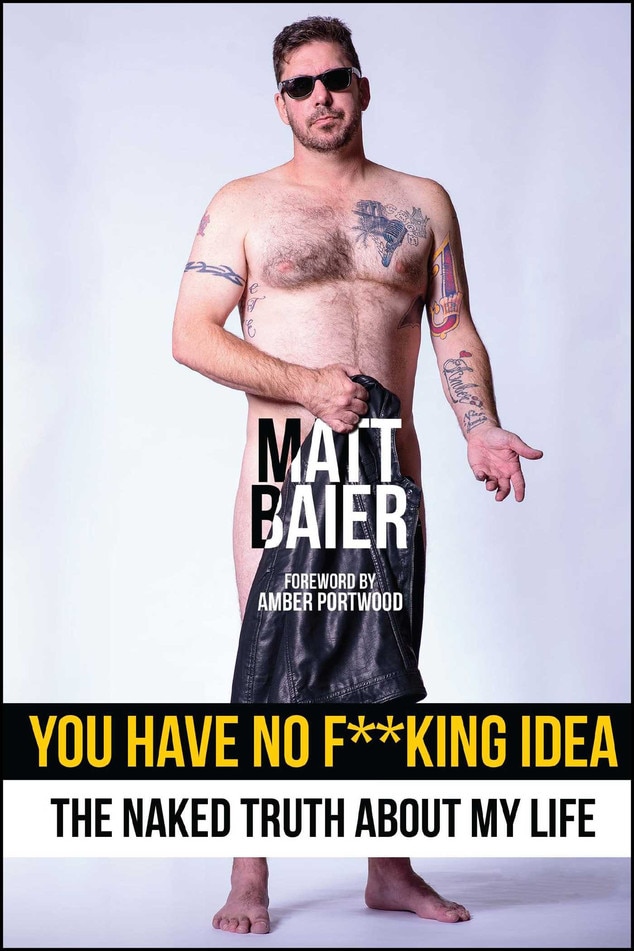 Post Hill Press
The Tabloids Play Dirty: After making his Teen Mom debut, the tabloids went after Baier with a vengeance. In fact, one of the first stories he read about himself referred to his "shocking criminal history." Baier writes: "My first thought was: Do I have a shocking criminal history? So I read it." The shocking claim? That he had once bounced a $35 check. Since then, there have been so many outlandish reports about Baier, he devotes an entire chapter to correcting them.
He's Not Ashamed of Being an Addict: Baier's recovery from a painkiller addiction hasn't been perfect—which he embraces. "I'm proud of being sober, but that doesn't mean I didn't make mistakes," he writes. In fact, when he first met Portwood, he wasn't entirely clean, but she promptly flushed the pills she found on him down the toilet. "My love for Amber," he writes, "is sober love."
He Lays Out Just How Many Kids He Really Has: It may be five—but he's paying for a sixth. He had his oldest, Christopher, with a long-time girlfriend when Baier was just 18. After they split, he went on to have two daughters in his next relationship but, due to his addiction, wasn't able to care for them. Their mother left Baier and eventually met someone else who ended up adopting them. Recently, one of his daughters reached out and Baier is happy to say they are thriving. He later had two more children—Brooklyn and Andrew—with another long-term partner. Finally, a woman he had regrettable relations with gave birth to a daughter. According to Baier, she has flip-flopped as to whether or not he is the biological father. Regardless, he says he "pays child support every single month."
Amber Pursued Him, Not the Other Way Around: Given their age difference—Baier was 42 and Portwood was 24 when they met—people mistake him for a predator. Not true at all, according to both. After connecting on Twitter, they first established a friendship and didn't meet in person for another six months. After Baier returned home from his first trip to her hometown, she called him up. "You need to come back here," Portwood stated. "Take the pictures on your wall with you." Adds Portwood: "I pursued him. I insisted he come live with me."
He Considers Gary Shirley a Friend: Shirley, the father of Portwood's 8 year-old daughter, Leah, isn't the enemy, as many would believe. "Gary is, in my opinion, a good father," Baier writes. "We are, in a way, family—with Leah being the tie that binds us all together. We're going to be in each other's lives for a very, very long time. I consider us friends."
You Have No F–king Idea is available on June 13.