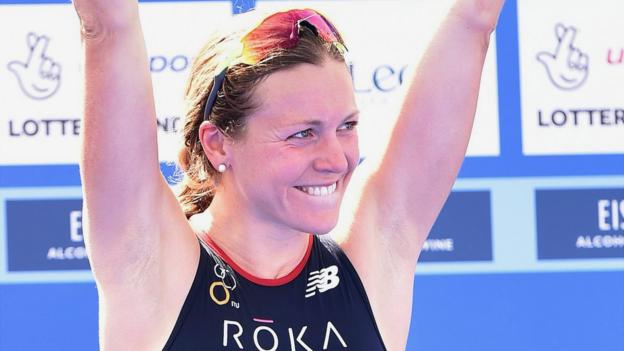 Great Britain's Vicky Holland became triathlon world champion after finishing second in the Grand Final.
Katie Zaferes of the United States started Saturday's World Triathlon Series finale on Australia's Gold Coast just 34 points ahead of Holland.
Holland, 32, who won individual bronze at the 2016 Olympics, came second to take the world title.
Zaferes was third behind Holland to finish second overall, with GB's Georgia Taylor-Brown taking the bronze.
"I can't actually believe it," Holland said after finishing in a time of 01:52:00, just two seconds behind Australia's Ashleigh Gentle.
"I thought at one point in the run that it was done, there was quite a big gap there. I can't believe I brought it back in.
"This season as a whole has been absolutely incredible – three wins, two seconds and a world title. It's so much more than I thought I would get out of this year."
Holland, who had never won a world title, said she considered retirement after winning bronze at the 2016 Rio Olympics but found an "extra motivation" that has carried her close to the world title.
"If I'm honest, I wasn't really thinking about it. This season for me had always been about the Commonwealth Games. That was what I had planned for all winter, that was what I was training for.
"Since that point, things have just fallen into place and I've just really enjoyed my racing," she said.
Final points standings
Athlete Country Points
1. Vicky Holland
Great Britain
5540
2. Katie Zaferes
USA
5488
3. Georgia Taylor-Brown
Great Britain
4183
4. Kirsten Kasper
USA
3887
5. Jessica Learmonth
Great Britain
3810
6. Ashleigh Gentle
Australia
3750
7. Jodie Stimpson
Great Britain
3658
8. Taylor Spivey
USA
3603
9. Laura Lindemann
Germany
3423
10. Rachel Klamer
Netherlands
3306