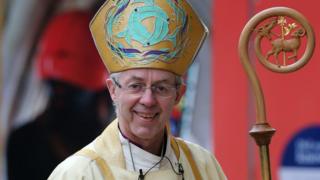 The Church of England is to meet to consider leading a buyout of the collapsed payday lender Wonga.
Wonga went into administration last month, prompting concern that the debts of thousands of borrowers could be passed to another high-interest firm.
Last week, MP Frank Field called on the Archbishop of Canterbury to lead a consortium of "good people" to stop it being sold to "another loan shark".
A church spokesman said it was "reflecting" on what might be possible.
Administrators were officially appointed last month to conduct an "orderly wind-down" of Wonga.
'Exploitation of poor'
Following the collapse, Mr Field wrote to Archbishop of Canterbury Justin Welby to express concern that borrowers could be ripped off if another payday lender bought the firm.
He said Wonga's loan book was likely to be sold at a "knockdown" rate, which risked the possibility of the "exploitation of the poor".
Mr Field said buying Wonga's £400m loan book would protect 200,000 borrowers from having to make repayments to another lender at high commercial rates.
Speaking on BBC Radio 4's Today programme, he suggested that an "alliance of financial forces" could step in.
This, he said, could act as a "liberation of the poor".
"I wrote to the administrators… to say would you please hold off on this fire-sale of this asset book until the archbishop's initiative can be seen through – and they have actually agreed to that," he added.
Church commissioners – who manage the Church of England's £8.3bn investment fund – are expected to meet at Lambeth Palace next week to discuss the options.
A Church spokesman said: "We are reflecting on the letter from Frank Field to help determine what may or may not be possible in the months ahead regarding the repercussions following Wonga's collapse."
Archbishop Welby, who will lead the discussions, has previously been a critic of Wonga, saying he wanted to put payday lenders who charge high interest "out of business".
In 2013, he said it was "very embarrassing" that the Church's pension fund indirectly invested in the firm.
Amazon row
The Wonga proposals were revealed after the Church said it was keeping its shares in Amazon, despite Archbishop Welby previously accusing the multinational company of "leeching off the taxpayer".
He told the Trades Union Congress (TUC) on Wednesday that when "vast companies like Amazon" pay "almost nothing in tax" then there is something wrong with the tax system.
However, the Church later said it considered the most effective way to seek change was to be "in the room with these companies" as a shareholder.