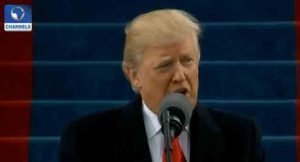 President Donald Trump on Wednesday said he was nearing an announcement on whether or not to pull out of a global pact to fight climate change.
While the President said he was hearing from people on both sides, a source close to the matter said Mr Trump was preparing for a U.S. withdrawal.
A U.S. pull-out could deepen a rift with U.S. allies and would put the United States in league with Syria and Nicaragua, as the world's only non-participants in the 195-nation accord agreed upon in Paris in 2015.
Responding to shouted questions from reporters in the White House Oval Office, President Trump declined to say whether he had made up his mind, saying, "You'll find out very soon."
"I'm hearing from a lot of people, both ways," Trump, who previously called global warming a hoax to weaken U.S. industry, said as he met with Vietnamese Prime Minister Nguyen Xuan Phuc.
Reuters