Darkness falls across the land. 
You know you are in for a treat when Vincent Price's voiceover from Michael Jackson's "Thriller" serves as a trailer's narration…which is exactly what fans got when Netflix debuted Stranger Things' first trailer for season two at San Diego Comic-Con on Saturday. And get ready, because things are getting weird AF when Stranger Things returns on Oct. 27.
"Nothing's gonna go back to the way it was, not really," Hopper says of life in Hawkins, Indiana, in 1984, and no one knows that better than Will (Noah Schnapp), who is still seeing and feeling weird things since returning from the Upside Down at the end of season one.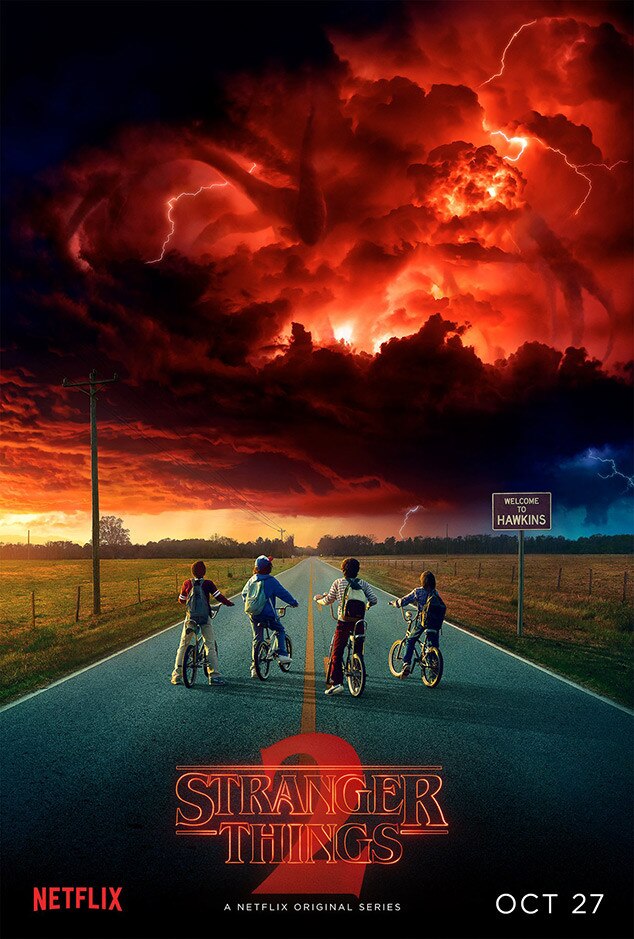 Netflix
Also in the trailer, we see the gang's epic Ghostbusters Halloween costumes, a  tense moment or two between Nancy (Natalia Dyer) and Steve (Joe Kerry) and learn that the new monster isn't after Will but "everyone else." 
Oh, and Eleven (Millie Bobby Brown) fans will NOT be disappointed as we are given our first glimpse of the fan-favorite in the new season at the end of the trailer, as we learn Mike (Finn Wolfhard) hasn't given up hope on finding his friend. 
Netflix's official description of the new season follows: "It's 1984 and the citizens of Hawkins, Indiana are still reeling from the horrors of the Demogorgan and the secrets of Hawkins Lab. Will Byers has been rescued from the Upside Down but a bigger, sinister entity still threatens those who survived."
Some of the new characters we'll be seeing? Sean Astin will play Bob, Joyce's (Winona Ryder) old high school classmate and new boyfriend, while Paul Reiser will play the seemingly friendly new head of the lab, Dr. Owens. Keyword: seemingly. Also new to Hawkins are brother and sister duo Billy (Dacre Montgomery) and Max (Sadie Sink).
Anyone else ready to party like it's 1984?
Stranger Things season two premieres on Oct. 27 on Netflix.