PAOK Salonika president Ivan Savvidis has apologised for entering the pitch during a Greek Superleague game on Sunday while carrying a gun.
Savvidis was pictured on the field of play with a holstered weapon during the clash against AEK Athens, making a high-profile protest after a 90th-minute winner from PAOK's Fernando Varela was initially disallowed for offside.
The 58-year-old attempted to confront referee Giorgios Kominis and the game was eventually abandoned two hours later after AEK players refused to return to the pitch.
The result was later confirmed on the Superleague's website as a 1-0 win for PAOK, with Varela's goal being allowed to stand, but that could all change depending on any punishment meted out by the Greek FA.
Since the incident, all games in the Greek Superleague have been suspended, with deputy sports minister Giorgos Vassiliadis confirming an indefinite ban after talks with prime minister Alexis Tsipras.
In a statement on PAOK's website, Savvidis said: "I want to apologize to all the fans of PAOK, all Greek fans, the global football community. I am very sorry for what happened. Clearly I did not have the right to go out on the pitch in this way.
"My emotional reaction has been caused by the generalised negative situation prevailing in Greek football lately and by all the unacceptable, non-athletic events that took place towards the end of the PAOK-AEK – the actions of the referee and the supervisor (goal – offside – goal), the interruption of the match, the protests and the entry into the playing field of dozens of people of both teams.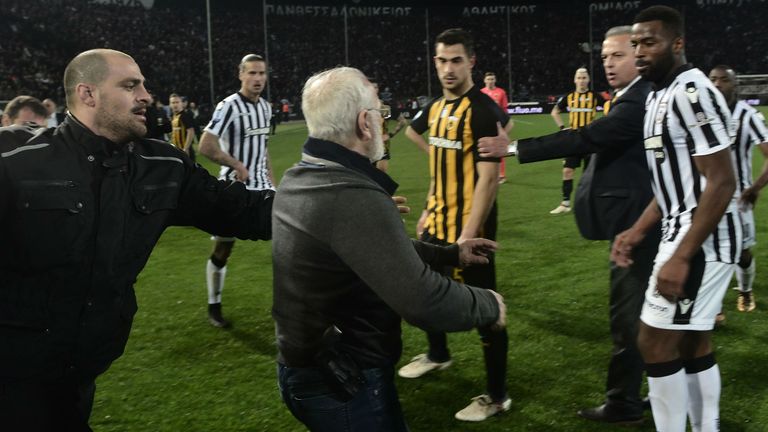 "All of this could create a degraded situation on the pitch and my only goal was to protect tens of thousands of PAOK fans from provocations – complications – human casualties.
"Believe me, I had no intention of interference with the opposing team or the referees. And I certainly did not threaten anyone.
"Unfortunately, both me and my family, as well as my colleagues, have been hostages of the totally ill soccer establishment.
"I am struggling and will continue to strive, despite the constant attacks I take at all levels, for a fair football with honest arbitration in all the races and for winning the championships on the courts rather than in the courts."
Also See:
Andy Robertson saved match ball for hat-trick hero Sadio Mane
Referee Eddie Smart 'covered himself in glory' on Super Sunday