Dermot Gallagher says assistant referee Eddie Smart "covered himself in glory" during Liverpool's draw with Spurs on Super Sunday.
It was a busy afternoon to say the least for Jon Moss and his officials, with two key penalty decisions in the last 10 minutes at Anfield.
Liverpool manager Jurgen Klopp wasn't happy, Spurs boss Mauricio Pochettino was congratulatory, and the rest of us have debated it since.
Former Premier League referee Gallagher was in the Sky Sports News studio on Monday to go through the Super Sunday decisions and more…
Liverpool 2-2 Tottenham
First Anfield penalty
INCIDENT: Harry Kane is in an offside position as the ball is played through to him, though Liverpool defender Dejan Lovren tries and fails to clear the ball, touching it onto Kane. Kane attempts to round Loris Karius, but is clipped and referee Jon Moss gives a penalty.
DERMOT'S VERDICT: Firstly, I think it's a foul. Regarding the offside, there's no doubt Kane is initially in an offside position, but once Lovren looks to take ownership of the ball, which he tries to do without doubt, that begins a new phase of play.
The discussion between linesman Eddie Smart and Moss centres around whether a) Lovren has played the ball, and b) whether Kane impacts the play, i.e. moves towards Lovren, and interferes with play, which he doesn't. Would managers know this? When referees go into clubs at pre-season, things like this are explained. The key thing here is: did Lovren clearly try to play the ball? And he did.
The discussion
INCIDENT: During the discussion with Eddie Smart, Jon Moss goes to his ear to ask fourth official Martin Atkinson whether he has "seen anything on the TV." Sky Sports' Geoff Shreeves confirmed on Monday morning that Atkinson did not consult the reporters' monitor on the sideline.
DERMOT'S VERDICT: I had no idea whatsoever that there was a TV there, I didn't think there were any monitors there at all. But Martin Atkinson is not entitled to look at the TV anyhow, and according to Geoff he didn't, so again that clears that up.
Second Anfield penalty
INCIDENT: Virgil van Dijk is penalised for bringing down Erik Lamela inside the box for the second penalty. Spot kick given, and Kane equalises for 2-2. There was a suspicion of offside from Fernando Llorente's flick-on towards Lamela.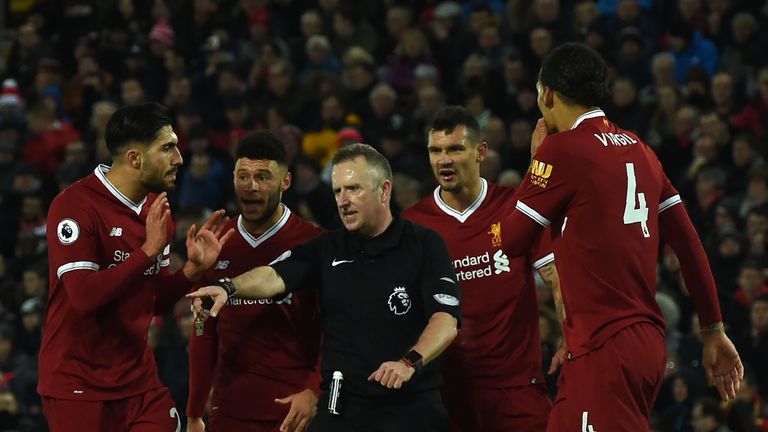 DERMOT'S VERDICT: It's so, so tight. The assistant has to be convinced, and I don't think he can be. Regarding the actual penalty award, Eddie Smart has covered himself in glory. Jon Moss can't see through Van Dijk, but Smart has the perfect line across, and I think he's got it right.
Crystal Palace 1-1 Newcastle
Clark's shirt tug
INCIDENT: Ciaran Clark tugs the shirt of Christian Benteke inside the area, and referee Andre Marriner gives Palace a penalty to equalise for 1-1.
DERMOT'S VERDICT: Without doubt, when you see it, Clark has a hold of his shirt, you can't say he hasn't. But what you could say is that this award is not in keeping with what you see week in, week out.
Man Utd 2-0 Huddersfield
United penalty shout
INCIDENT: Terence Kongolo wipes out Scott McTominay inside the box with an aerial challenge. Referee Stuart Attwell eventually gave a drop ball.
DERMOT'S VERDICT: I think it's a penalty, and a yellow card for reckless play. All I can think is that Stuart is thinking there has been a clash of heads because he has given a drop ball. It's a penalty, and a misjudgment by the referee.
Arsenal 5-1 Everton
Aubameyang's debut goal
INCIDENT: Pierre-Emerick Aubameyang scores on his Arsenal debut in the win over Everton, but looked to be in an offside position as he ran through on goal.
DERMOT'S VERDICT: He's offside, but these are the ones where next year, when VAR comes in, they'll just look at and it will be cleared up straight away.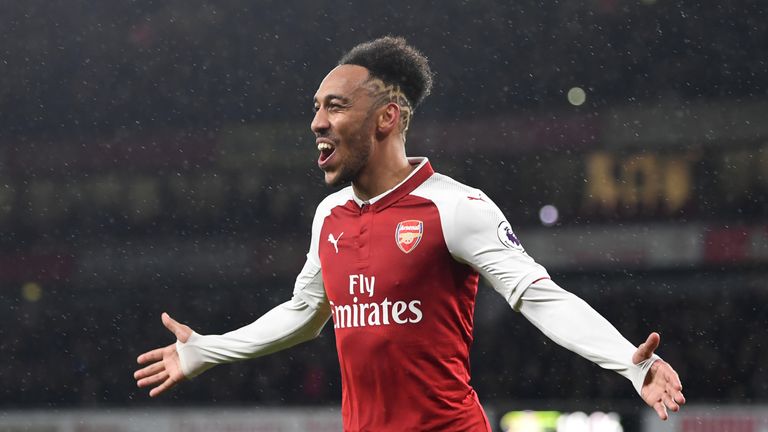 Leicester 1-1 Swansea
Diabate goes in hard
INCIDENT: Fousseni Diabate goes in late on Sam Clucas in Leicester's draw with Swansea, but referee Anthony Taylor only hands out a yellow card.
DERMOT'S VERDICT: I can only think that the referee hasn't seen it fully, because I think it's a red card. It's over the top of the ball, it's dangerous, led with his studs, and the player has done him a massive favour because he's got out of the way. It's dangerous and reckless.
Also See:
Aubameyang fee nearly agreed between Arsenal and Borussia Dortmund
Michy Batshuayi scores twice on Borussia Dortmund debut in 3-2 win over Cologne