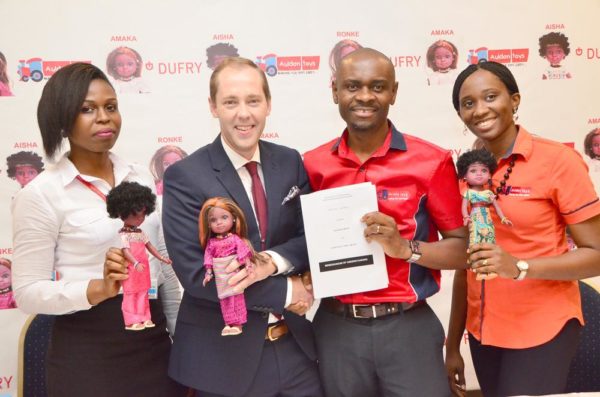 Auldon Toys, manufacturers of Unity Girl dolls, Nigeria's leading first African theme dolls that uniquely project the Continent's cultural heritage, has signed a memorandum of understanding with Dufry, a global travel retailer with operations in 76 countries across the world.
The partnership which was sealed with both parties, signing the dotted lines will see, Dufry Duty Free Limited sell Auldon Toys Unity Girl dolls across its outlets in Nigeria airports with the prospects of been introduced in all other countries it is present. A move that both parties say will be mutually beneficial to all, going by their pedigree and individual commitment to first-rate quality.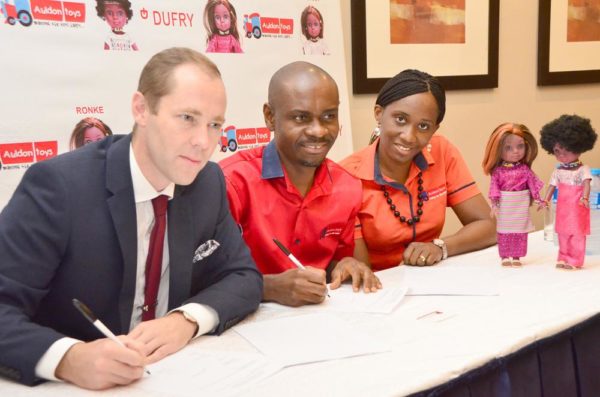 Speaking during a press conference to announce the partnership, the Managing Director of Dufry Nigeria said: "We are no doubt thrilled to be partnering Auldon Toys, a Nigerian wholly indigenous company in this venture as we are more than convinced about its prospect following its strong acceptability within and outside the Nigerian market." For some time, we have observed with keen interest, the soaring popularity of all Auldon's products, particularly, the Unity Doll, Auldon's flagship product, following the unprecedented success it made in all markets with its theme on unity, echoing beyond a product or service function, and carving a niche for itself as the symbol of positive values, and an icon of African culture. Little wonder, its target consumers now identify and freely relate to it."He also noted that Unity Dolls and other Auldon Toys, fits beautifully into the products we like to push across Africa and beyond.
He also noted that Unity Dolls and other Auldon Toys, fits beautifully into the products we like to push across Africa and beyond. Hines continued, "it is worthy to mention that we have had a couple of companies who have shown interest in having us market their product, but we declined because they don't meet up to what we desire, but in the case of Auldon, we have seen a perfect match. Plans are now in motion to phase out previous dolls in or shelf, mostly white ones for the Unity dolls".
Chief Executive Officer Auldon Toys, Paul Orajiaka, was equally pleased with the partnership as he acknowledged the strength and expertise Dufry is known for across the globe, stating that a partnership with a global brand of this repute is one that a leading brand like Unity Dolls and other toys under its stable, need to conquer other frontiers.
Orajiaka noted that Auldon is optimistic, this first step will usher greater prospects to other Dufry Duty Free stores across the globe. "I am proud to say the level of Acceptance of these dolls and our other toys across the country, has been unprecedented. I can tell you because of a handful of reasons, namely; affordability, premium quality, availability, uniqueness and most importantly the educative value the dolls offer". "So it is safe to say we are a market leader with strong prospect for increased growth. Currently, we distribute to all leading retail outlets and supermarkets across the country, namely Game, Shoprite, Spar, Next, Sahad Stores, Ebeano among others".
We have so much to celebrate as a people and partnership as this will help spread our rich culture to the globe stage. We're convinced it's time to make impact in other climes and the best partner in actualizing this plan is no other firm than Dufry, Orajiaka said.
————————————————————————————————————-
Sponsored Content