How DSS Tried To Shoot Me In The Judge's Presence – Sowore (Watch Video)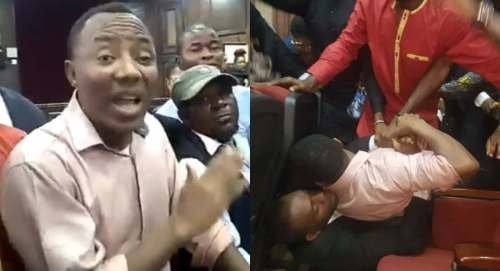 Ex-presidential candidate and founder of Sahara Reporters, Omoyele Sowore has revealed that the DSS tried to shoot him in the presence of the Judge at the federal high court in Abuja today.
Sowore reveals this while speaking to his comrades stated that the DSS not only tried to shoot him but dragged him in the presence of the Judge after they had promised that he would not walk out of their detention alive.
He said;
He tried to shoot me, he dragged me down in front of the Judge.
After i have been granted bail. I said it yesterday that they are lawless people. and they were reluctant to the order of the court now they are showing the whole world

what is important for Nigerians to know is that i am not giving up until every Nigerian benefits from a country that is
and i have made it very clear, they tried to break me in prison, they sent delegations to me offering all kinds but i refused and they promised i will not work out of their detention alive and that is what they came here to implement today.

Nobody in Nigeria should be afraid, it is our country and some people have to sacrifice for this country to be a country of rule, of law and dignity and this is also involves even the judges. If suspects who have been granted bail are not safe, even the judges are not safe. that is why the judge had to retire hurriedly into her chambers.
Watch the video below;
The DSS dragged me in the presence of the Judge – Soworepic.twitter.com/TpQUlN1mUp

— Laila Ijeoma | Lailasnews.com (@LailaIjeoma) December 6, 2019