Breaking News: DSS Re-arrests Sowore In Court Less Than 24 Hours After His Release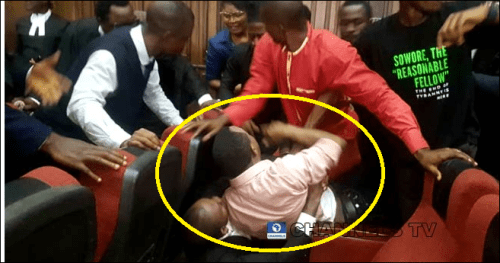 This morning, Department of State Services has just
rearrested the publisher of SaharaReporters and convener
of #RevolutionNow, Omoyele Sowore and his co-defendant,
Olawale Bakare, in court Friday morning.
The videos which SaharaReporters, shared minutes ago show
the DSS operatives violently harassing Sowore in an attempt to rearrest him.
It was also gathered that the secret police succeeded in chasing
FLASH: DSS finally re-arrests Omoyele Sowore after chasing judge out of the courtroom with gun.
He has been taken to the headquarters of the DSS.#FreeSoworeNow #FreeSowore

— Sahara Reporters (@SaharaReporters) December 6, 2019
away the presiding judge, Justice Ijeoma Ojukwu, assaulted a
journalists and lawyers before eventually rearresting him.
Sowore and Bakare were released from DSS detention on Thursday
night amidst jubilation after several court orders to release them went unheeded.
Watch the videos that captured the moment the DSS operatives were attempting to rearrest him.
pic.twitter.com/B2kcwk0cJ2

— ngozi clara (@ngoziclara) December 6, 2019
pic.twitter.com/B2kcwk0cJ2

— ngozi clara (@ngoziclara) December 6, 2019