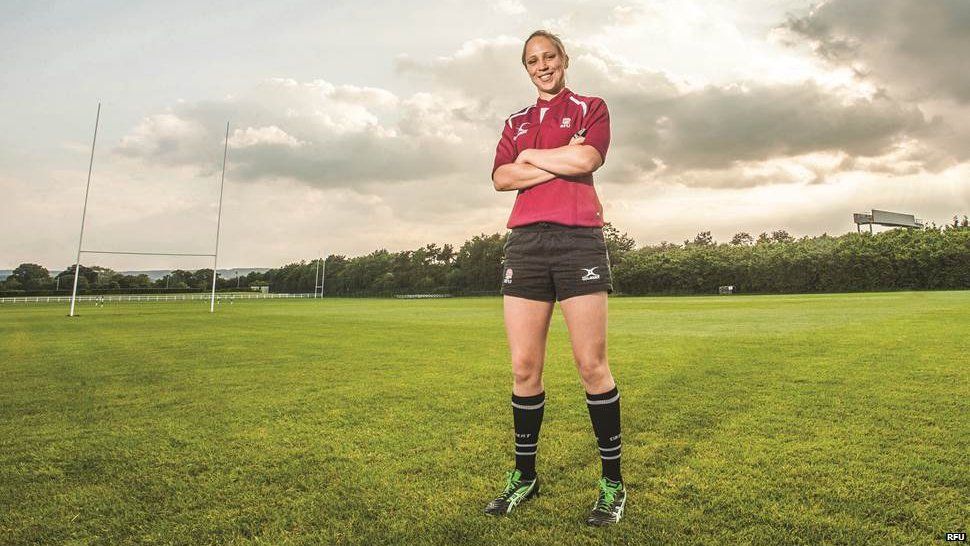 Image caption Sara Cox is making history in the men's game
Sara Cox is making history on the rugby field this weekend without even touching the ball.
The 26-year-old referee is taking charge of Loughborough against Plymouth in National League One, the sport's third division.
It will be the first time a woman has overseen a match at this level of the men's game.
She told Radio 1 Newsbeat she is "excited" about the "great opportunity".
"I don't see myself as any different to my male counterparts that referee at this level," she added.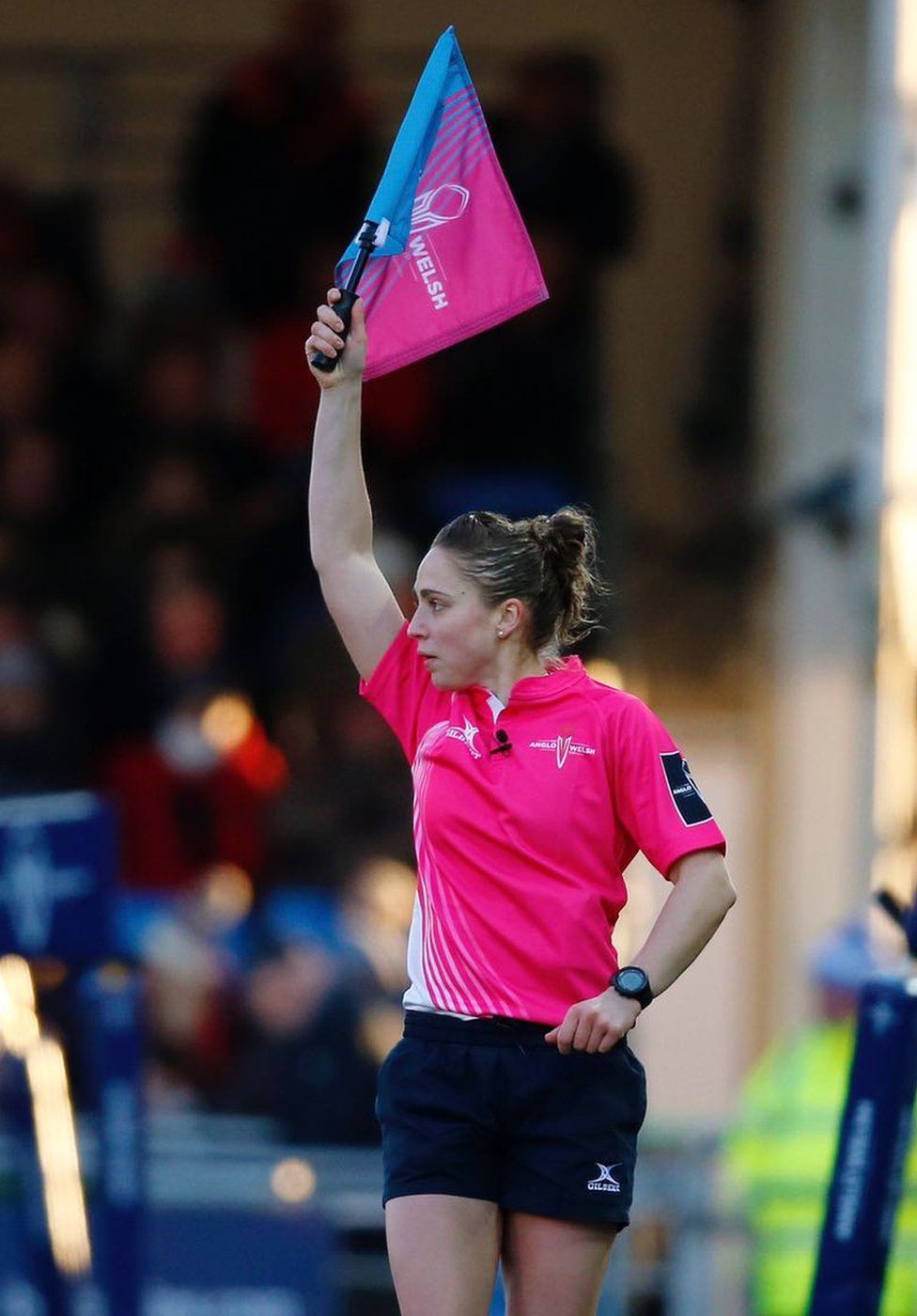 But she admits there is sometimes confusion around what to call her.
"More often than not they call me 'Sir', it's a lot easier for them," she explains.
"Sometimes they spend more time addressing you than they do trying to get the actual question out.
"As long as they're respecting me it doesn't really matter."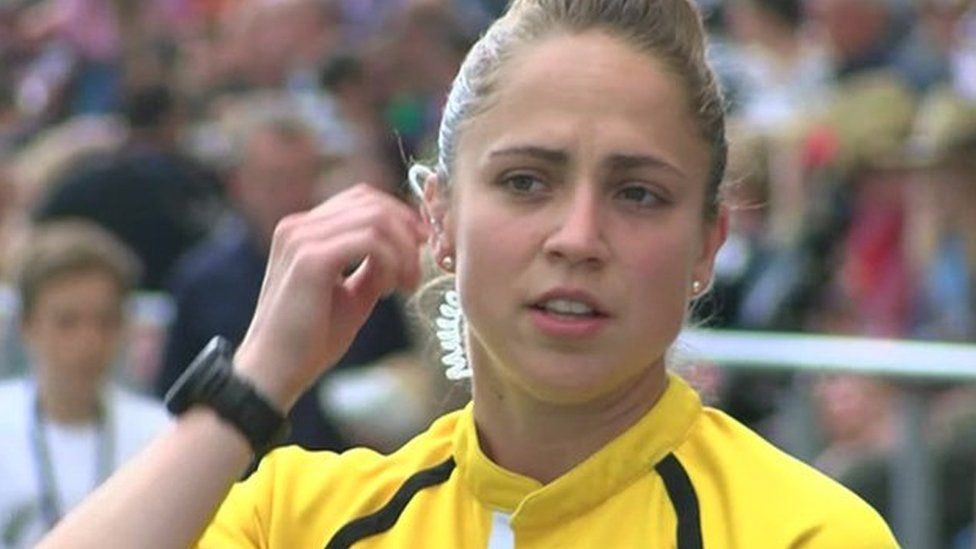 Image caption Sara Cox is the first woman ever to be appointed as a full-time referee by the RFU
Sara gave up playing rugby herself at 16 due to injury.
She is now the only woman to be centrally contracted as a match official by the Rugby Football Union.
"I got up to England under 20s trials, but then took a bit of a knock," she explains.
"That was the point where I said to myself 'that's enough of the playing side, what else can I do?'
"The coaching side of things wasn't right for me at that point so I looked at refereeing and here I am now."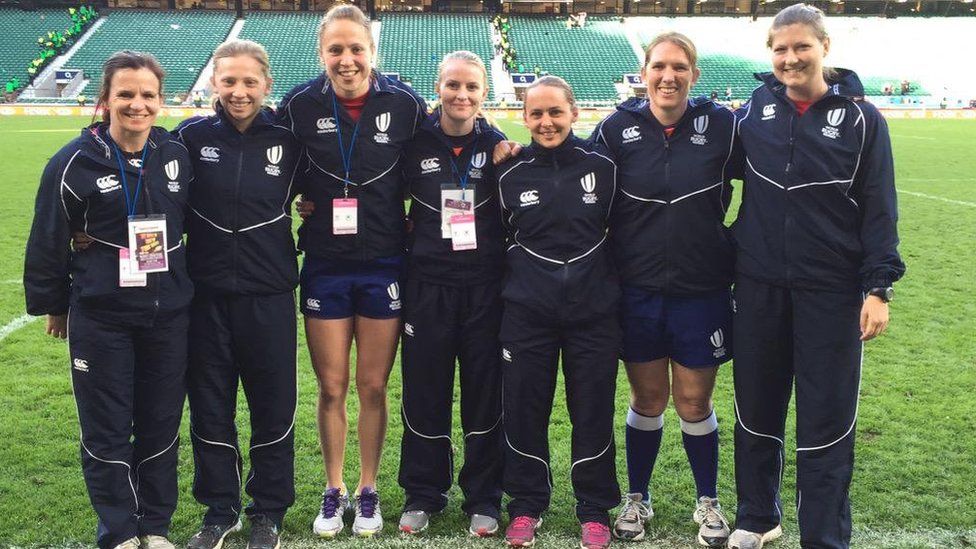 Image caption Sara (3rd from left) at Twickenham Stadium
Cox also took charge of Rugby Sevens games at the 2016 Olympic Games and says she loved her summer in Brazil.
"Rio was a massive milestone in my career.
"To be involved in such a prestigious event was definitely one for the scrapbook, I've got plenty of souvenirs."
There has never been a female referee in charge of a match in Rugby Union's Premiership.
Sara told us she occasionally hears negative comments from the crowds at matches but on the whole the reaction is very positive.
"I've caught a couple of comments every now and again, but it's no different to what you'd catch walking down the street. Things like that don't really bother me."
Find us on Instagram at BBCNewsbeat and follow us on Snapchat, search for bbc_newsbeat