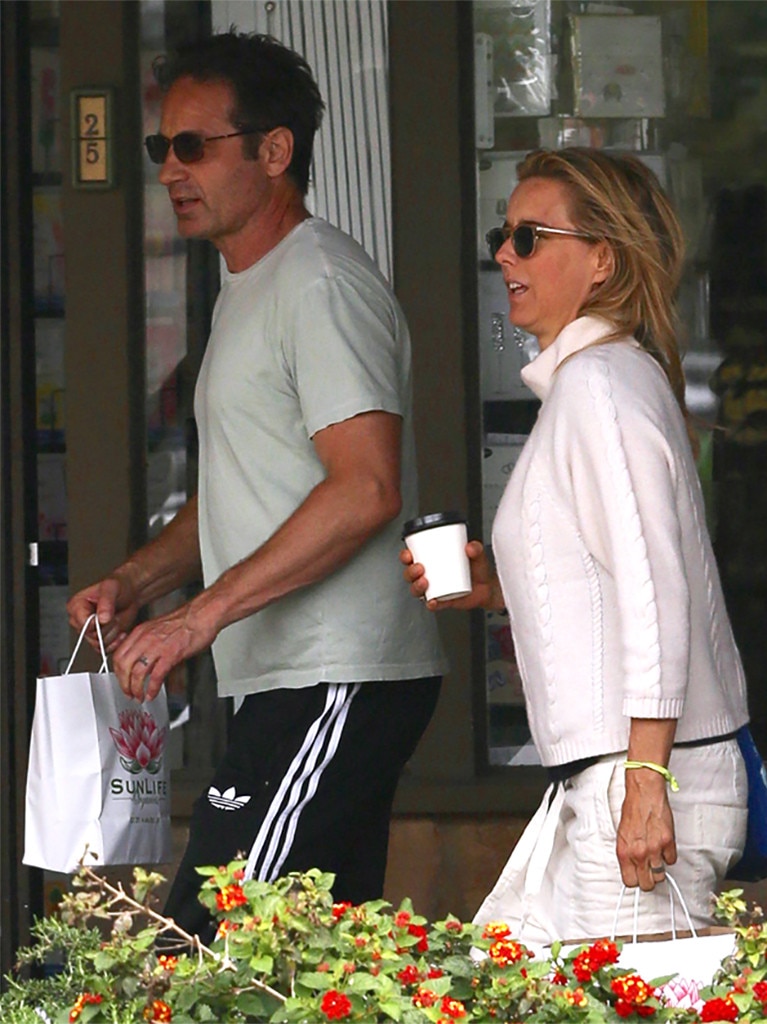 Danimal/Splash News
Back together, or just a friendly outing? 
Most would wager the latter, but David Duchovny and Téa Leoni did reunite for a private coffee run in Malibu Thursday afternoon. The amicable exes dressed casually for the daytime outing, and an eyewitness told E! News they departed in the same car together. 
The X-Files alum and Madam Secretary star famously separated in 2008 while David sought professional treatment for a sex addiction. They went on to reconcile months later, only to split again in 2011. Leoni ultimately filed for divorce three years later after 17 years of not-so wedded bliss.
It's not all uncommon for David and Téa to be in the same place at the same time.
After all, the Hollywood pair co-parents two teenagers, 18-year-old Madelaine West and 15-year-old Kyd Miller. The actress told More in 2015 that she speaks almost daily to her ex-hubby, and the entire family gets together at a rental house over the holidays. 
"On occasion, I want to throttle him," Leoni quipped at the time. "But in any real relationship with someone you love, that's true."
She addressed her divorce for the first time in a 2014 interview with Parade:  "Listen, David gave me the two greatest gifts on the planet; I don't know how I could ever hate him. We've always loved each other, and we adore these kids."
Leoni waded back into the dating pool months later with her Madam Secretary co-star, Tim Daly. As of May, the lovebirds appeared to be going strong as they smooched for a photo in front of the Jefferson Memorial, which was shared to the actor's Instagram. After her very public split from Duchovny, the 51-year-old  vowed to"never speak again" about her personal relationships, "especially after what it did to my kids."
Safe to say David and Téa's coffee date most definitely lands in the friend zone category.