Welcome to Latin night!
Dancing With the Stars' grueling two-night second week continued on Tuesday, Sept. 26, and it wasn't an easy night, as the judges were hitting the celebs with critiques as hard as they were hitting  the piñata backstage, particularly Len Goodman, who was coming off particularly curmudgeonly. And we couldn't help but wonder if host Tom Bergeron was right when he asked the judges if they had hit happy hour before the taping, as they all seemed to be a little…loopy? Come on, Bruno Tonioli even fell off his chair after laughing so hard. Must be a day that ends in -y! (Perhaps they were not used to this grueling two-night schedule after so many seasons off of it?)
Still, happ hour or not, another couple was kicked out of the competition by night's end: So long, Debbie Gibson and Alan Bersten, who followed in Barbara Corcoran and Keo Motsepe's footsteps straight out of the ballroom.
"This show in this sort amount of time and this guy right here, I feel like I got my life back, so I am so thrilled and we're going to keep dancing," Debbie, who suffers from Lyme disease, said after her elimination.
Here's a rundown of all of the night's performances:

Nikki Bella and Artem Chigvintsev: 18/30
While she has no problem being sexy in the ring, the E! reality star did admit to being nervous about getting so close to her partner in their samba. "I've been with John Cena for five years now, and I haven't bumped and grinded another man since then," she said. 

Victoria Arlen and Val Chmerkovskiy: 20/30
One of  the early frontrunners was nervous about the rumba as it was "the dance of love," according to her partner. But the judges liked seeing the new side of her, with Carrie Ann Inabasaying, "There was a vulnerability to you when you dance, I feel like I get to know you, and I think that's really important in this journey." Oh, and guess what? It was Victoria's birthday, with the show presenting her with a big cake…and flowers from Taylor Swift . That's right, Taylor sent Victoria a birthday gift after she danced to "Look What You Made Me Do" during Monday's show. Best. Birthday. Gift. Ever.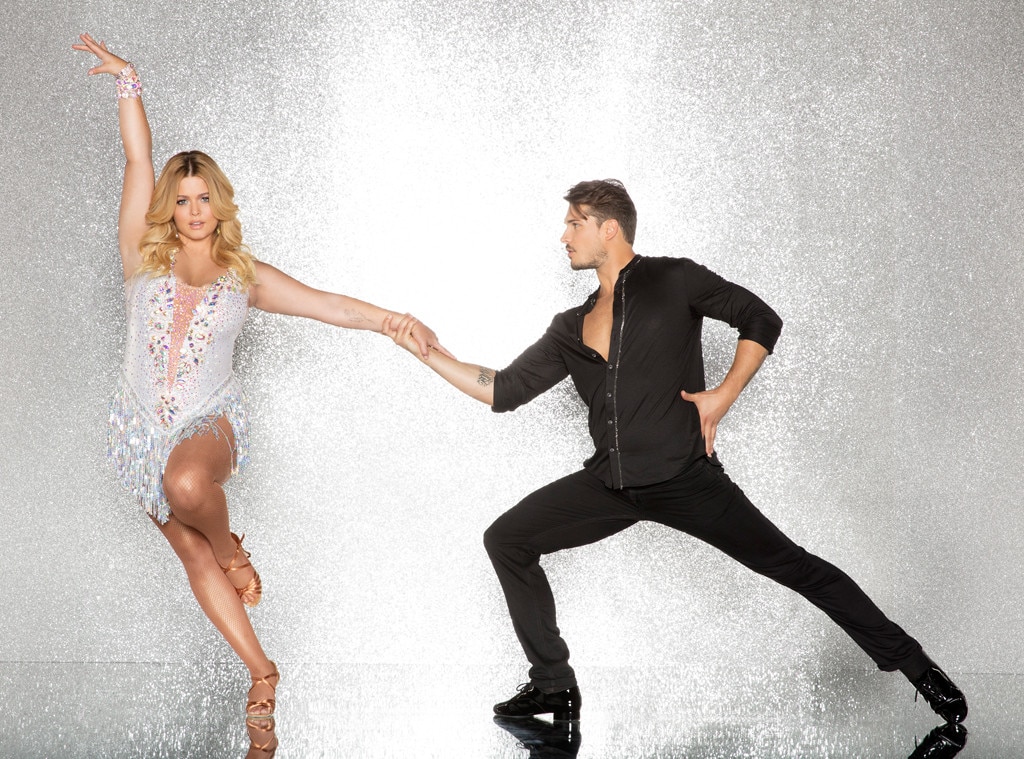 ABC
Derek Fisher and Sharna Burgess: 19/30
After landing at the bottom of the leaderboard on Monday, the NBA legend bounced back with his paso doble, definitely improving.

Sasha Pieterse and Gleb Savchenko: 22/30
Sasha and Gleb went to prom with their samba to "Most Girls" on Tuesday night, with Sasha opened up about dealing with cyber-bullying after she gained "70-ish pounds" in two years, later being diagnosed with PCOS (Polycystic Ovary Syndrome), with one of the main symptoms being weight gain. "Most importantly, I'm feeling like me again," Sasha said, revealing she had lost 15 pounds since starting the show. She earned one of the only positive comments from Len Goodman, who told her she had "sparkle."
Nick Lachey and Peta Murgatroyd: 19/30
Peta was hoping Nick could channel his first date charm that he used on wife Vanessa Lacheyfor their Argentine tango (except he couldn't even remember it). But the ballroom was not happy with the judges' comments, especially Len's, or their scores. And they weren't happy at the end of the two hours, when it was revealed Nick and Peta were in the bottom two. Uh-oh!

Jordan Fisher and Lindsay Arnold: 24/30
OK, so we can all agree the Hamilton star definitely has a real shot at taking home the mirrorball trophy, right? His samba was high energy and fun, with the crowd giving him a standing ovation. "You light up the room," Bruno Tonioli said. (Also, let's all side-eye Len complaining over Jordan training in tennis shoes.)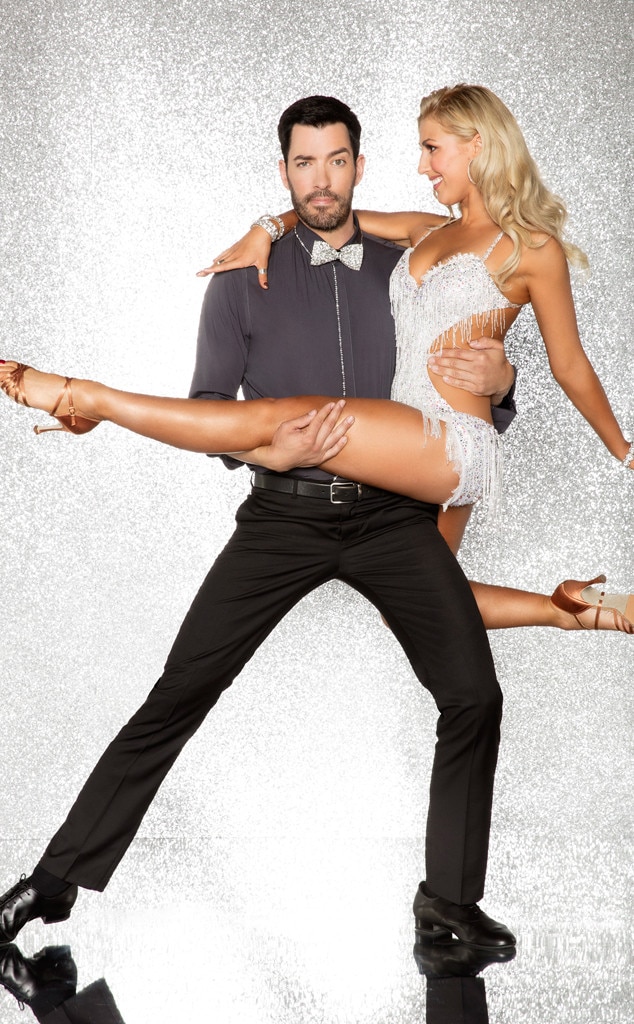 ABC
Drew Scott and Emma Slater: 21/30
"It's going to be getting sexy…but not really," the Property Brothers star said ahead of his rumba. And ahead of his performance, Emma forced him to get a spray-tan as his stomach was "so pale." You're not an official cast member until you get a spray tan, right? The prep resulted in Drew's "best dance" so far, per Len. Oh, and Bruno fell off his seat during Carrie Ann's subtly shady critique of this performance, capping off truly one of the weirdest outings from this judging panel we've seen in 25 seasons.

Debbie Gibson and Alan Bersten: 21/30
The couple, who were eliminated later in the show, hoped to put their chemistry on full-display during their Argentine tango, as it was praised by the judges in their previous outings. And Carrie Ann liked seeing the more "aggressive" side of the singer, with Len then calling her "a little strumpet." Whoa, Len! Unfortunately, her best dance of the season was also her last. Womp-womp!
Vanessa Lachey and Maksim Chmerkovskiy: 23/30
Maks  was hoping to bring out Vanessa's inner-party girl, the one she used to be when she worked at MTV in New York City, for the couple's salsa, hoping to keep their streak of strong performances going. And they did just that, with Len calling Vanessa "a contender," and Bruno telling her she "outshone" Maks. (Still, a 7, Bruno? Really?!)

Terrell Owens and Cheryl Burke: 19/30
Saying he is "a sexy individual," Terrell was ready to get sexy with his samba, donning a fireman costume in the beginning of his performance. While Carrie Ann said it was "sexy," she is still hoping to see more from the NFL legend. And Len does want to see more from the couple, cheekily saying, "Terrell and Cheryl, I hope you're not in peril!"
Lindsey Stirling and Mark Ballas: 24/30
Though she comes from a "conservative family," Lindsey was ready to do a sexy salsa for Latin night. "There's going to be a lot of hips moving," she said. And the violinist proved to be another strong contender this season, with Bruno saying  their dance left him "breathless," and Carrie Ann calling it "incredible." We were happy to see the judges make up for last night's underwhelming scores, with Lindsey and Mark tying for second place.

Frankie Muniz and Witney Carson: 25/30
And we have the first nine of the season! Yes, Malcolm, he of the middle, earned the first nine from Bruno for his cha-cha. Could Frankie win this whole thing?!