Last Updated: 20/07/17 10:56am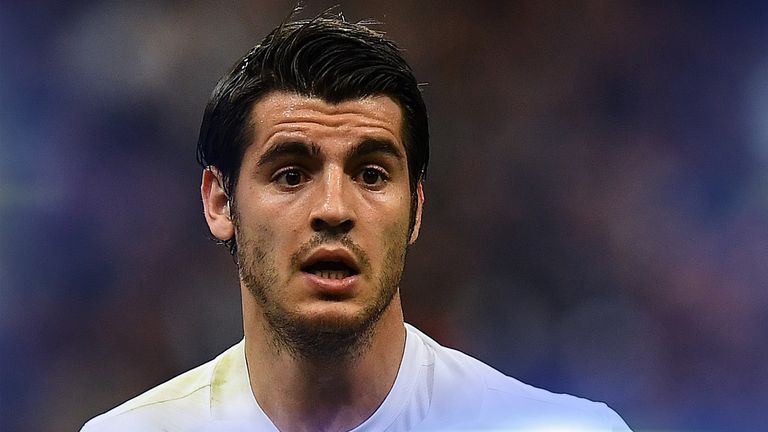 Chelsea are signing Spain international Alvaro Morata from Real Madrid
Chelsea are bringing in Alvaro Morata from Real Madrid to replace Diego Costa but is he up to the job? Adam Bate assesses Morata's record.
Finally, Chelsea have their replacement. Diego Costa has spearheaded each of Chelsea's last two Premier League title triumphs, but now the Blues have turned to someone else to lead their line. That man is Alvaro Morata, the £68m signing from Real Madrid. The question that now needs answering is whether or not the Spaniard can cope with the challenges ahead.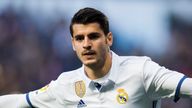 Chelsea agree Morata fee
Chelsea have agreed a fee to sign forward Alvaro Morata from Real Madrid.
Concerns are understandable. Costa scored 20 goals in both of those league wins. Morata is yet to find the net more than 15 times in a top-flight season. It was only last time out that he reached double figures for the first time in his career. Naturally, this raises doubts about more than just the fee. Morata must embrace the responsibility of being the main man.
Clearly, he has pedigree. Morata has shown that at Real Madrid and Juventus. Moreover, there are clues there in the numbers that suggest he is capable of delivering more if given the opportunity. Karim Benzema blocked his path at the Bernabeu but when Morata was turned to, he took his chance to shine more often than not.
Indeed, the 24-year-old striker boasted the best minutes-per-goal record of any Real Madrid player in La Liga last season. His 15 goals came at a rate of one every 89 minutes. Only Barcelona's Lionel Messi could better that. If this sort of output could be replicated when given greater game time then Chelsea would be getting a world-class performer.
Watch some of Morata's best goals for Real Madrid last season
Of course, there is uncertainty in that regard. Morata has never played even half of the possible minutes available in a top-flight season either in Spain or Italy. But a deeper look at the statistics does suggest that this goalscoring knack is repeatable. Shot volume is a vital clue that a player can be relied upon to score regularly and Morata delivers it.
"If you are going to pick out any aspect of a striker's performance that may be repeatable year-on-year then shots per 90 should be the metric you use," Ben Pugsley of the statistical analysis website StatsBomb explains. "A striker is more likely to reproduce his shot volume year-on-year than any other countable aspect of his performance."
As long ago as 2013/14, during Morata's previous spell at Madrid, he averaged more shots per 90 minutes from inside the penalty box than any other player in La Liga. Those numbers remained encouraging upon his return. Only Cristiano Ronaldo and Messi had more shots from inside the box per 90 minutes than Morata last season.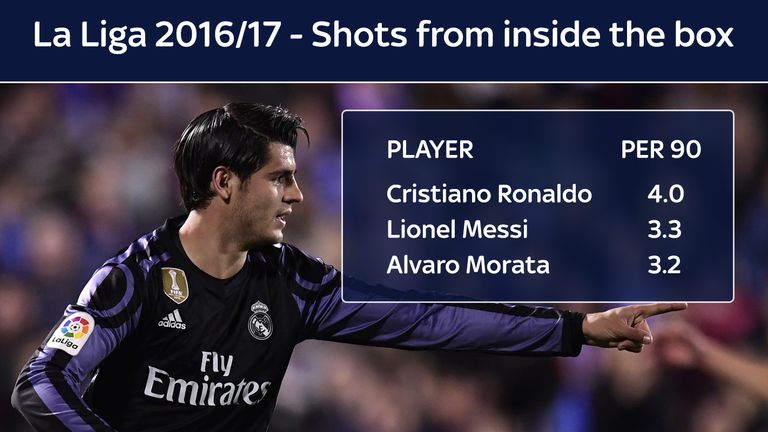 Only Cristiano Ronaldo and Lionel Messi bettered Morata's shot rate
Any suggestion that he padded his stats by scoring meaningless goals in heavy wins should be dismissed too. Morata scored late winners against Athletic Bilbao and Villarreal as well as opening the scoring in narrow victories over Celta Vigo, Deportivo and Espanyol. His goals were important, directly earning 13 points. Even Ronaldo's only delivered an extra 14.
Having also scored in the Champions League final for Juventus and been his country's top scorer at European Under-19, Under-21 and senior championship level, it amounts to a proven track record of big-game goals. They will be needed. Costa's goals earned more points than any other Premier League player last season, despite Harry Kane hitting nine more overall.
Antonio Conte will be demanding more than mere goals too. Costa's capacity to occupy defenders, embracing the physical battle, helped to create the space in which Eden Hazard thrived. At 6'2″, Morata has the build to do that and with only one player scoring more headed goals in La Liga last season, he can be the box target that his team needs.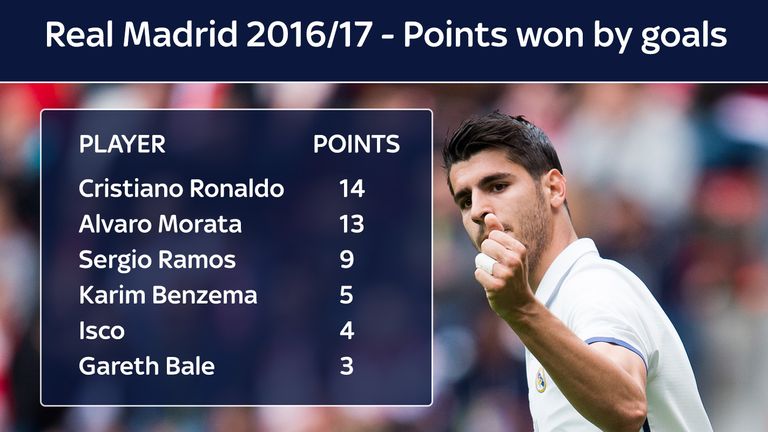 Morata's 15 goals helped to yield an extra 13 points for Real Madrid
The hope will be that he can bring much more too. Having played on the wing in his younger days, he will run the channels, stretching opposition defences, and has the pace to be a factor on the counter attack as well. Romelu Lukaku was Chelsea's first-choice target this summer, but it remains plausible that Morata could yet prove the better fit.
After all, Lukaku's hold-up play is less than exemplary. Morata's tidier work with the ball at his feet may help to bring others into play. One famous assist at Bayern Munich last year even saw him run from his own half and beat three men before squaring the ball. Morata has six assists in his last 24 hours of football. Lukaku has half the assists in twice the time.
Of course, it is time that will tell whether Chelsea got the better deal. But for now the club can content themselves in the knowledge that a solution to their Costa conundrum has been found. Morata will be the man tasked with replacing the team's talisman. It is a gamble, for sure. But it is an educated one.